Using Fiverr Talent for Your Edit
Chris Hau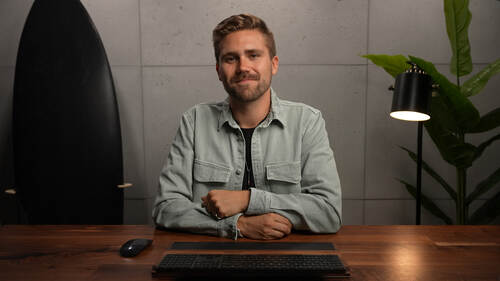 Using Fiverr Talent for Your Edit
Chris Hau
Lesson Info
47. Using Fiverr Talent for Your Edit
Lesson Info
Using Fiverr Talent for Your Edit
Now if you're not confident in your editing skills, that is okay. There are solutions to help you figure out how to get a solid edit on your video. My recommendation is that you hone in on your videography skills first so that you have good footage to work with. From there outsource your footage to an editor. You can look into your network to see if you have any contacts who are talented editors or know anyone in your area. From there, you can work with that person to edit your vision together. But let's say you don't know anyone who is a skilled editor, then what? Well, there are services online, such as Fiverr to help you. Fiverr gives you access to hundreds of different video editors you can hire to edit your video at an array of price points. All you have to do is pick an editor that you like or fits your budget. And then you can send them the footage through Dropbox or Google Drive with some instructions to follow. Those instructions could include your overview or script. From the...
re, they will edit your footage and send you back a final video. What's useful about Fiverr is that most sellers will offer revisions so that if their first draft is not to your liking, then you can give them feedback on how they can improve on it. Fiverr is more than just finding video editors, too. Using Fiverr talent, you can find professional voice actors, animators, visual effects specialists, and anything else that you need to build individual elements for your video. What is great about Fiverr is that they have an array of talent with a diverse set of skills. So if you think you cannot make the video you want because you're not a good editor, or don't know how to animate, well, then don't worry. There are solutions out there to help you get your video done. Now, what is important to remember about creating a video is that you do not have to be an expert in everything. Once you've collected all the pieces of your video, there's tools and services available to help put your final vision together. Using a service like Fiverr allows you to elevate your video or story even further by giving you access to professionals around the world. If you want to go fast, do it alone. If you want to do it right, collaborate and do it as a team.
Class Materials
Video Questionnaire/ Video Brief.pdf
Ratings and Reviews
Ok, I really enjoyed this course but you should know it is a decent overview of what to do and in what order to do them. This is not going to show you HOW to do anything but it will show you WHAT you need to think about and how to approach a production in a professional manner. Chris knows his stuff really well and everything is covered but it is just an overview. Well worth your time, especially if you are new to video but just do not think that he is going to show you how to do everything.
Student Work