Element Four: Voice Over
Chris Hau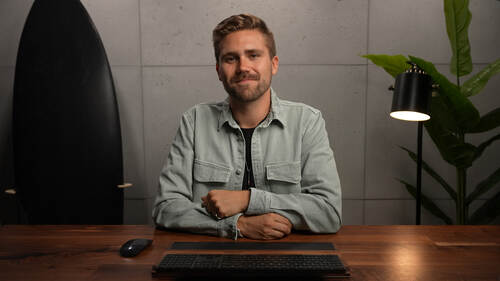 Element Four: Voice Over
Chris Hau
Lesson Info
13. Element Four: Voice Over
Lesson Info
Element Four: Voice Over
Now a voiceover also known as an off-camera or off-stage commentary is a production technique where dialogue usually narration that comes from an unseen off-screen voice, character or narrator. Now, voiceover is usually used to communicate key information about the subject or insight that the audience needs to know in order to understand the scene. Now, let's look at voiceover through the lens of a scripted scene. Now, while the character could dump a load of information onto another character in order to give context to the audience on what's happening, it's not always what the story calls for. Now, sometimes the audience needs to know something that the main characters don't in order to build suspense or tension. Now, let's use "Lord of the Rings" as an example. I know. It's a nine hour commitment to watch all those, but at the beginning of the first movie, we are introduced to the world, and the history of the ring through a voiceover talking directly to us, the audience. Now withou...
t the voiceover we would have no idea why the ring is important. However, it should be noted that the use of voiceovers should be used sparingly. Now, voiceovers are often a good tool in educational videos and tutorials. The voiceover allows you to explain your action to your audience in order for them to follow along and learn from your B-roll clips. Now let's take it back to the concept of an ad. Let's look at this car commercial I made a few years ago. (soft instrumental music) Introducing the not so new 2010 Nissan Altima with only 86,789 kilometers on it. Car does not come with sunglasses. (uplifting instrumental music) Spoiler alert. Four rubber wheels for maximum traction. Gas input and output. And it even comes with windshield wipers with a windshield for them to wipe. Listen to your favorite tunes with this six speed automatic radio. (uplifting instrumental music) Right beside it, there are some sort of compartment. I can't remember what it's called. The Altima has a left and right turn signal. And with its bidirectional transmission, it goes forward and backwards. But wait, if you buy now, I'll throw in the leather seats for free. Serious offers only, please. We're not joking around. (soft instrumental music) Now, what brought all this together was the voiceover. The voiceover was presented by a deep mid-forties male in a traditional car or commercial fashion. This voice paired nicely with the product that we were trying to sell, that being the car. Now the type of voice, and the way it's used is very important, and let's talk through a few examples. In a kid's commercial you typically hear a very lively, young, and positive sounding voiceover. In a Halloween commercial you may have a voice being presented in a deep tone similar to that of "Dracula." It's it's my best impression of "Dracula." Thank you for listening. I appreciate you. The tone and presentation of a voice can really enhance the story you're trying to tell. That's why the project brief is so important because it will help you to define your audience, and what type of voiceover will resonate with that demographic. Now, there are loads of professional freelance voiceover artists available online. So you don't have to go into a recording studio every time you want to add a VO to your video. Now reaching out to freelancers to help with your creative elements is cost effective, and can really add character, and a sense of professionalism to your work. Because of the wonders of the internet, you can also hire voiceover artists with authentic accents from anywhere in the world with the click of a button. So there's really no excuse for poor sound quality or a lackluster voiceover in your video content.
Class Materials
Video Questionnaire/ Video Brief.pdf
Ratings and Reviews
Ok, I really enjoyed this course but you should know it is a decent overview of what to do and in what order to do them. This is not going to show you HOW to do anything but it will show you WHAT you need to think about and how to approach a production in a professional manner. Chris knows his stuff really well and everything is covered but it is just an overview. Well worth your time, especially if you are new to video but just do not think that he is going to show you how to do everything.
Student Work