Exposure Triangle
Chris Hau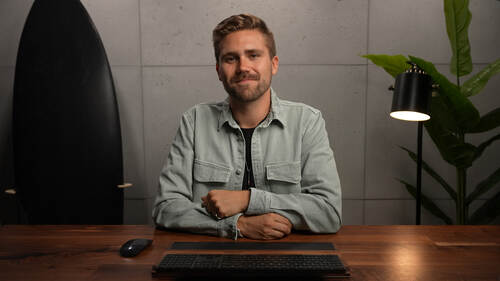 Exposure Triangle
Chris Hau
Lesson Info
28. Exposure Triangle
Lesson Info
Exposure Triangle
In every mirrorless or DSLR camera, we'll have the ability to control our exposure using three manual controls: aperture, shutter speed, and ISO, also known as the exposure triangle. Now each one of these settings has a direct impact on exposure, but we also have to keep in mind their respective trade offs. Now, typically your phone or camera will auto expose the image using an algorithm. But the issue with using auto exposure is that you may experience things in your video like color changes, exposure changes, and weird flickers. The last thing you ever want is to be making a video for a client and your camera is doing some funky stuff that you can't control. Now understanding how to expose your shot manually means that you have more creative control over what the final image will look like. Now, if you're using a smartphone, you can download a specific app like Filmic Pro that allows you to control all these settings as well, essentially turning your smartphone into a manual mirrorle...
ss camera or DSLR. So let's take a look at how these settings work. Let's start with aperture. The aperture is the mechanism inside your camera's lens that opens and closes, very similar to your iris in your eyeball. The aperture allows you to control the amount of light that is being let through your lens. As the aperture opens wider, the more light that can pass through it, making your shots brighter, or in other words, increasing the exposure. As the aperture closes and becomes more narrow, less light can pass through the lens, bringing down the brightness or decreasing the exposure. Now aperture is measured in F stops, or in cinema, T stops. They are essentially the exact same thing. T and F, exact same thing. Now, depending on your lens, F stop or T stops can range from F 1.2 all the way to F22. Now this is where things can get a bit confusing because a wider aperture that lets in more light actually has a lower F stop value. And as you'd expect a more narrow aperture that lets in less light has a higher F stop value. So this is an example of F 1. and this is an example of F 22. Now exposure isn't actually the only thing that aperture affects. When you adjust your F stop number, you're also manipulating something called depth of field. Now depth of field refers to the physical range of distance where your shot is in focus. This is the easiest way to understand with a simple example. This shot right here was taken with the wide open largest aperture of F 1.4. You can see your subject is nicely in focus but the objects in both the foreground and background are very much outta focus. This is referred to as a shallow depth of feel. Now on the other hand, here's the same shot, this time with a much narrow aperture of F 11. And as you can see, there is a lot more of the shot in focus and that is due to a deeper depth of feel. Now when deciding what aperture to use, you're making both a technical and stylistic choice. Sometimes shallow depth of field can help make a shot more dramatic or isolate and direct the viewer's attention to something specific. Now sometimes a deeper depth of field is beneficial if your subject's distance is constantly changing or there's more information that you want to capture in your scene. Now in that example I just showed you before, you might have noticed that even though we changed the aperture or F stop, the exposure still looks the same. If we increase the F stop, closing the aperture, shouldn't the image be darker? Well, that's absolutely correct, but the reason it isn't is because that when we adjust one setting like aperture we have to compensate by changing other settings like shutter speed and ISO, the other options in the exposure triangle. Now, if we think of videos as a series of still images or frames captured sequentially, shutter speed refers to the amount of times each one of those frames is exposed to light. So let's say we use a fast shutter speed. Because each frame is exposed to light for a shorter amount of time, we end up with a darker image. If we use a slow shutter speed, each frame will be exposed to light for a longer amount of time, resulting in a brighter image. The trade off with shutter speeds however, is that it also affects another aspect of our shot called motion blur. Now back to the example of using a slow shutter speed. Even though it might seem beneficial to get extra light, if our shutter speed is too slow, we'll end up with a lot more motion blur, which is not always ideal. Now on the other hand, let's say you're recording outside on a bright day. Well, you'll want to increase that shutter speed to lower your exposure. Well, you might very well end up with not enough motion blur now, which could lead to other issues such as your shots looking unnatural. If you're unsure of what shutter speed to use, a good rule to follow is the 180 degree shutter rule. In simple terms, the 180 degree shutter rule indicates that whatever frame rate your camera is set to, your shutter speed should be roughly one over double your frame rate. So if your frame rate is 24 frames per second, which is the standard way of shooting at least in North America, your shutter speed should be one over or one over 50 for most cameras. If your frame rate is 60 frames per second, your shutter speed should be one over or one over 125 for most cameras. But if you find yourself in a scenario where you're outside and it's really bright, and it's hard not to use a high shutter speed, you can always use other tools like an ND, also known as a neutral density filter to cut down the exposure even more if necessary. Now, if you're unfamiliar with ND filters, think of them as sunglasses for your lens. They come in different intensities, allowing you to control how much light is being blocked from entering your lens on those bright days. Also, don't worry about frame rates just yet as we're gonna cover that closer to the end of this chapter. In the meantime, let's move along to our final factor in the exposure triangle and that is ISO. ISO refers to the sensitivity of your camera's sensor to light. Now generally speaking, it's better to keep your ISO value lower as this will give you a cleaner and less noisy looking image. This is easy to pull off as long as your scene has adequate lighting. But as you get into darker settings with less light, you might find yourself having to increase that ISO value. And when you increase your ISO, your camera sensor becomes more sensitive to light, making your shot brighter. The trade off here is that with more ISO sensitivity comes more noise. Noise comes in the form of grain-like texture over your image or in the form of little colored pixels. Grainy images are often associated with poor quality, so you want to do your best to avoid grain unless it's like a stylistic choice, of course. So ideally instead of having a very high ISO, you'll have a cleaner image if you introduce more physical light to the scene and adjust your other exposure settings like aperture and shutter speed accordingly. Here are a few real world examples of getting the shot and adjusting these settings. (upbeat music) And that's the exposure triangle. I know it can be a lot to take in all at once so feel free to rewatch this chapter until it sinks in. Now that you've learned about exposure and you know how to adjust either your aperture, shutter speed, or ISO to achieve proper exposure, now let's talk about white balance.
Class Materials
Video Questionnaire/ Video Brief.pdf
Ratings and Reviews
Ok, I really enjoyed this course but you should know it is a decent overview of what to do and in what order to do them. This is not going to show you HOW to do anything but it will show you WHAT you need to think about and how to approach a production in a professional manner. Chris knows his stuff really well and everything is covered but it is just an overview. Well worth your time, especially if you are new to video but just do not think that he is going to show you how to do everything.
Student Work