Working With Sound
Chris Hau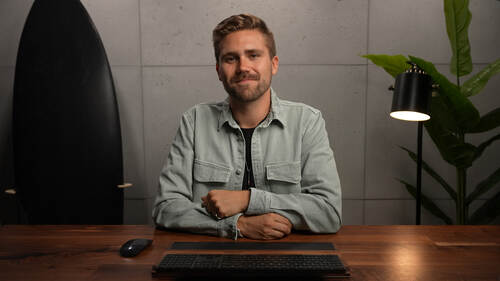 Working With Sound
Chris Hau
Lesson Info
40. Working With Sound
Lesson Info
Working With Sound
Now, we're gonna set up audio. Now, audio is one of the most important parts of any single production, and there's a lot that can go wrong in terms of audio in terms of placement, noise interference, making sure your cables are of good quality, and what type of microphone that you use for the person that you're recording. Now in this case I'm going to be using a shotgun microphone. Now, this is a super high quality microphone. This is the Sennheiser MKH50. Now, this is very expensive. You do not need to use this type of microphone. I can show you some other ones that we have access to here. This is another type of shotgun microphone. It's a bit lower quality, and this can sit on the top of your camera. But I would highly encourage that you invest in some sort of lav microphone and or shotgun microphone. And if you can combine both of them together, you're gonna have the most flexibility and the highest quality audio. So, let me show you how I set up this MKH50 shotgun microphone for th...
is shot, so we get the best quality audio. So, I like using wires because wires means that you're not gonna have interference. When you start to use wireless lavs like the one I'm using right now, especially when you're shooting in the city, sometimes you can actually get interference caught on your wireless signal. In the instance that we had on one of our shoots, the Portuguese radio station in the area came through on our wireless setup. And that's something you wanna make sure that you avoid 'cause imagine you're listening in post-production afterwards, and you start to hear some sort of other language or radio or police sirens or some other calls that are getting intercepted because you are on the same signal. So, I try to use wires when I can. And if you can't use wires, then just make sure you're on a clean signal and/or channel. So, let's set it up here. So, I have an XLR cable here connected to my microphone because we're gonna plug that into the XLR into our camera. Now, first I'm using this amazing, this is like one of my favorite stands of all time. This is a Manfrotto stand, and let me just show you how it works because it is absolutely the best. So, you slide this up here, right? And you're like, okay, that's a normal stand. Boom. It bends over. And now you have a boom pole. This is essentially the same as if somebody was holding the pole like this, but now it's on a stand, and you can make sure that it does not move. So, we'll place this up here. We'll make sure that our stand at the bottom has a nice wide base, so that it does not fall. And another pro tip is that, if you can, make sure that weight that is going the furthest out, the area that's most likely to fall over, place it in the direction of a leg pointing out, so that there's less of a chance of it tipping over. So, this way, if the weight is here, see, I'm putting a lot of pressure on it. It's not moving over. But if I place it right here and put weight, it tips over very easily, especially without a sandbag. So, what you wanna do to be extra safe is, if you can, make sure that the arm is sticking out over one of the tripod legs, and then place that in the direction of your talent, and then get a sandbag to make sure it is good. So, we're gonna place this up nice and high, so it does not end up in our shot, and we're gonna place this out. So, I'm gonna connect our XLR cable right here. I like to wrap it to make sure that it has as much control as possible. And then I'm just going to connect it here. So, there's a little unit that we can safely connect it, so it does not damage the microphone. And I'm just gonna plug that in right there. And then a little tip is you can expand this out. You feed it out a little bit like that. And then if you wanna make sure it's fully safe, you can just wrap that around. And now you're gonna make sure that your cable doesn't dangle into your shot, and it saves you for having to spin the cable yourself. So, I like that. Let's bring that into our frame there. And then we're gonna plug this into our XLR into our camera. Now I like to use a device called the Sony XLR-K3M, which is a little hot shoe mount that connects to the top of the camera, so that we can plug in an XLR directly into our Sony camera. So, if you have an XLR ability, I would highly encourage you to use that. You can also just use the typical microphone jack and have an extension cable and go directly into that into your camera. That works too. Or alternatively, a lot of people also record with an external audio recorder. So, I have the Zoom H6N here. You could plug that in. And then if you wanted to, you record this, and you record your camera, and then in post production, you bring two files together and you sync them up, so you can get high quality audio. A lot of people work like this. We worked like this for a very long time. Sometimes it's more cost efficient than just having the expensive device that connects to your camera or having to buy a camera that accepts XLR. These are all things that you can research. But what we're gonna do is we're gonna plug that into the K3M on top of my camera. So, this is the XLR-K3M. This essentially allows us to take a analog audio signal, which comes from our shotgun microphone through an XLR cable and plug it directly into our camera, so that we get signal directly to camera right here. So, this is the best way to get highest quality audio. This is what I'd like to use. You can also plug in a lav on the opposite channel because this has two channels of audio, so you can have one channel for the shotgun microphone. You can have the second channel be the lav microphone, and then you can combine the two together to get the highest quality audio. So, that is how we do it here. And if you can, we talked a lot about safety while we were on this shoot. The one thing I would recommend is, if you can, is learn how to wrap a cable so that you can make sure that there's nothing that people can trip over on your set because this is a small room, and you especially wanna make sure that you don't knock one thing over 'cause what always happens is the domino effect. If you knock that over, it knocks the stand over, knocks this, and then things just get damaged. And that's literally why there's one mark on the wall over there because I tripped on one thing and then something fell into the wall, and luckily we didn't create too much damage, but it can happen. So, learn how to wrap a cable. And then what I like to do here is use these cable ties and then just tie up our cable here so that it's nice and safe. Boom. Cable tie. And then there's an area right here. You can just hang it. And now your cable is safely managed. And then when you're positioning your microphone, you want to make sure that you can get it as close to the subject as possible but that it's still out of the frame of your final shot. So, in this case, you want to position the mic, get it nice and low but outta frame, and then make sure the shotgun microphone is pointed directly at the mouth. If it's pointed too low, it's gonna get too boomy and too bass sounding because you're introducing a lot of those lower sounds. And if you go too high above the head, it's gonna be really bright, and you're not gonna, it's gonna sound too roomy. It's gonna capture more of the room. So, you wanna always make sure that it's pointed roughly right about, if this was the area you're pointing the microphone, roughly right around here, at the mouth. Point the microphone at the mouth, easy.
Class Materials
Video Questionnaire/ Video Brief.pdf
Ratings and Reviews
Ok, I really enjoyed this course but you should know it is a decent overview of what to do and in what order to do them. This is not going to show you HOW to do anything but it will show you WHAT you need to think about and how to approach a production in a professional manner. Chris knows his stuff really well and everything is covered but it is just an overview. Well worth your time, especially if you are new to video but just do not think that he is going to show you how to do everything.
Student Work