Recording Voice Over
Chris Hau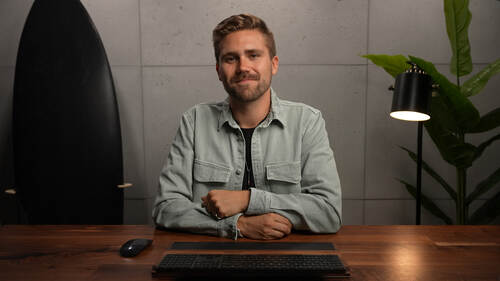 Recording Voice Over
Chris Hau
Lesson Info
35. Recording Voice Over
Lesson Info
Recording Voice Over
Now like an interview, you won't always need to record a voiceover for every one of your projects, but when you do, I promise these tips will come in handy. First off, be very selective when using voiceovers. They're great to serve a specific purpose but can become very cheesy if used unnecessarily. I'd always recommend recording your voiceover after you've shot your footage and started to piece together your story. There will be times when your voiceover carries the story, so it'll be nearly impossible to piece it together without it. In this case, I'd suggest recording a scratch track and use that as your point of reference when editing. A scratch track is something that you'll record on any mic of your choice. Typically, it's easiest to use the mic that's built into your computer. You can record directly onto your timeline in your editing system. Again, don't worry about the quality of this audio. This is just to get your story going and give you a reference point to build out your ...
video. Once you've locked in your story, you can go back with your proper audio setup and record your voiceover to match your story. It's always good to have your video play back while you record, so you can nail the pacing and cadence of your voice to match what is needed on screen. Now there's another method of recording voiceovers and that is referred to as ADR, additional dialogue recording. This is standard practice in the industry and is commonly used in movies. This involves the actor going back into the studio to record over their lines. This practice is used if and when the audio that was captured on set is unusable. The actor will have to go back and reenact the lines while watching back the footage to ensure that the tone and delivery matches the video.
Class Materials
Video Questionnaire/ Video Brief.pdf
Ratings and Reviews
Ok, I really enjoyed this course but you should know it is a decent overview of what to do and in what order to do them. This is not going to show you HOW to do anything but it will show you WHAT you need to think about and how to approach a production in a professional manner. Chris knows his stuff really well and everything is covered but it is just an overview. Well worth your time, especially if you are new to video but just do not think that he is going to show you how to do everything.
Student Work