Pre-Production: Click Track
Eyal Levi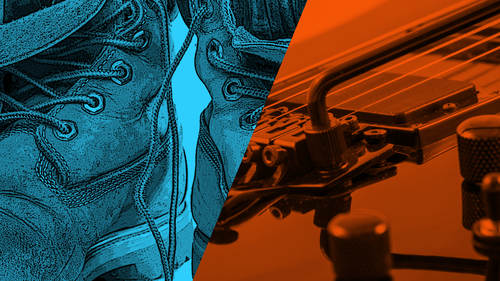 Pre-Production: Click Track
Eyal Levi
Lesson Info
6. Pre-Production: Click Track
Lesson Info
Pre-Production: Click Track
I'm gonna show you Annick's click and why it's important for him to just have given me his click, or for you to make a click with a musician when need be. Check this out and tell me if you wanna listen to this while you're tracking (computer mouse clicks) (sharp metronome beat) (metal guitar riff) (tempo increases) (develops into scream-o rock music) Mind you, the song is in there. This is what he listens to when he plays this live. He has an actual recording of the album underneath that click track. And that's what he was listening to while we were recording as well. Imagine how annoying this would be if you had to hear this. But this is what he needs in order to play well. (sharp metronome over scream-o rock music) Cool. And it's not for you to ever question how the guy needs to hear things. (computer mouse clicking) (rock guitar riff) For instance, that right there maybe I would just use that on the real thing. I mean, it sounds cool. It's played perfectly. Why redo it? I mean, we'l...
l try but if I got this from a band, I can tell you right away that like I already know that I'll probably just wanna use this. This is another like I was saying before with Pre-Pro, you want to be set up to record for real, because some of the stuff you're gonna want to keep and you want to encourage bands who send you their Pre-Pro to do things as high-quality as possible because stuff like this will happen. Where it's just like that. Sounds cool, why redo it? And I bet you that this actually made it to the record cause it sounds like it. But I would use it too, if I got this. And I will on my actual mix of the song. (rock guitar riff) Cool. And you scan around and see what you're working with. So cleans... (clean guitar riff) See, and those are pretty good already. Like if need be, I could just use those, too. Not that I'm going to or planning on it, but it is pretty good. Check out the synth... (synthesizer chiming) (volume of synth increases) (synth melody develops) Again... I guess I'll say this and... you'll hear me say this again. And those of you who listen to the podcast know from this, some of my guests have said this. When you're dealing with a super talented artist, sometimes your job is just to get out of their way. You're just supposed to facilitate their vision. If they already do things great, there's no reason for you to try to reinvent what they already invented. So for instance, those synths, they sound good already. Why would we try to recreate them when he obviously spent a long time on that? By he, I meant John Brown. Obviously, he took his time and got that to sound exactly like he wants. Maybe, part of it afterward sucks? Let's see... (deep synths) Pretty great. (clicking of computer mouse) (deep synths) So I would probably just cut these in to... in to two tracks so that I could process them differently. You know 'the droney guy' and then 'the sparkly guy.' So I'm gonna duplicate this... (clicking of computer mouse) And I would just call this... "Synth... Drone." And the one before it I'd call "Synth... Highstuff." And then what I'll do here is I'll cut the drone out of the "Highstuff" track and cut the "Highstuff" out of the "Drone" track. However, I am still going to consolidate this to zero. (clicking of computer mouse) Cool. ("Drone" track) ("Highstuff" track) The reason I would wanna process those differently I can already tell you now is that this... "sparkly stuff" probably already gonna wanna remove some low-end. Cause if that's meant to be playing along with everything going on, It's going to be hard to hear. So, already filter that. But, however, with this drone I know that we wanna keep some of that low-end. So already there, unless I wanna automate the effects. Already just set that up. ("Highstuff" track) Alright, so basically I'm just hunting around and checking what they gave me and realizing that it's pretty damn good. Bass guitars... (heavy bass guitar riff) Nice. I could probably just... Probably doesn't even need it but... I could probably just add a little bit of grit on that to get it to blend with the guitars. Which is probably not even needed. (heavy bass guitar riff) (heavy bass guitar riff now with gritty pitch tunes) And... the reason I did that is just so I can hear it more clearly. So right now I've only got a backing vocal, but he gave me his vocals all separated. So I'm gonna go ahead and bring those in next (clicking of computer mouse) Pre-Pro vocals. So check it out. Got a megaphone, harmonies, and leads. Please don't crash. Alright, cool. And in this case I'm gonna convert them all. When you convert them, it's going to basically create- I guess that these are in a and we're in so I'm gonna convert them to and copy those in to my audio files folder. Yup, 41 to 48. Done. While that's processing, you guys wanna chat? Wanna talk about stuff? (laughs) There's a question how to deal with musicians who are stubborn about using a metronome to track. So, going back to the rapport building (laughs). Just gonna say- is this 2003 or something? (laughs) It's true. I'm saying that because I remember there was a time period when I had first started recording when it was really hard to get metal drummers to play to a click. Like they were really afraid of it. But, now it's the exception to the rule. Well the thing with the click, is don't... (laughs) don't make the mistake of taking a drummer who can't play to a click and making him play to the click right then and there, the first time ever while recording. That's gonna be a disaster. So, again like I said lead-time, lead-time, lead-time. If you just can't get him to do it, man, then you have to consider your options. If it's not metal, you know, if it's some other style where things can flow in and out of time or something where time is more relative, like jazz then, sure. You know? You have to assess the situation. But if it's, you know, this grit-heavy style of music Where all the editing and all the effects and all the timing of everything needs to be exact and will get really, really messy if it's not well, then you need to then make some tough decisions. You need to decide what you're gonna do. Are you gonna program it? Are you gonna have someone else play it? Or are you just gonna say no to the project? But, you're gonna have to just decide. Or you're just gonna have to let him record without a click and fix, yeah. But, that always sucks. Especially if they're looking for a modern result. If they're looking for a modern result but won't play by modern rules, you're gonna have a hard time. So, yeah, it goes back to rapport and getting them to trust you but if the drummer doesn't know how to play to a click, he's probably not a good drummer to begin with. That's the other thing. Yeah, he probably sucks. (laughs) More than likely, he's a bad drummer. So, more than likely, I don't know. To me, that would be a giant red flag. Can't play to a click? I'm immediately looking for another drummer. So, I don't know. If he's stubborn, find somebody else. The reason I say that is because it takes a while to learn how to play to a click. Mhmm. Who the hell doesn't play to a click? (laughs) Alright. So let me label these harmony vocals. Pre-Pro. (clears throat) (clicking of computer mouse) Now, just so you know, with QuicKeys, or Batch Commander by Slate you can do this really fast. I'm just kinda painstakingly showing you guys what goes into it. (clicking of computer mouse) I highly recommend QuicKeys or Batch Commander, by the way. (clicking of computer mouse) Alright. Let's see what we're working with. Megaphone... Route these outputs. (clicking of computer mouse) (eerie megaphone sounds) Cool. (clicking of computer mouse) Well, he already gave me instructions on how to pan these. Let me see though They might be Pre Pan- Yup. They are. Alright, cool. Let's listen to these harmonies. I'm gonna mute these backing vocals. Some of the harmonies that he gave us... (clicking of computer mouse) (male voice harmony vocals for rock metal) Alright. That's gonna make life way easier. (male harmony vocals for rock metal) Weird. (clicking of computer mouse) (male harmony vocals for rock metal) Cool. So, having that in there is just kind of a life-saver sort of thing. (male harmony vocals for rock metal) Again, you heard those. Wasn't perfect, but close enough to work with. So then I would, just, I would just then start building a few tracking templates. So, at this point that I have all this in here I would make a group. (clicking of computer mouse) A general group, called "Pre-Pro." I do not wanna follow globals. (clicking of computer mouse) I don't wanna be matched on volume. I just want the mute and solos to work so I can get this stuff out of here if I need to. Later on, also, we're gonna talk about how to set up the synths for the drummer and stuff. But, as you can see. And if I need to do anything custom I'll just disable the group. But, now that's ready to go.
Class Materials
Eyal Levi Bootcamp Bonuses
Ratings and Reviews
I'm on lesson 19! Already worth every dollar!!! Priceless insight! I have already incorporated some of the ideas (preproduction common sense stuff that I never thought of, but damn). VERY HAPPY with this course! ALWAYS LEARNING and looking forward to the next 50 (or whatever) lessons!!! Excellent course! GREAT PRODUCER/ENGINEER, GREAT DRUM TECH, and GREAT BAND!!!! THANK YOU!!!!!!!!
I'm just part way though and I'm blown away by the quality approach Eyal takes to getting the best out of the sessions. I love how well everything is explained and Eyals calm manner is just awesome it really makes you want to listen to the gems of wisdom he offers.
Amazing knowledge is being presented here. If you want to start out recording, this should be your first step, it'll save you lots of time and get you awesome results. Highly recommended class.
Student Work