Intro to Rhythm Tracking
Eyal Levi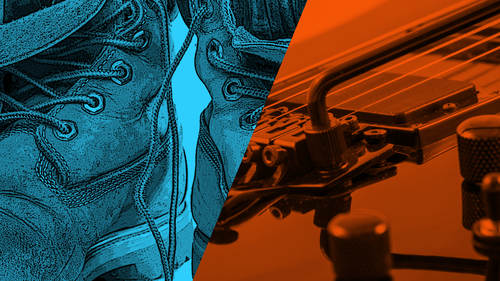 Intro to Rhythm Tracking
Eyal Levi
Lesson Info
33. Intro to Rhythm Tracking
Lesson Info
Intro to Rhythm Tracking
Hello, welcome to day 6 of the Metal Recording Boot Camp, with myself and Monuments. We're good friends and an awesome band. Today we're gonna be starting with rhythm guitar tracking finally, one of the most important and funnest parts for me. Before you can track anything, we gotta get your guitar set up. A lot of people say that you should get it set up, a lot of people go to Guitar Center or go to corporate places and get it set up, but I think it's super important that you find a tech that you trust and that you know, and that you develop a relationship with. Yeah, guitars are not perfect instruments. They will change overnight, and so. It takes a lot of work to get it set up right. I found a dude that I trust, and I work only with him. For like the past three years I've done. Every single guitar and every single base and every album I've been on for the past few years. There's been a couple of exceptions to that, where we've had to go in to a corporate place or somebody else. Bu...
t it's good it happened, right? Yeah. I wouldn't even say that it's they screwed up, it's just that they didn't know what we liked. Yeah. Or what was needed. And it's not even what I like, but in my case, we're getting guitars set up for a client, right? So it's not always me. Yep. So, the guitar techniques should be good enough to understand. Okay, if I say this client digs in really really hard, but is not really doing much with chords, He's not going very high up, lots of chords, and that's the chords I'm showing you. He's gonna set it up a certain way. If I say this guy has got kinda weak hands, and tries to play fast stuff a lot. He's gonna do things a different way. Exactly, yeah. And then there's other factors to consider, like gaging the strings for the tuning, I don't know if it's big deal for you. Yep, definitely yeah, we have multiple different tunings. So we have to have guitar staff for each tuning. How many tunings? Six or seven. Wow, you go through all six or seven in a set? Yeah. On stage? Yep. How do you, actually just real quick, how do you pull that off? Um, just have to. Okay, I got it. Yeah, um because on some of the tunings, there's only one string that's down in tune, so you can kinda get away with it, in a large saying. But once you're in a recording sound because it's like, such a focused part of the sound. People don't listen to it on a, you know, like... On a microscopic level. Microscopic level, yes. So then you can't get away with it, so. Yeah, because the moment that you de-tune one string, Everything's out. Yeah, and the intonation's off, the balance is off. Yep. It's something where even if you're close but not quite there, it can ruin an entire recording because being slightly out of tune on one track, plus another track that you got on top of it, that's another that will end up ruining it. It will. And I find that it's much harder to mix things that are even subtly out of tune, because you can't get a cohesive low end. Exactly. Everything is phasing against everything else. You got a cause effect between the guitars, yep. And it's 'cause you're a classic rock band right? The Pantera? Yes! Yeah, but it's not gonna work for a modern level sound. No it's not. So what are the things you look for in a guitar tech? Um, someone that can basically make it play how I want to play it. Which this Keaton has done very very well. I dig into the guitar very very hard so you can't be too low in action. It needs to be something that I can pull quite hard, and it's not gonna get out of tune. 'Cause I hit the guitar so heavily is why you can't be too close to the fret board, especially on the lower strings. And also I play a lot of clean parts to an octave up. So I need to make sure the intonation's perfect throughout the entire finger board. Octaves are the hardest thing to get in tune. Exactly, exactly yeah. I find that the G string, this one, is always out of tune. I think that's the same on every single guitar. Every single guitar, there's a new octave to master. So it needs to be as close as physically possible. Having a good tech to do that will understand how to make it work, basically. I feel like even with the best intonation job, sometimes it will still be out of tune just because a guitar is a guitar. Exactly, another thing as well, the tech will do is make sure the pick up height is perfect for the pick up that you have. That's a really good fact when you're recording, if you're too close, you get a really faulty, almost... I guess what we talked about earlier with the eyes. Horrible distortion that isn't supposed to be there. And scratchy. And scratchy, if they're too low it sounds very distanced or very in your face. That's also having a good tech can sort out, especially if you have a good one, so. The amount of low end you get in your guitar will be a lot of the times determined by pick up height. Exactly. And you have to also make sure that it's not so hard that it impedes your playing. Exactly, where you can touch your strings on the pickup. Mhmm. Exactly, yeah. So, loads of different factors go into what a tech does. Do you have guitars set up different ways for different styles that are playing? It's more for the different tunings that are set up for. So this one's in G sharp, and we have a guitar set up for A sharp. So I'll use a gage lower of strings, which obviously makes the feeling of it different as well, its a bit more. It's a little bit less tension. And obviously the eighth string we've changed to two different strings. the low strings are on the thicker end so you'll have to have the height of the lowest string a little bit higher so it doesn't... (guitar string clangs) You hit it hard and you get that terrible kind of, The buzz yeah, and the note also cuts out. If you're too close to the fingerboard as well, especially with how hard I hit. You have to be careful of all those factors. Now one thing about your blanks, is you play so hard. You know, players who play hard tend to pull things out of tune. Do you have your guitar set up to accommodate that? No, what I tend to do is tune the lowest one ever so slightly flat. Mhmm. Ever so slightly, almost to the point where you can't hear that it is. Just the tiniest little bit and it can really help with something like that. Do you tune to the attack or the sustain? I normally tune to a mixture of both, depending on if it sounds in tune or not. So basically I start with sustain, and then if I pick it too hard and it's still out of tune I'll start doing it to pick it up. Yeah. And we'll obviously explain a lot of that as we track with what we'll be tuning. I tune almost between every single tape. Just about. So yeah, with that we'll introduce Keaton and then we'll start tracking. And then we'll change some strings. Awesome. Awesome.
Class Materials
Eyal Levi Bootcamp Bonuses
Ratings and Reviews
I'm on lesson 19! Already worth every dollar!!! Priceless insight! I have already incorporated some of the ideas (preproduction common sense stuff that I never thought of, but damn). VERY HAPPY with this course! ALWAYS LEARNING and looking forward to the next 50 (or whatever) lessons!!! Excellent course! GREAT PRODUCER/ENGINEER, GREAT DRUM TECH, and GREAT BAND!!!! THANK YOU!!!!!!!!
I'm just part way though and I'm blown away by the quality approach Eyal takes to getting the best out of the sessions. I love how well everything is explained and Eyals calm manner is just awesome it really makes you want to listen to the gems of wisdom he offers.
Amazing knowledge is being presented here. If you want to start out recording, this should be your first step, it'll save you lots of time and get you awesome results. Highly recommended class.
Student Work