Primary Tracking
Eyal Levi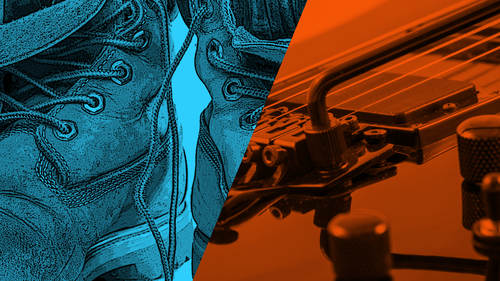 Primary Tracking
Eyal Levi
Lesson Info
24. Primary Tracking
Lesson Info
Primary Tracking
We are reading to start tracking, taking samples on everything. Kit sounds as good as it's gonna sound in this amount of time. And we're good to go. So I'm gonna make a new playlist. And we're gonna basically just let him run through the song a couple times because he's that good and hopefully we get some great takes out of it. Hey man. Yo. How are you doing? You know. Yeah? Yeah. So are you pretty much ready? Yeah. Alright cool so I'm gonna just run it through the song and if you mess up, you can keep going. If you just totally train wreck, you know, I'll only stop it when you give me the two snare hits. You mean I don't get fired? You don't get fired. I mean we might laugh at you but-- Yeah we'll definitely laugh. Alright so yeah so just keep going even if you screw up because we're gonna comp stuff. Awesome. Okay, ready? Yeah. Cool. We should probably check the tuning between takes. Okay. Hang on, we want our own click. (metronome beeping) (metal ...
music) (metronome beeping) So we should definitely check the tuning again. Yeah, sure. It sounded like it went out. Hey, great job. Matt's coming in, we're gonna tweak the tuning, make sure it's good, then we'll go for the next take okay? (drumming) Dropped a little, it did drop a little. (drumming) That's better. Much better, hang on a second, I'm gonna pick a different hit. (drumming) That's a bit more of a rim shot. (drumming) Do you think it's still a little low? Yeah a little bit. (drumming) Yeah you're still a little low. Like the sample has a little more crack to it. (drumming) That's better. That's better, choose a different hit. I just think it's where he's hitting on the snare too. (drumming) Just about there right? (drumming) That sounds good. Okay we're good, let's just check the toms. It's because we don't have lug locks for that snare because they don't really fit. There's two of them on there. Yeah but they won't fit the-- That sounded fine. Yeah, that one's good, moving on. Yeah but they won't fit on every lug. He said that it's something to do with an interesting construction. Oh I know what he's talking about. (drumming) Wait, wait, wait, wait, wait. (drumming) Hang on I wanna hear the decay real quick. (drumming) Okay we're good, cool, thanks. I feel like my life's incomplete without this. Okay, you'll see. (metronome beeping) (metal music) (metronome beeping) Okay so you wanna tighten down the cymbals, and let's double check that snare and toms again. Cool. Flailing all which way. Do I need to tape these down again? Do you have room to? Is it gonna actually? Maybe. It should be fine for another take. You think? I do think. Okay. I mean if it does fly off we can just punch it. How about I just do this? Just put a piece over the top here. (murmuring) Could be because of those giant sticks that you're using. That's a good point. I should downsize shouldn't I? I mean even the Thomas Langs would be a step down, and those things are like bricks. (metronome beeping) (metal music) (metronome beeping) Thanks Matt. No problem. (metronome beeping) (metal music) You ready? Yup. I hate hiccups. You hate what, hiccups? Hiccups, yeah, I'm hiccuping. (metal music) (metronome beeping) Hey Anup? Yeah? Okay so we like that idea but not throughout-- All of it? What's that? Not throughout all of it? Yeah, only after that pause. Yeah I'm down. Okay cool. So you mean, okay so (humming) pause. (humming) Yes. Right? Yeah. And then all the way through the end? Yup, uh huh. Okay. It kinda sounds a little bit like Pedal Heart so it's cool. Yeah it does. Okay so I'll start it near that, near the pause okay? Cool. And I need you to play along just so that the ring out that goes through the pause, I need to record that. Yeah totally man. Okay so do you want me to just start you at where it switches to 145 BPM? Yeah start me where it switches to 140, yeah okay. 145? Yup. Okay, alright, ready? Yup. And I know that we got this in another take. Or I think. (metal music) (metronome beeping) Yeah maybe, he doesn't need to hit it as hard. I think it's cooler when it's more like just thrown away kind of, lower. Hey let's get it one more time, and Matt has a suggestion. Just play the stack softer, like less of a hit, it's more of a throwaway type thing. Okay cool. It's really just a texture thing that's cool in the background you know? I gotcha, it's hard to like. Okay I'm keeping that take though. Yeah. So I'll restart you at the same spot okay? Yup. Alright go when you're ready. (metal music) (metronome beeping) Do we wanna get one more just for, because I feel like he can still do it one more better and then be done? Yup, do it. Hey dude? Yeah? That was awesome, we're gonna do it one more time just because it's a new thing, and then we'll be done. Cool man. What about a crazier fill at the end maybe? And yeah maybe a crazier fill at the end. Instead of (humming) maybe? (humming) Oh okay, okay Matt, yeah. (humming) Come on you can play that. (metal music) That's fine, do it again. I'm keeping that because I like one fill. You dig it in there? Here it goes. (metal music) (metronome beeping) Whatever we've already got a great ending. I think we're safe to stop. Sorry Matt. That's alright. But the other idea was good. Good idea though. Hey dude, we're done. Don't tear it down, we gotta comp something but great work.
Class Materials
Eyal Levi Bootcamp Bonuses
Ratings and Reviews
I'm on lesson 19! Already worth every dollar!!! Priceless insight! I have already incorporated some of the ideas (preproduction common sense stuff that I never thought of, but damn). VERY HAPPY with this course! ALWAYS LEARNING and looking forward to the next 50 (or whatever) lessons!!! Excellent course! GREAT PRODUCER/ENGINEER, GREAT DRUM TECH, and GREAT BAND!!!! THANK YOU!!!!!!!!
I'm just part way though and I'm blown away by the quality approach Eyal takes to getting the best out of the sessions. I love how well everything is explained and Eyals calm manner is just awesome it really makes you want to listen to the gems of wisdom he offers.
Amazing knowledge is being presented here. If you want to start out recording, this should be your first step, it'll save you lots of time and get you awesome results. Highly recommended class.
Student Work