Sticks and Beaters
Eyal Levi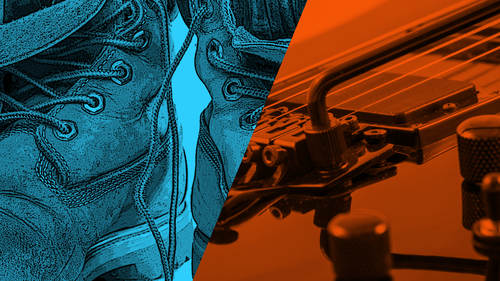 Sticks and Beaters
Eyal Levi
Lesson Info
14. Sticks and Beaters
Lesson Info
Sticks and Beaters
The other factor that we're looking at sticks and beaters. So, this is a standard, more standard stick size right here. It has a nice small tip but it's not too small. And here is Anoop's stick of choice which, as you can see, is a lot bigger. So, we're looking at two things here that are going to sound on the same exact drums very differently. The general rule is the smaller the tip, the more articulation you're going to have in the drum itself, the more attack. However, if you get too small, you're not gonna activate the body of the drum. The larger the tip, the more body and the more air you're able to push so the drum is gonna sound a little bit fuller but you're going to start to round off the attack on the drum itself. So, that brings us to an interesting way that we're going to have to approach the tuning of this drum because, as you can see, these sticks that Anoop uses are much larger than a normal stick so we're going to have to approach the tuning of this kit a little bit di...
fferently to accommodate this size stick. If you can, most of the times we've asked drummers to switch sticks, if they can, either go larger or go smaller, depending on what type of sound we're getting from them and usually it's go larger, usually-- Nine out of ten times. Yeah, nine out of ten times we go from something like a 5a which is, you know, a very comfortable stick for a drummer to play fast with because it's light, to a 5b which is gonna give us a little bit more body out of the drum and let the drum speak a little bit clearer. A little side note about that is if you're going to ask a drummer to make these types of changes, like go to a different size, especially a heavier size and they play very fast music like in the 250 BPM range, anything like that, faster, you might wanna get ready for this a month or two before the session because just giving them that on the spot, it might not work, they might screw it all up because a lot of these guys that play super fast, they require, they get used to the exact weight of everything, the exact distance from the drum, it's all just a muscle memory, quick twitch kind of thing. So, you're gonna basically be throwing a wrench in the machine if you just present them with heavier sticks. I mean, some guys can do it but I wouldn't assume that they can just do it. I mean, I'm sure Amood could do it. Right. But not everyone's Amood and most likely, most of the people that, you guys watching this are gonna be recording, are not gonna be like an Amood or an Alex Runiger or somebody like that. You guys are probably gonna be starting with guys that are not quite pro and that's not a, no offense or anything, it's just the truth, so you wanna give these people as much time to prepare as possible. So, if you know that they play pencil sized sticks and you want them to move up, give them a couple months and make them practice that way so that when you start recording, they don't totally mess it up. Yeah. Yeah, it's important, I mean, you bring up a good point, you always should meet and watch the band in their rehearsal space or in a space on its own so you can take into account these things, what types of drums are you using, how does it sound when he plays, what type of sticks are you using. Will he need to go bigger or smaller and those type of things. Like, pay attention to, you know, if you can and you have time ahead like, really observe how these guys are doing what they do so that if you have the ability to say change a stick to something bigger or smaller, you can do that because you know that they're not playing with big enough sticks or small enough sticks or what have you. Because yes, playing at these tempos, it's just like if you were to tell a weight lifter who is used to lifting 150 pound weights, "Okay, today we're gonna lift 300 pounds." It doesn't really happen. So, they do need time to prepare to get up to a heavier stick. For sure. Yeah, absolutely, and we'll cover this later too, it's the same with cymbal heights. And some of this I covered yesterday in the pre-pro part and doing your homework but you'll see with cymbal heights, that makes a big difference in how much isolation you're gonna get out of the microphones and a lot of guys who aren't used to recording like, very, very low cymbals and if you ask them to raise them right there on the spot in the studio, if they're not used to that or they're not pro, that could totally mess up their game. Especially these fast guys who are used to an exact distance from here to here. You wanna give them a month or two to prepare practicing with higher cymbals. Raised cymbals. And the last thing that we're addressing would be, in regards to the sticks, would also be the beaters for the bass drum. This also goes down to a weight issue for a lot of drummers, especially ones that are playing fast. They like a little bit less weight on their beater. The problem is if you're using a real bass drum, you might not be activating the drum itself and you might not be getting enough attack or body out of the drums depending on how, what beater they're using and how they're playing it. So, we have a couple different beaters to choose from here but felt is a standard, wood is another option, and then a lot of people, especially in metal, use plastic. Yeah. From our standpoint, plastic is not good because it literally sounds like plastic. I think people use it because it sounds clicky. It does sound clicky. And think it's gonna get them that famous metal sound right then and there but it's the wrong kind of clicky. It is the wrong kind of clicky. The plastic beaters are one of those things that sound good from a drummer's perspective and we'll talk about this later in the tuning side of things. Not everything that sounds good from a drummer's perspective sitting at the kit will sound good in a microphone. And that needs to be, you need to know that and the drummer needs to know that as well. Like, there are certain things that just don't sound good from a drummer's perspective but sound amazing in microphones and plastic beaters are one of those things. If you're looking for that plastic beater type sound, check the type of bass drum head that you're using, make sure that the head is not too thick or change to a wood beater which is gonna give you a little bit more volume, a little bit more click, and a little bit more body than a plastic beater would for sure. And just one more thing about the difference in perspective between how a drummer hears something and how the microphone hears something and it coming out of the speakers, this is why I work with a drum tech. Besides the fact that I always like to work with people that are better than me at the things that I don't think I'm great at, I think it's very, very important for me to hear what's coming out of the speakers, not what's happening in here because it's very, very different. So, if at all you guys get to the point where you can afford somebody you trust who can do this well, your drum productions will skyrocket, they'll go through the roof 'cause you'll be able to just do your job which is in the control room, hearing what comes out of the speakers.
Class Materials
Eyal Levi Bootcamp Bonuses
Ratings and Reviews
I'm on lesson 19! Already worth every dollar!!! Priceless insight! I have already incorporated some of the ideas (preproduction common sense stuff that I never thought of, but damn). VERY HAPPY with this course! ALWAYS LEARNING and looking forward to the next 50 (or whatever) lessons!!! Excellent course! GREAT PRODUCER/ENGINEER, GREAT DRUM TECH, and GREAT BAND!!!! THANK YOU!!!!!!!!
I'm just part way though and I'm blown away by the quality approach Eyal takes to getting the best out of the sessions. I love how well everything is explained and Eyals calm manner is just awesome it really makes you want to listen to the gems of wisdom he offers.
Amazing knowledge is being presented here. If you want to start out recording, this should be your first step, it'll save you lots of time and get you awesome results. Highly recommended class.
Student Work