Guitar Cab Mic Choice and Placement
Eyal Levi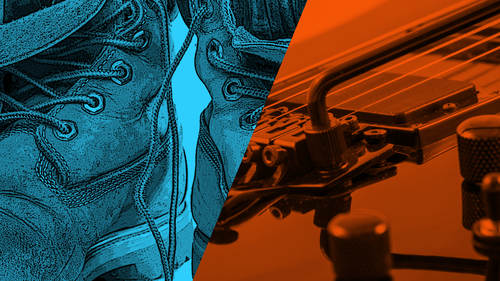 Guitar Cab Mic Choice and Placement
Eyal Levi
Lesson Info
29. Guitar Cab Mic Choice and Placement
Lesson Info
Guitar Cab Mic Choice and Placement
All right. So John Brown and I decided that we liked the 3-channel dual rec through the oversize recto cab. After shooting out a few different options, we liked that one the best. So if you notice, the room looks a little different. There's a cabinet missing, the head missing, and there's this giant monstrosity behind me. And what this is is a set of gobos, and gobos are basically a dumb word for portable acoustic equipment or acoustic treatment. You use that when you want to change the sonic characteristics of a room. Like for instance, if a drummer was too live, and you're recording a fast drummer, like at my place in Florida, you might put gobos around the kit to get the mics to sound more focused and get less room in them. In the case of this room, like we've been saying there's a lot of 300 buildup which is gross, something that we don't want in guitars, and so we don't want that getting in there anyways. On the other side of this wood, which the cabinet is, there's also foam padd...
ing, so it kind of isolates it. Now, let me also say that when you're miking up a guitar cabinet for this kind of music, you might be surprised to know that a lot of room will get into the microphones, even when they're right up against the speaker. More room gets in than you would expect, so you really do need to take steps to isolate the cabinets as much as you can. It's counterintuitive. You'd expect that blasting the amp with a microphone that's literally a centimeter away would drown out the sound of the room, but that's just not the case. So, even if this was a great-sounding room and didn't make 300, and didn't sound like it was boosting 300 everywhere, we would still be doing this. So let me show you what we've done. So you can see we've got gobos on each side, and when I get out of here, I'm going to be closing this one off. If this was my studio, I would actually also put one up top to prevent any reflections coming from the ceiling, but, you know, work with what we've given. The cabinet itself is decoupled for the ground. It's lifted up and it's on a foam padding inside that case, and we've got sandbags holding the case down so that it doesn't move, because a movement of even a centimeter can completely change the tone. And as you can see, we've got four SM57's. We picked SM57's because they are the go-to de facto standard for dialing in guitar tone. Now, these are not placed in any great way or anything like that. What John Brown did was he went and listened to each speaker with his ears, and decided that he liked the top right speaker, but just to make sure, we're going to listen to every one under a microphone, because John Brown's ears are not what's going to be sending the material into Pro Tools. It has to go through a microphone. So we have each one of these 57's the exact same distance from the speaker. Then they're all right where the speaker meets the dust cap. It's just a good neutral starting point. We're going to record all of them, and pick what we like best and go from there. And that's it. And then if we get something that rules, and we can just start tracking, great. If we get something that's just kind of okay or terrible, we'll try something else. So that's what's up. So I'm going to close this and we will begin.
Class Materials
Eyal Levi Bootcamp Bonuses
Ratings and Reviews
I'm on lesson 19! Already worth every dollar!!! Priceless insight! I have already incorporated some of the ideas (preproduction common sense stuff that I never thought of, but damn). VERY HAPPY with this course! ALWAYS LEARNING and looking forward to the next 50 (or whatever) lessons!!! Excellent course! GREAT PRODUCER/ENGINEER, GREAT DRUM TECH, and GREAT BAND!!!! THANK YOU!!!!!!!!
I'm just part way though and I'm blown away by the quality approach Eyal takes to getting the best out of the sessions. I love how well everything is explained and Eyals calm manner is just awesome it really makes you want to listen to the gems of wisdom he offers.
Wow is all I can say. This bootcamp goes in so much depth from tuning drums, setting up guitars, to recording and mixing. I have learned so much by participating in this bootcamp. It has taught me some new recording techniques and signal routing for my mixes. I just want to thank Eyal, Monuments, and Creative Live for taking the time to do this. It has been amazing and I will keep going back to these videos.
Student Work