Working with a Guitarist
Eyal Levi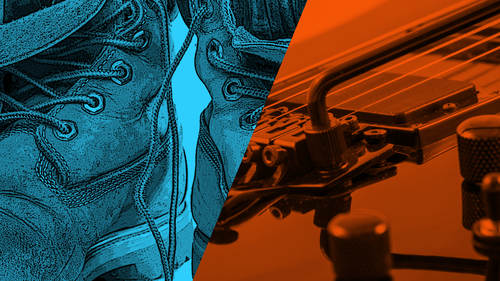 Working with a Guitarist
Eyal Levi
Lesson Info
35. Working with a Guitarist
Lesson Info
Working with a Guitarist
So you guys are gonna notice when I track that I'm gonna be using a bunch of different techniques with these guys. Gonna do some riffs in single takes, Gonna do some parts off to a click, Gonna do some parts loop recording, and some parts just punching in. And I don't favor any one method. I know some guys who need to record entire albums with just one method and I think that that's a very very bad way to go. You should be proficient at every method of guitar recording so that you can use the right one when appropriate because there's always a reason to change up what you're doing. It always has to be riff appropriate and part appropriate so have a bag of tricks, a bag of recording tricks. Be good at recording just to a click. Be good at recording people in loop mode. Just practice it all so that when you record a band who does many different things you can choose the appropriate one at the right time. One thing that we're not gonna cover in this is guitar editing, like editing DI's to...
the drums. And that's because these guys are really great players, there's no need for that. We're gonna get everything with the takes. I don't need to fix them. However that's not the case all the time. Sometimes you really do need to fix guitar players and there're some very definite techniques that you should know about time aligning DI's so that you can have a tight modern product. So I'm making a supplemental guitar editing video that will show you all about how to edit DI's. All you have to do is go to urm.academy/metalrecordingbootcamp and you can get that video. And with that let's talk about some tone in your hands. We give you some tone actually. There you go. (man playing metal guitar) So when I play you'll probably notice that I play pretty hard on the, (strums guitar) on the guitar with my picking hat and the reason for that is it means I can have less gain at the amp stage. And if you have less gain at the amp stage, more of the notes come out. It's not soaked in loads of distortion which will sound bad for the final product. So if you learn to pick harder basically, along the way it might take years to sort of bring this technique to fruition but it's worth it in the end because it's just gonna have, your sound is gonna be much better in the final products. So. You know I've always found that the best sounding guitar players are the ones that pick the hardest. However, lots of guys who pick really hard pull it out of tune, therefore ruining it. So how did you get it to the point where you could play as hard as you do but not go out of tune. Because you don't ever use tuning bridges or anything like that. No, it was literally just, I guess trial and error over a long period of time. I'd probably say between five and 10 years recording in Cubase to a click. Which is definitely also a very important part of recording if you've never played to a click before. Then the moment that you do is really gonna mess you up. So yeah, it's practicing to a click, going back over what you've done to see what mistakes have been made, and eventually if you can pick up on those mistakes you'll try and perfect them the next time you record. And after a certain amount of time it will just get a lot better. So I guess picking hard is like learning how to tune the instrument that you have in your hands as well. So we see every single instrument is different, it has sweet spots and you know, learning all that stuff will help you out in the recording session. And that's a very important skill to develop as a guitar player. And actually as a producer who works with guitar players you should be good enough at guitar to where you can play chords in tune. Yeah. Because lots of guys have not developed their skills to that point. And there are many times where a guitar can read perfectly in tune, Yeah. On the tuner, and be perfectly intonated yet the moment a person starts playing everything just goes sharp. Yup! And it's because of the way they hold the neck or the way they pick. Yeah, exactly, yeah. Another thing as well about the picking hard, there's picking hard and then there's picking consistently as well. So it's not just picking hard and going relentless on it. It's about controlled as well to make sure that everything is consistent. The more consistent the better it's gonna sound.
Class Materials
Eyal Levi Bootcamp Bonuses
Ratings and Reviews
I'm on lesson 19! Already worth every dollar!!! Priceless insight! I have already incorporated some of the ideas (preproduction common sense stuff that I never thought of, but damn). VERY HAPPY with this course! ALWAYS LEARNING and looking forward to the next 50 (or whatever) lessons!!! Excellent course! GREAT PRODUCER/ENGINEER, GREAT DRUM TECH, and GREAT BAND!!!! THANK YOU!!!!!!!!
I'm just part way though and I'm blown away by the quality approach Eyal takes to getting the best out of the sessions. I love how well everything is explained and Eyals calm manner is just awesome it really makes you want to listen to the gems of wisdom he offers.
Wow is all I can say. This bootcamp goes in so much depth from tuning drums, setting up guitars, to recording and mixing. I have learned so much by participating in this bootcamp. It has taught me some new recording techniques and signal routing for my mixes. I just want to thank Eyal, Monuments, and Creative Live for taking the time to do this. It has been amazing and I will keep going back to these videos.
Student Work