Guitar Setup and Rhythm Tone Tracking
Eyal Levi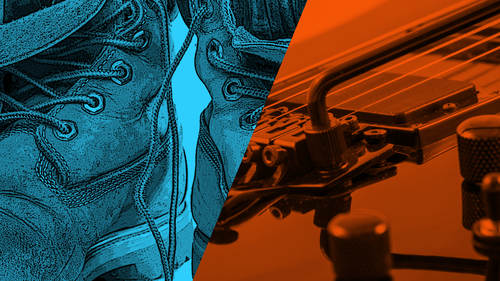 Guitar Setup and Rhythm Tone Tracking
Eyal Levi
Lesson Info
26. Guitar Setup and Rhythm Tone Tracking
Lesson Info
Guitar Setup and Rhythm Tone Tracking
So welcome to day five of the Creative Live Metal Recording bootcamp. I'm Ayal Levi and I'm working with the awesome band, Monuments. As you can see on my screen I have a session open called "Guitar Rhythm Tone Session" and every time that I start to work on a a new set of instruments, I make a new session, a new Save As... And I kind of get rid of everything I don't need. Number one, because it keeps me focused, and number two, because who knows how crazy I'm gonna go tracking and I want full CPU power available. Last night I sent the drums to my editor John Douglas, who since got them back to me. There wasn't much editing needed because Anup Sastry is an unbelievable drummer, and if you notice I actually have them on a stereo track here. (drum music) That's just so that I don't have 20 or so drum tracks to try to level while I'm focusing on guitars. I like to have the fewest number of tracks onscreen as possible, so, just get a good basic stereo mix to the drums and put them on a ste...
reo track and get to work. I also have a few scratch tracks from the Monuments album in case we need them as reference. Like these cleans. (music track plays) You know? I've just got a few different things in here just in case we need them. But, yeah, we're going to be going through amp selection, mic selection, pedals, checking different guitars, pick gauges, guitarists, the whole deal, and we're not gonna stop until we have a really killer rhythm tone.
Class Materials
Eyal Levi Bootcamp Bonuses
Ratings and Reviews
I'm on lesson 19! Already worth every dollar!!! Priceless insight! I have already incorporated some of the ideas (preproduction common sense stuff that I never thought of, but damn). VERY HAPPY with this course! ALWAYS LEARNING and looking forward to the next 50 (or whatever) lessons!!! Excellent course! GREAT PRODUCER/ENGINEER, GREAT DRUM TECH, and GREAT BAND!!!! THANK YOU!!!!!!!!
I'm just part way though and I'm blown away by the quality approach Eyal takes to getting the best out of the sessions. I love how well everything is explained and Eyals calm manner is just awesome it really makes you want to listen to the gems of wisdom he offers.
Wow is all I can say. This bootcamp goes in so much depth from tuning drums, setting up guitars, to recording and mixing. I have learned so much by participating in this bootcamp. It has taught me some new recording techniques and signal routing for my mixes. I just want to thank Eyal, Monuments, and Creative Live for taking the time to do this. It has been amazing and I will keep going back to these videos.
Student Work