Setting Up Drum Triggers
Eyal Levi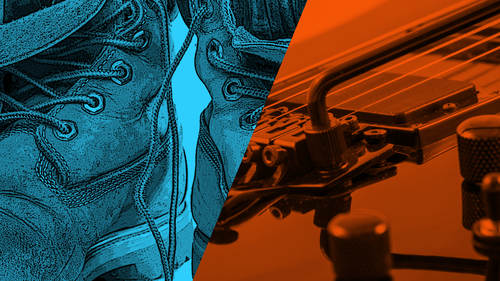 Setting Up Drum Triggers
Eyal Levi
Lesson Info
61. Setting Up Drum Triggers
Lesson Info
Setting Up Drum Triggers
I'm gonna set two things up, just to have. Gonna set up an instance of my Drumforge on the kick and on the snare, but I'm gonna have it muted. This is gonna be just in case I need to use it, I can access it quickly. It's an instrument track, so I'll just treat it like it's an actual audio track. Okay, so. You know what, maybe... Maybe during the break I'll reboot and it'll work just fine. So anyways, I was setting up a contact right there, to be routed to kick. Come on, where is it? There it is. Okay, and I just go ahead and turn the audio volume all the way down and then I'm going to go to the MIDI, this is the kick MIDI. But yeah. I have to have Drumforge actually instantiated for it to, for it to see it. So contact 1, alright, and I'm gonna put one right under the snare as well. Gonna make an instrument track. Okay. And then this goes to snare, which I will find, there we go. Turn the volume all the way down, the audio volume, and assign the MIDI, right here to contact 2. (click) (b...
urst of fast music) I know that the session sounds all kinds of crazy right now, as it should, because all the routing is insane, but... (heavy rock music) But I am seeing that I'm not getting vocals to my vocal aux, so that's good. As in, not good, as in I should fix this. Voc FX should be going to my vocal aux. Look at this, voc screens, none of these were going to my vocal aux. What a horrible reality. So I'm just gonna scan through here and see if anything is going to the mix master bus and not to the stuff that I've created and assigned it to. Alright, all looking pretty normal. (heavy rock music and vocals) No bass, probably because I turned it all down. Yeah. (music) Anyways, this sounds crazy and out of whack 'cause it's absolutely not mixed, but... (music) See how easy this is gonna be now? Get the, whatever fine moves I need to do down there, out of the way, but then when it comes down to the big moves, I just have to be within this screen and I'm pretty much good. Get a little smaller, fit the drums and... (heavy rock music with drums) It's all there. (drum solo) Some people have asked me what the Pro Tools version would be of the way that my business partner, Joe Sturgess, does the mixing with faders at zero in Cubase, with the input knob at the top of the track. Well, this is a really good example right here. So in Pro Tools we have the trim control, and so with faders at zero, and the busses are at zero as well, I believe, I'm gonna turn down the level of the bass to not overtake the drums. (bass and drums) You know, and then that just opens you up to be able to do whatever you've gotta do. (bass and drums) (guitar riff joins) So I'm starting each one of these with a trim plugin. (music) Okay, whatever. Now I actually have to mix this. I hope that this all makes sense to you guys. This is all routed now, there might be a few things that come up while I'm mixing, and I'll deal with them as they come up, but as of now, this is ready to mix. Again, like I said, at the risk of getting redundant there will be things that come up and I might need to rearrange a couple things, but, you know. As far as I know we're good to go, and I mean, just check it out. We've got the whole band. (burst of music) I mean, a little loud, and I will turn them down. (rock music and vocals) Whatever, not even gonna get into that now. But as you can see, all the instruments are coming through. So good to go, I hope you guys learned something from this. Oh, lastly, the plugins that are on here are the plugins that were on during the tracking session. Because we liked what was going on in that room, we felt like we got some good sounds. But all in all, I might just start from scratch. Just remains to be seen, but this is where it kinda left off after tracking. We did feel like got some good stuff so why reinvent the wheel. But I'm gonna actually find out now if it's worth scrapping or keeping. So with that, peace out.
Class Materials
Eyal Levi Bootcamp Bonuses
Ratings and Reviews
I'm on lesson 19! Already worth every dollar!!! Priceless insight! I have already incorporated some of the ideas (preproduction common sense stuff that I never thought of, but damn). VERY HAPPY with this course! ALWAYS LEARNING and looking forward to the next 50 (or whatever) lessons!!! Excellent course! GREAT PRODUCER/ENGINEER, GREAT DRUM TECH, and GREAT BAND!!!! THANK YOU!!!!!!!!
I'm just part way though and I'm blown away by the quality approach Eyal takes to getting the best out of the sessions. I love how well everything is explained and Eyals calm manner is just awesome it really makes you want to listen to the gems of wisdom he offers.
Wow is all I can say. This bootcamp goes in so much depth from tuning drums, setting up guitars, to recording and mixing. I have learned so much by participating in this bootcamp. It has taught me some new recording techniques and signal routing for my mixes. I just want to thank Eyal, Monuments, and Creative Live for taking the time to do this. It has been amazing and I will keep going back to these videos.
Student Work