Creative Brief
Nicolas Fredrickson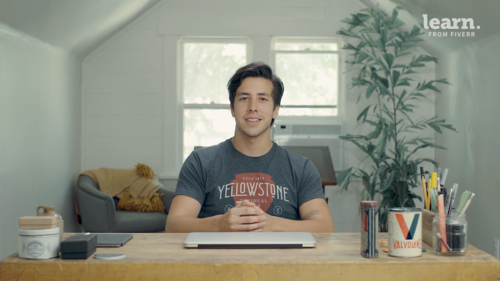 Creative Brief
Nicolas Fredrickson
Lesson Info
6. Creative Brief
Lesson Info
Creative Brief
creative briefs are essential for developing an effective logo. Some clients will provide you with a detailed brief that really helps expedite the process on one end of the spectrum, you have clients who will provide you with market research, timeline budget and then on the other end of the spectrum, someone that just says I need a logo or my favorite. I need a simple logo for the sake of this class. I'll assume you don't have a creative brief and I'll walk you through some of the questions I like to ask to help get you started first. If your client has a website, make sure you do your research, check out their about page and start to get a sense for who they are. Your client's going to be able to tell and see that you really care for their company. You also want to start a conversation with your clients, you can get some more in depth answers. It may be obvious from the website, but I still like to ask Who is your demographic. The logo is obviously going to look different if their tar...
get market is 20 year olds versus 70 year olds, what's the meaning of the name? Perhaps it's the case that the owner named the company after their pet. Maybe this leads you to experiment with some pet details in your logo? It sounds cheesy, but it can be worth exploring what are the goals and values of the brand. What do you want to convey as a company? Are there colors you need to avoid or colors you prefer. All these questions are really going to help set you in the right direction. This is a fairly simple creative brief, but I want to walk you through some of the things that I like to make sure included company, contact, name, contact, email, basic stuff but necessary. And a lot of this next section is just fictional material, but you should get the overall idea. So project logo designed for fiber course timeline, three weeks budget, $2000 objective, create a logo that resonates with the students of the course demographic. I want to point out something with the demographic. Um, I think it's important to, to kind of nail down what your audience maybe, but at the same time that's really hard. So I think you can kind of decide the majority and this is going to be more so for your client to just to figure out. Um, but A lot of the demographic that's listed here, that might be the majority, but there can still be exceptions to the rule. So here we have 20 to 30 year old students lettering, hobbyists, people passionate about working with their hands. So an example, It's not to say that people outside of 20-30 year old old can't take this class. Alright, so next meaning of the name, The name is overall pretty straightforward. The reason for choosing the word crafting is because it evokes a handmade aspect that is unique from creating or making crafting gives the impression of a fine, meticulous attention to detail that is involved with lettering. It has more of an artistic feel in words like making can give off a feeling of mere functionality and speed as opposed to find craftsmanship and stuff like this is going to be really helpful to hear from your client. I know from this that the word crafting is very important and that there's a difference between words like creating or making goal to inspire students to appreciate and craft their own letters. Obviously for something like this, the logo is gonna be, it's gonna have to be custom lettering in order to achieve the goal to push students to do custom lettering colors, colors should be reminiscent of vintage package design. Common color schemes involved the saturated red with cream tones. There aren't currently any established brand guidelines. So the colors aren't set in stone yet, but we want to avoid colors that are bright and modern. Another thing I want to point out is that you may come across an instance where you're working with a company that has established brand guidelines and you do have to follow those um, and stick with the colors they already have. I mean, I've been, there's been cases when I've worked with companies that have brand guidelines, but along with the rebrand, they also want to update colors so that didn't apply, but there have been cases where I have had to stick with the, the specific PMS color or, or spot color that they already have selected. Other textures should be included to further enhance the vintage package design theme. Okay, so you get the idea. Like I said, this is a pretty simple creative brief I've put together, but it's enough that's going to help influence my design and that's what you want out of a creative brief. Once you get the brief out of the way things start to get a little more exciting, I'm gonna walk you through my favorite mood boarding software. Mhm mm hmm. Yeah.
Ratings and Reviews
A lot to learn from this man. Thank you so much!
Student Work