Welcome
Nicolas Fredrickson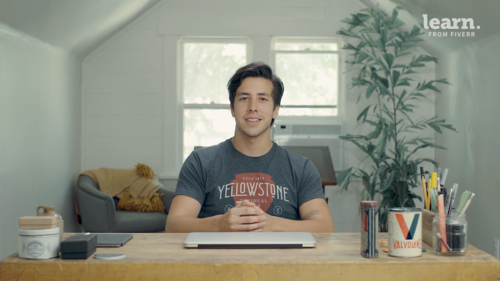 Welcome
Nicolas Fredrickson
Lesson Info
Welcome
Hi, I'm Nicholas fredrickson and I'm a designer with a focus on hand lettering. I wanted to teach this class on fiber to help contribute to their mission and really building up the freelance community, but also just thinking back to my time when I was first learning lettering, there just weren't many resources out there. So I wanted to help people who are just getting started in this, I got my start in hand lettering back in 2011, I was still in school and I always found that I was really interested in typography and I would create these interesting layouts and experiment with typography and the more I wanted to push the boundaries of typography, the more I realized its limitations and there would be situations where I thought, man, just if this letter slightly different shape that might fit here better and these kinds of things just led me to learn how to create the letters myself, that's obviously easier said than done, and it's taken a lot of practice. But but that initial interest ...
in typography really got me going on the right path after about a year or so of being somewhat of a hobbyist with lettering, I knew I wanted to take it to the next level, so I like any same person. I quit my job and I had set out on my own and one of the first projects that I did, it was actually with a friend of mine, Aaron pillion, we did this project, It was a year long project where every day we would hand letter of peace and post it to instagram. And throughout the year I started to gain more of the following and some of that following was built up of potential clients. So I was actually having people reach out to me for work through what I was doing on instagram. So that initial project of mine really helped kickstart my career over the years, I've learned a lot of valuable things about lettering and one of those things is how important the logo is for the brand. So I kind of want to focus the class on this. I want to talk about some of the history of hand lettering and how it's commonly confused with calligraphy and I want to show you how to talk with clients and concept sketches and I'll show you how to vector and how to use texture tools and and all these things and hopefully by the end of this class you'll have a solid foundation to work from. So let's get started.
Ratings and Reviews
A lot to learn from this man. Thank you so much!
Student Work