Concept Sketches
Nicolas Fredrickson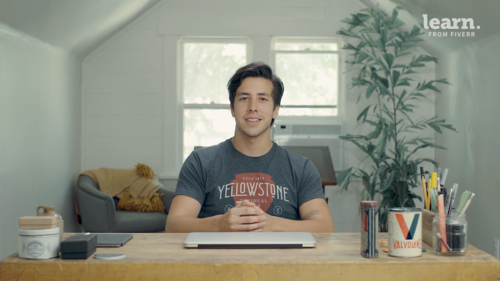 Concept Sketches
Nicolas Fredrickson
Lesson Info
16. Concept Sketches
Lesson Info
Concept Sketches
Okay, so to get started, like I said, I like to just make a list of key words to keep in mind things I'm going to create for my logo and I wanted to be vintage and I wanted to make a statement. Um I like that kind of handmade aspect and sometimes this can be achieved with things like texture at the end, but or perhaps that when I'm when I'm drawing it, perhaps I'm being a little shaky with my hand intentionally to make it appear more handmade. There's just some techniques I like to try. Mhm. Yeah, not wispy. Sometimes the wispy elements of of lettering make it pretty eligible when you're viewing it at a small size things start to get lost when when the letter parts of letters are too thin. Okay, so that I might come back to this list later and add some more, but that should be fine for now. Another thing I I want to talk about is kind of a way to establish hierarchy before you really diving too deep into your sketches. I think too often people start to like a certain sketch before they...
've really um reasoned if it works or not. So, so first I'd like to just um right down right down the logos, whatever the company name is or the logo name. And so crafting, I've got messy handwriting, which is kind of ironic given my job, but that's okay drafting a logo by hand. So once you have it written down, I like to underline which words I want to emphasize crafting logo hand. I know I want those three words to have more emphasis than and by. Okay, so this really comes into play when I, when I start working on these hierarchy sketches and I'll show you those now. Uh huh. So I might just kind of figure out where the words are going to be placed and I might do quite a few of these just to just to start experimenting. So perhaps the word crafting goes up here. A Hello girl, Bye. That's more of a symmetrical layout. And obviously the layout doesn't have to be symmetrical, but I would like to explore the different avenues. Right, Okay. one option I guess. Mm hmm. Maybe I want to have somewhat of an angle. So yes, crafting this. This a is smaller. Hello girl, Canada by a smaller and Okay, you might try something like that out. Just do something straight across crafting. Hey, logo. Mm hmm. And it comes down again. I mhm. Some of these will obviously never see the light of day. But so it's worth exploring some options. Sure. Let's see here. Um Something more simple kind of thing. I love you. And something nice and linear is always a safe option. Ah you have a logo mark included. That can also, that's also something you'll need to keep in mind, which I don't have here. But say you did typical logo layout when it does have a logo mark might look something like like this. So you're you have a tagline your logo type in your in your logo mark. So it can be helpful just to kind of sketch it out with these shapes? Mm hmm. Do some more here. Mm Hmm. What about 1, 2? Yeah. Yeah, yeah, I already know that the balance of this one isn't right. No, thank you. Oh, okay. You kind of get the idea. So I start filling these in with some options. I definitely know I want to incorporate script, but I found that when you're arching type script, script just doesn't work that well for that. Mm hmm. This might be a serif or sans serif. That's not important. Right at the moment we're just kind of filling things in afternoon perhaps here start to get some script in in the world. Bye. Mm hmm. And mhm. One of the ways ways that I could bring about some contrast is something like if I if I say I wanted hand to be the most important word, I could differentiate the styles of lettering and also makes make this boulder perhaps. And mm hmm. Be one way to make this word pop. So in a case like this, you have a few different levels of hierarchy. Have the primary would be here. If I wanted hand to be the most important word. Um This script, I'd probably call it secondary. I'd make sure to make this one bold enough that it has a little more emphasis than than crafting and logo. And then you're tertiary, tertiary right here with a and by. Mhm But I think in this case, I don't know that hand needs to have any more emphasis than crafting and logo. I want to aim to have to make sure they all have a similar visual weight. Mm hmm. Mhm mm hmm. And I don't even get too worried about the letter forms at this point, obviously it's going to be way more refined. Okay, okay. This stage can seem a little bit repetitive but it is necessary. I find that often times I might like something about one sketch but something about another two and and it helps to see them all out on paper so I can kind of merge how I see fit God dang because it doesn't need to be a sense. Okay. Mm hmm. Like I said, I already, I already hate the layout of that one before even trying just balance is totally off. Mm hmm. Um As simple as this one is. I'm starting to like the legibility of it. I find that when you are using script sometimes having a more linear structure like that can be the best option. Um Not really crazy about how this one's this one's working. Mm hmm. Actually this doesn't even suit my purposes. Mm hmm. I feel that something like this is going to be just to vertical. I am, I am actually sort of drawn to this one here actually, if I don't know. I'm thinking if if any word should have a little more emphasis. Imagine logo would probably make more sentenced to be in a different style than hand. So I might try something like this a little more refined. But kind of swap the styles of these two. We'll see. I think for now I might just start exploring these two directions. You can obviously do way more sketches than this. But for the purposes of this class, I'll just show you a couple. So here we go into the layers. I'm gonna start a new layer. And then for this layer to I like to I'd like to make sure I can see them so I can remember what I'm even doing. But I'd like to turn the opacity down here. So they don't kind of block anything in this current layer. Uh huh. Alright. So yeah, a little I feel like the angles a little bit too much there. So tone it down a little bit. Okay, come on. It's okay. I'll just it's all a little bit longer. Nothing. Mm hmm. Sometimes it's fun if the letters interact. So maybe that kind of swoops into the these sketches when you keep them loose. You can kind of experiment with stuff like this. Yeah, you can just be kind of helpful. Perhaps this one does to kind of loops in there. Maybe that won't work. But again, it's it's fun to try it out. I don't know, crafting a logo sitting by in here. Bye. Yeah, Okay. Perhaps stick that up there, fill that gap like that. Mhm. All right. You know, try something like that. More linear option. Actually, a tip and procreate is if you click and drag and then hold the pencil down eventually just forms a perfectly straight line. Is that something that, that can be helpful for things like this a little too far apart. But try to make sure my sketches aren't too big and time consuming because there are concepts at this point. Okay, I'll try different style of might be starting to get a little too wispy. So, like I said, I've got to make sure I keep that in mind. Mm hmm. Can I say sometimes I like to form the next word, which, well, this is called a ligature. When you Connect two letters like this, it can be a fun way to interact. Logo connects. I don't know. I don't like that. Yeah, I mean, this this connects getting some of these ideas aren't gonna work. But when you're not spending too much time on sketches, you can, you can try these things out and it's sometimes it can lead to an idea that really does work. Um I don't know, I'm not really feeling this. This one is much sure. I think starting to feel the weight of the logo is too heavy on the right. So, just, I'm starting to feel a little empty right here. Kind of like how my other version, the H comes all the way to where the sea is and it kind of lines up like that. Uh huh. Tianna, I don't know that I'm feeling this one too much. I think aside from just the weight being a little too heavy over here. Mhm. I think that structure is just all off, not that things have to be lined up, like how out here you can see the sea and the hr a lot more lined up, just sticking out a little too far. But you get the idea there. There is a sort of invisible container to it. Mm hmm. Or as the container of this is kind of more like, I don't know, it's just it's more it's kind of lined up on this side but then it doesn't have the same structure on the other side. And um I do like some things that I did about this version, such as the F. To the l ligature here and actually like the how the crossbar of the F. And T. Sort of connect with the dot of the eye. So things like that. I might actually incorporate into into this version up here. But for the most part, I'm gonna I'm gonna scratch this idea now. Yes, I think this this piece has a great balance to it. I think the alignment is solid. I think there's there's plenty of visual interest. I actually do like how logo is kind of interacting with some of these letters here. I might see if I can sort of get that to work in a nice fluid way. Um yeah, overall, I think this is a strong concept that we can roll with mm hmm.
Ratings and Reviews
A lot to learn from this man. Thank you so much!
Student Work