Type Terminology
Nicolas Fredrickson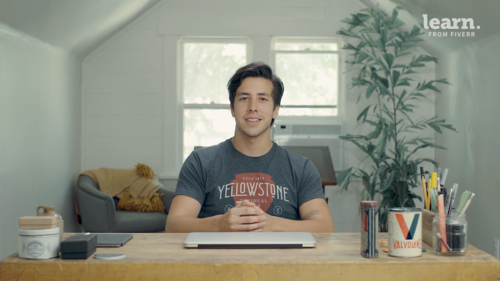 Type Terminology
Nicolas Fredrickson
Lesson Info
11. Type Terminology
Lesson Info
Type Terminology
Let's also talk about some lettering and typographic terminology. I might be throwing some of these terms around. So it's important to understand them from the beginning. Here, you have your crossbar and you probably already know this. But sand saref versus serif, you'll see that The sand saref is straight here. Where is the serif? Typography has a stroke that comes out. Okay, so the T. Has a terminal at the end of it. That's part where it swooshes over. Turning refers to the space in between the letters. The baseline is very important. I'll be talking about that quite a bit. Also, the X height listed down here letting refers to the spacing between lines of copy. But we won't be thinking about that too much because we're not going to be dealing with large bodies of copy the stem. This is what makes up the bulk of the letter. The bowl. Is this section inside the uh Oh access here. Link loop here, another terminal here. The sender is a part that drops below the baseline. Will be talking ...
about that counter this section of the p brackett here, shoulder. And it doesn't look like they have it here. But the top line is the cap height. So again, the cap height and the X. Height is this X. Height is the height of the lower case letters. And then here's the baseline and then the D. Centerline that wraps up the anatomy of typography. And I pulled this from design lab, mm hmm
Ratings and Reviews
A lot to learn from this man. Thank you so much!
Student Work