Adobe InDesign Mastery
Daniel Walter Scott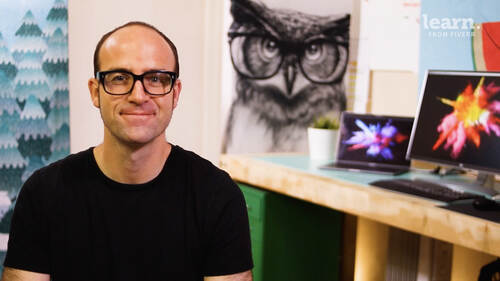 Adobe InDesign Mastery
Daniel Walter Scott
Class Description
AFTER THIS CLASS YOU'LL BE ABLE TO:
Apply advanced font tricks using Typekit and OpenType fonts.
Master color theory and perform professional proofing of colors for printing.
Create, align and distribute shapes and execute advanced drawing methods.
Become a styles master using nested, grep, next and advanced object styles.
Make visually engaging pie charts, bar graphs and forms.
Have a firm grasp of advanced drawing techniques.
Master long, text-heavy documents and apply tactics to fully control paragraphs.
Navigate the pros and cons of the different distribution methods including interactive PDFs and ePubs.
Memorize a host of keyboard shortcuts that will transform your workflow.
Use Adobe Comp CC to make InDesign layouts on your mobile device.
ABOUT DANIEL'S CLASS:
Adobe is constantly adding new and improved features to its powerful programs so it's always important to ensure that your skills are as up to date and efficient as possible. If you have a strong foundational knowledge of how InDesign works and you're ready to take your skills to the next level, then this class is perfect for you!
You'll learn advanced techniques that will position you as an expert in your field including how to create interactive PDFs, work with long-form documents and dramatically speed up your workflow. You'll cover everything you need to know about Publish Online and explore best practices when working across multiple InDesign documents. You'll also learn how to make advanced use of the Pages Panel, Scripts, CC libraries and how to get the most out of Adobe Illustrator and Photoshop to support your InDesign creations.
Filled with exercise files to help you hone your new skills, this class covers everything from design principles to exporting and printing.
WHAT YOU WILL LEARN:
How to expand text boxes, split and spin columns, make arrows and draw flowers
How to adjust your workspace for maximum efficiency and flow
How to use Typekit and OpenType's special features and where to get free fonts
How to access free icons using Adobe Market
How to use color modes, find and import colors and use setting default colors
How to auto-expand text boxes, use placeholder text alternatives, add paragraph borders and shading and make paragraphs span 2 columns
How to master justification, hyphenation options, advanced anchored objects and conditional text
How to create interactive, button-triggered animations and QR codes
WHO THIS CLASS IS FOR:
People who already understand the fundamentals of Adobe InDesign
People who took Daniel's Adobe InDesign Fundamentals class
Illustrators and designers who want to enhance their existing skill set
Professional artists who want to move their art to a digital platform
Creatives with an InDesign background who want to master the program
Freelancers already working with InDesign and wanting to learn advanced skills
Advanced level
SOFTWARE USED:
Adobe InDesign CC
ABOUT YOUR INSTRUCTOR:
An influential media designer, Advanced Adobe Certified Instructor and dedicated teacher to thousands of students for over 15 years. Daniel is a speaker and multi-award winner at the prestigious annual Adobe Max conference.
Ratings and Reviews
Student Work