Design Principles
Nicolas Fredrickson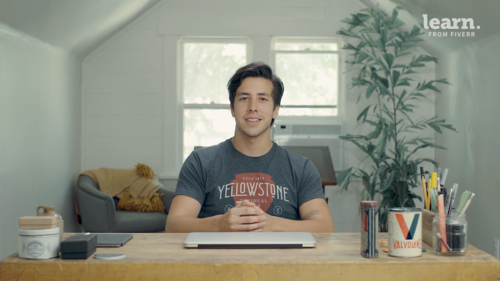 Design Principles
Nicolas Fredrickson
Lesson Info
14. Design Principles
Lesson Info
Design Principles
good hierarchy is established by making sure that the right words or parts of the logo are given the proper emphasis. I've seen many logos in the past where while they're visually interesting, they just aren't very great logos when contributing factor to this might be that they failed to plan hierarchy in advance. I've seen logos where the tag line is actually bolder than the company name. Leading the tag line to be the thing that has the most emphasis. What do you want your audience to see? First? Balance flows from hierarchy. And the goal here is to make sure that the overall design is properly weighted or contained. You need to make sure that the logo doesn't look like it's falling over or collapsing is much easier when the logo forms a symmetrical layout. But good balance can still be achieved with asymmetrical layouts. Think of it this way, if there's a lot of visual weight to the left of the logo, you can make up for it by equalizing that weight on the right legibility is another...
very important factor. While I'm a huge proponent of custom logo type is important to be reasonable with how experimental you are. It shouldn't be a challenge for your reader to make their way through the logo. One contributing factor to this is letter spacing. Think of it this way, if you shrink your logo way down, is it nearly impossible to read. This can be an indication that you need to adjust your letter spacing in order to improve legibility aside from letter spacing, the letter forms themselves need to be legible. One example is black lettering, it's one of my favorite styles and it can work for many projects, but I need to be careful when I'm using it for logo design. I need to be sure I modernize it enough that it can work even at small sizes, contrast can be helpful to make things pop. It can be achieved in many ways, but just one example is having bold lettering next to thin lettering. It can be used along with hierarchy to make sure that your readers are seeing the right words first. This isn't an exhaustive list of design principles, but in my opinion, there's some of the most important, they're not mutually exclusive and therefore they all need to be taken into consideration when developing a logo to help put some of these design principles in practice. I thought it would be helpful to actually create some logo ideas for this class. So here you have this uh, this brand I've created called Platte Valley outfitters and immediately you'll notice that there are some things wrong with it. And as you, as you heard I said Platte Valley outfitters. So right away you'll notice the hierarchy is off. It currently reads is outfitters outfitters. Platte Valley. Um and that's obviously not how we want to read it when, when it zoomed. I mean you can see everything now, but imagine that was zoomed way out here and you're, you're standing by way at a distance and when you see a sign out in front of a store and all you see is outfitters. Um and that that's kind of the, one of the points of hierarchy is that you want your brand name to really pop first. So again, this should say Platteville platte Valley outfitters. Another thing that's currently off is the balance feel with the Platte Valley pushed to the left here and the logo Mark pushed to the right here, there's just sort of an awkward balance going on. And I think one thing I would try is actually just centering these things out and you can solve balance problems in a number of ways and it doesn't have to always be that things are perfectly centered, but it can create a strong balance by doing so. So here's an option that I would propose to fix this. Okay, Kind of compare the two for a second. So right away you'll notice that I kind of made those corrections that I was just talking about. The big one I'd say, is that the hierarchy is now fixed and that it reads as Platte Platte Valley outfitters. And yes, I've centered the logo mark here in the in the tagline here. Um so it does have a it does have a more symmetrical balance and um just a overall stronger option than than what we have going on up here, this is kind of a bit chaotic and and so something more like this is um for some of those reasons I mentioned, such as fixing the hierarchy imbalance that overall, that makes this logo down here much stronger. And here's another logo I've created for the class called Warriors Wrestling Camp. And Um, you might notice a few things wrong right out of the get go for one wrestling camp, it looks like it's pushed too far over to the left. So something you might want to do is, again, you could try centering it out like in the last version we had, but sometimes you can actually, um, when you have slanted text like this, you can actually push the, the tag line over to the, to the right a little bit more to, to kind of equalize out the angle you have going on here. Um, so yeah, that, that'd be one thing I'd want to try but an even deeper problem about this piece isn't, isn't just the balance is off, but just the style of the letters altogether. Um, some of the choices I've made here, it makes it appear as if my mood board was filled with things like wedding invites and, and things like that. And um, with, I have this sort of classic calligraphy style, which is pretty feminine with, with things like this, this flourish here paired with this syrah fluttering, which, which does create sort of this traditional wedding vibe. And that's not what I want for something like a wrestling camp. So here's something I would propose as a solution. Okay, Compare the two for a second. You'll notice right away that this this second option has a lot more bold boldness to it, more energy with decisions like our king, this type here, putting this lightning bolt here and overall it's it's much more masculine than the sort of feminine option we have up here. This version looks as if my mood board was filled with things like NFL logos and, and different sports logos. Where again, this looks as though I was, I was looking at many classic calligraphy examples to get this end solution. So something like this is going to make a lot more sense for a for a wrestling camp and for that reason it's a much more effective logo. Alright, next take your ipad out or your sketchbook and let's start working on some concept sketches.
Ratings and Reviews
A lot to learn from this man. Thank you so much!
Student Work