Design Principles: Color-Blind Accessibility in Design
Sarah Doody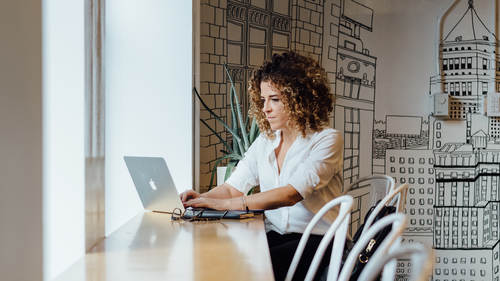 Design Principles: Color-Blind Accessibility in Design
Sarah Doody
Lesson Info
17. Design Principles: Color-Blind Accessibility in Design
How do you design for color-blind users without losing your message or meaning? Sarah shares examples and online tools that allow you to understand how to make your product design accessible.
Lesson Info
Design Principles: Color-Blind Accessibility in Design
I would do the entire design industry a disservice, and really, humanity, if we didn't talk a little bit about accessibility in design. We don't have time to get into all of it, but I think a really important one to cover is the topic of color blindness and thinking about how do we design for people to make sure that if they do have some type of issue, they're not losing the meaning of the message. So if you don't have any issues with color, you see green, yellow, red, right? It looks pretty good. If you have issues with color, the problem is you lose kind of those yellow and the green and the red pigments. So when you see green, yellow, and red things, they kind of all don't stand out as much as they do for the top row, where that would be what it looks like for someone with regular vision. But here's a good example. So remember our chart survey results? If we were color blind, this is what we would see over on the right. And it could be difficult, depending on what your screen looks ...
like, it could be difficult to see the difference between these two sections. So one way to fix that is in addition to color, use some type of pattern. So you can see, it might be kinda faint, but we use this pattern to indicate so that the color blind person, and it would be in the legend somehow as well, but the color blind person would then not lose the meaning of the actual information. So I wanted to include that 'cause it is so important. And you can read a ton more about it. There's even tools online where you can kind of upload your design and see what it might look like. So it will simulate it for someone with different issues with color, but it's really important to pay attention. So by now you now understand the principles of design, alignment, contrast, et cetera, and you're also hopefully more empowered to understand how to use topography, how to use color, how to use white space and layout and things like that to bring those principles to life in whatever you're working on.
Class Materials
Visual Design Reading List
Visual Design Resources List
Get Started with Adobe Stock
Ratings and Reviews
I wish more people knew, appreciated, and respected the content Sarah covers in this course. Design is such a critical piece of the functionality of the tools we use every day but its often disregarded as "fluff" or just "aesthetic". Sarah does an outstanding job of establishing the importance and methodology of design for beginners. I would recommend this course to literally everyone.
Definitely recommend! This course is aimed towards people who don't make a living as a designer but are exposed to it in everyday life—even if they're unaware. Your resume? Design. Your social media posts? Design. Your spreadsheets? Yep, design. Sarah does an awesome job giving an overview about what design is and actionable things you can do to improve. The "live design" portion is awesome and it's where she re-designs/improves documents, mostly on the fly. She goes through her thought process so viewers can learn to think like a visual designer. I would definitely enroll in another class, especially if she chose to focus more in-depth on a few design principles for the entire class.
Awesome Class! highly recommend.
Student Work