Design vs. Aesthetic
Sarah Doody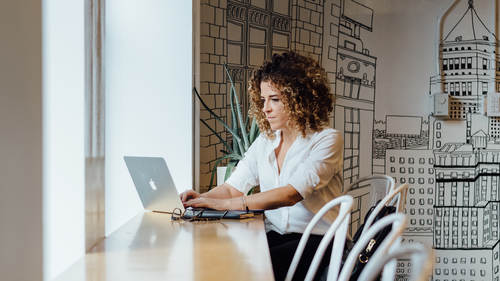 Design vs. Aesthetic
Sarah Doody
Lesson Info
3. Design vs. Aesthetic
Sarah explains the relationship between design and aesthetic and the influence of both on user experience.
Lesson Info
Design vs. Aesthetic
I want to talk about the difference between design and aesthetic because there is a big difference and I have some examples that I think will be very helpful for you to understand the difference. So, design is really about how it functions. Aesthetic, is about how it looks. More specifically, we can think about it like this. So, design or function is on the left. We've got a pot of boiling water. We just need to boil water. Aesthetic is on the right. It can still boil water, but it looks cooler. It's going to look nicer on our counter. Different types of kettles will apply to different people and if you think of it this way, we have so many different versions of aesthetic here and instantly, you're probably gravitating towards one or two of these different kettles. That's the example of aesthetics. Functional is about design, it's about, can it do the job of boiling water. Aesthetic is, which one is appealing to me? Which one connects with me personally? Which one is going to connect w...
ith my decor? Which one are you going to choose when you go to Amazon and do a search and there's 2000 kettles to choose from. That's the impact of aesthetic. But, aesthetic is tricky, because a lot of times we've been tricked into buying things because of aesthetic. Chances are, you've probably bought something online that, maybe you weren't intending to buy, or bought the more expensive version cause you fell for the aesthetic. And the unfortunate thing is that sometimes, aesthetics don't always perform the function that we hope it was going to perform. So, for me, sometimes, I know I've purchased different clothing items and then I realize, wow that falls the wrong way, or I bought these packing cubes for traveling, apparently these are changing my friend's travel lives and I thought I need to get in on this packing cube thing. So I purchased these packing cubes and again, there were probably thousands of versions on Amazon. And I purchased the lavender ones, because I like purple and then they arrived. And I realized, I hate these things because they were really rigid. They took up a lot of space, like I thought they would be much more compact, but when you're not using them, they took up a lot of space. And the worst thing was, I couldn't really see through them. The whole point of the packing cube to me, is to organize, but then let me see what's inside, so that I don't have to unpack everything. In the photos, they had this mesh, but when I arrived, when they arrived, it was this sliver of mesh, so they were useless to me. So I fell for the aesthetics. When I got them, didn't perform the function I needed it to do for me. And I'm sure you have examples in your own life as well. So, good design is more than what it looks like. And if something is aesthetically pleasing, but doesn't fulfill the function we need it to fulfill, then to me, it's useless. Those packing cubes that I'm now returning when I get home, they're useless to me. Those clothing items you purchased, the lamp, the vacuum, whatever it is. That maybe your final purchase decision was made on aesthetic, didn't perform the function. It's kind of useless. So, we do judge things based on aesthetics. You know, when you're a child, you're taught not to judge a book by its cover. That's good for children, but let's face it. We judge everything by the cover. It's the world we live in. We live in such a visual world, especially with the influence of technology and social media, and just being given visual information so much. And such high quality visual information too. Not all the time, but it's been so easy, thanks to filters and things like that to give us this heightened appeal towards really visual stuff. There is this term called "Aesthetic Usability". I come from the world of user experience design, which means, basically, we try and make things very easy to use. If you're checking out a website, if you're booking a hotel, we want you to do that very quickly and very easily without confusion. Nielsen Norman Group is kind of a leader in my industry and I was reading about this concept of aesthetic usability and it says, "Aesthetic usability effect refers to the users tendency to perceive attractive products as more usable." and I don't know if you're a Mac person or a PC person, I'm not here to judge you based on that, but, traditionally, if you think of Mac's, you kind of think, oh they're easier to use, or maybe 15 years ago, or something. PC's kind of had the perception of more complicated and if you go on to Google images and search for things like Microsoft Word Interface, you'll get some images where there's like, 17 rows of menu items, choosing fonts and things like that. Aesthetic usability impacting people's perceived usability of a product, depending on how attractive it is. It goes on to say, "People tend to believe things that look better, will work better. Even if they actually aren't easier." So we've all used an ATM machine, right? And the idea of aesthetic usability, I was kinda reading up on it, and it really came from this study that was done, I believe in 1995. Researchers from Hitachi, wanted to understand how people used ATM machines. So, they had 252 people use these and they were asked to rate the ease of use and the aesthetic appeal. It's not the most beautiful thing, but maybe back then this was very sleek looking. I think it was in the 90's. The conclusion, at a very basic level, is that, the higher the ease of use, or the higher the aesthetic appeal, the higher the ease of use. And it's just this game that our brains play on us, that if something looks easier, looks simpler, we believe it's going to be easier to use. We pay attention to it more. So aesthetic usability can really be applied beyond just physical products and digital products, as well. So, I wanted to go through a couple of examples that maybe, could relate to your business, or at least, they're simple enough that you will understand this and action. So this is an example of a marketing calendar for a fake company. It doesn't matter what company it is, but marketing calendar. What is kinda the content on a marketing calendar? Well, we have a bunch of dates, days of the week, what are we going to talk about, we have the topics, the status, is it scheduled or not, budget for ads, maybe goal, questions or notes, links, all these things. So when you look at this spreadsheet, think to yourself, what are some words that come to mind if you were just to receive this spreadsheet. I don't know if anyone has some words they want to throw out here, gut reactions. Too much to look at. Okay, too much to look at. [Second Audience Member] No heirarchy. No heirarchy. It's a lot. It is a lot. And so, now let's look at this one really quickly. What are some words just jumping to your head concerning this one? [Third Audience Member] It's cleaner, more standard. Okay, so just our initial gut reaction between the two, we've only looked at each of them, for maybe 15 seconds or something like that, but notice you had a gut reaction to it and if you had just received this in your inbox from a colleague or something, immediately you would've either continued looking at it and followed up with whatever they wanted you to do with it or you probably would've thought, oh that looks like a lot of work, I will do that later. And so it can really impact what you think and what you think will impact what you do with it. So regardless of what you design, you really do have the power to influence what people are thinking and what people are doing. Which is really awesome, but it's also a lot of responsibility too. How do people interpret that spreadsheet data that you're giving them? What's the first impression that they'll have for your resume, for your business card, for your website? It is that first impression and so we are going to see how we can use these principles of design to hopefully get people to take action and to give them a better first impression of what we are doing.
Class Materials
Visual Design Reading List
Visual Design Resources List
Get Started with Adobe Stock
Ratings and Reviews
I wish more people knew, appreciated, and respected the content Sarah covers in this course. Design is such a critical piece of the functionality of the tools we use every day but its often disregarded as "fluff" or just "aesthetic". Sarah does an outstanding job of establishing the importance and methodology of design for beginners. I would recommend this course to literally everyone.
Definitely recommend! This course is aimed towards people who don't make a living as a designer but are exposed to it in everyday life—even if they're unaware. Your resume? Design. Your social media posts? Design. Your spreadsheets? Yep, design. Sarah does an awesome job giving an overview about what design is and actionable things you can do to improve. The "live design" portion is awesome and it's where she re-designs/improves documents, mostly on the fly. She goes through her thought process so viewers can learn to think like a visual designer. I would definitely enroll in another class, especially if she chose to focus more in-depth on a few design principles for the entire class.
Awesome Class! highly recommend.
Student Work