Design Principles: Layouts and Focal Points
Sarah Doody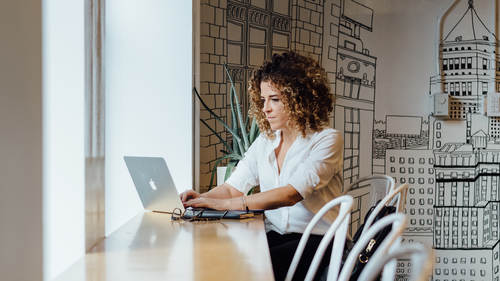 Design Principles: Layouts and Focal Points
Sarah Doody
Lesson Info
16. Design Principles: Layouts and Focal Points
Sarah visually models the impact of layout on your reader's ability to access your content. Learn how to approach layout design and utilize the rule of thirds to create focal points.
Lesson Info
Design Principles: Layouts and Focal Points
Layout is all about how the things, the elements, are arranged on the page, and every great layout needs a focal point for the eyes. If you have ever studied photography, you know about the idea of the Rule of Thirds, maybe you've heard of the third ratio and things like that. But, the Rule of Thirds is all about breaking things up into thirds, very simple. But what does this do? It creates these connection points, which are called focal points, and that naturally is where our eye goes when we look at anything. That's why I said in the beginning, we need to think about aligning things so that they're aligned to create these focal points. So, we're not gonna learn about photography today, but it's a create way to consider the focal points. So, like I said, I live in New York City and I was out running one day and I was in Central Park a few weeks ago and I took this photo. I'm not the greatest photographer, but for illustration purposes, I took this photo. And it's okay, but when we thi...
nk of the Rule of Thirds and focal points, what's happening? What's happening is how most people take photos, they like to center the thing in the middle so I got the cute couple in the boat, magically in the middle of the photo. Now, it's an okay photo, but then I took another photo, I probably took 20 more, but one of them I took, they're over there, on the left. It feels a little different, and why does it feel different? Well, instead of our eye just, like, launching in to the center canoe people, what happens is they're over there, so our eye is being pulled over here like this. And why is that happening? Because now the people are on a focal point and those buildings, roughly, are on another focal point, and we're bringing people over here, so it's not just, like, deer in the headlights, look at the middle of the photo, but we're kind of, like, panning, if you will. So, this, I was so excited to include this photo in this. I was running last week, we had this phenomenal sunset, so I took this photo and this is what happened, centered, this is actually a vent for one of the tunnels that go under the river, fun fact, but it's centered, right? When you look at that, what is the first thing you notice? It's almost like this ugly thing. We don't get the sunset. So then I realize this as I was taking the photo, and I thought, "okay, I gotta fix this," so just by adjusting, getting that focal point right, making sure that we're lining things up, and now we have this sweeping, depending on your eye, maybe you're going this way, maybe you're starting over there and going this way, but that's why layout is so important. So, putting this back into our bakery, this is our business card and when we look at it, we've got the focal points happening. This is why this one feels a lot better than many of the other versions we've looked at. This one, is it bad? No. But could it be a lot better? Yes. Why? Because it's not lined up with the focal points. We're not really aligning with the Rule of Thirds. Got a lot, okay, we have one little good intersection point there. Everything else is not on the alignment and so when you look at the difference, you can see how those focal points really help everything line up and there be more structure, more focus, more balance, all of those principles. So we're using these elements of white space, of layout, of typography, etc. to achieve these principles that we have been learning about.
Class Materials
Visual Design Reading List
Visual Design Resources List
Get Started with Adobe Stock
Ratings and Reviews
I wish more people knew, appreciated, and respected the content Sarah covers in this course. Design is such a critical piece of the functionality of the tools we use every day but its often disregarded as "fluff" or just "aesthetic". Sarah does an outstanding job of establishing the importance and methodology of design for beginners. I would recommend this course to literally everyone.
Definitely recommend! This course is aimed towards people who don't make a living as a designer but are exposed to it in everyday life—even if they're unaware. Your resume? Design. Your social media posts? Design. Your spreadsheets? Yep, design. Sarah does an awesome job giving an overview about what design is and actionable things you can do to improve. The "live design" portion is awesome and it's where she re-designs/improves documents, mostly on the fly. She goes through her thought process so viewers can learn to think like a visual designer. I would definitely enroll in another class, especially if she chose to focus more in-depth on a few design principles for the entire class.
Awesome Class! highly recommend.
Student Work