Example: Email Signature Design
Sarah Doody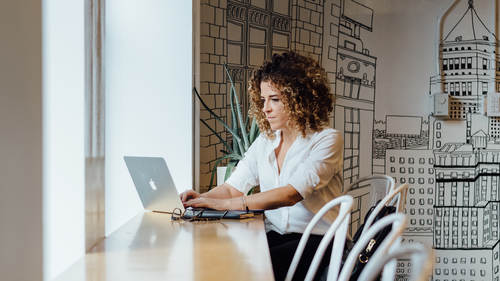 Example: Email Signature Design
Sarah Doody
Lesson Info
22. Example: Email Signature Design
First impressions make a big difference, and in our increasingly online world, first encounters often happen via email. Sarah takes a design approach toward email signatures: consider your audience and their needs. Sarah closes with a key take away: the value of design thinking.
Lesson Info
Example: Email Signature Design
Think about your own email signature or think of emails you have received in the past and this is trying to represent, there's much more text above this. Someone's written us a lovely email, that hopefully we read, but we probably didn't because she probably had seven paragraphs of text, but then we scrolled to the bottom and we see this as Jessica's signature. So let's, first, what's our gut reaction, what's our first reaction? If I see something like this, words that are coming to my mind, trying to take my uber-designer hat off, I'm just thinking, wow, that's a lot of information. I'm thinking, very colorful. I'm thinking, lots of ways to contact her. I'm thinking, what is DMF? She's very social, and, that's about it. I'm not sure where to start. I don't know what is the most important, but, here is the problem with email signatures. It might look lovely, this is not lovely, it might look okay on your laptop, but if you view email signatures on your mobile phone, a lot of the times,...
they look terrible. Or a lot of the times, you drop your company's logo in, Marsh Marketing, and it looks good in your email program, but someone opens it on Outlook or Hotmail or whatever, and because all the email marketing systems interpret the images different ways, sometimes I receive, with this one friend I have, Danielle, every time she emails me, her logo, it's like, Marsh Marketing, would be this big. It's like screaming at me, and, it just doesn't look professional. So, hopefully, we can at least save you from contributing to the world's collection of horrible email signatures. So what are we going to do? We're gonna think of the user. Who is the user of our email signature? Now, it's going to vary depending on your job, so if your job is very sales-y, and you're doing a lot of outreach to people who have never heard of you, maybe you do need to think of your email signature as almost like a business card where it does need a lot of information because people don't know what company you're at. They don't know that you exist on social. They've never heard of you, so it might be interesting for them to click to your website, know what your Twitter is, know all the ways to contact you and things like that, so, maybe, if Jessica were in a role like that, the user of her signature would need to know that information, so. On the other hand, if Jessica's role is more internal, and she is not dealing with a lot of external people, she might need to have a simpler signature, and it would be very smart to have multiple versions of your signature. Maybe you have the very detailed version and the smaller version, depending on who you're contacting so you can give them the information that is most relevant to them. So if I were auditing this content, and trying to make Jessica a better email signature, I would think to myself, what can I take away? And I would think, probably, first of all, I would ditch the social icons. It kind of feels a little junky, but also, if her website is designed nicely, it should be very clear how to go find her on social. So we don't need to tell someone all the ways to contact us if we have a solid home base online, and if that home base is your website, if that home base is your LinkedIn, whatever it is. So I would ditch the social. The other challenge here is, this graphic thing at the bottom. A lot of times, if people are, she's going to be at this trade show marketing fest thing in Orlando, and she's trying to let people know, I'm going to be here, come to my booth, come visit me. And, the problem again, it's a graphic, so it could look horrible on mobile. And, it just, it looks junky. It also kind of looks like a advertisement. Just looks not professional to me. So, what I would do is I would do this. I would keep it as much text as possible, so, I know I said we need to use visuals as much as we can, maybe not so much in email signatures. Let's keep it simple. So this is still applying the design principles but we're just focusing on text because the medium, email, can easily spit back images in a way that looks very different to the user than it does to us, so, very simple. We've simplified the fonts, if we go back. Jessica Smith, getting all fancy with the maybe Times New Roman or something like that. It's not necessary, let's keep it simple. So, single font, Jessica Smith, we're creating a little bit of hierarchy here through the order, also, coloring her name. Maybe the brand's colors are purple. Giving the office and the mobile number. It still shocks me how many people email back and say, what's your phone number? Even though it's in the email signature, but, I think it's helpful to leave it there and then, website. No social, because the website should be the landing page, the home base, of where people can find all the other information, and then, if she still really does want to focus on trying to let people know she's going to be at Digital Marketing Fest, or whatever it's called, do that in text. Don't have a giant image, and also, one little effective thing which sounds crazy, but, using PS at the bottom of emails is a really effective way to get people to pay attention to whatever they probably didn't read in the beginning and a lot of people who do email marketing have studied this, and we know that when we put a PS, even if it's PS, go follow me on Twitter, PS, go check out this deal that's ending, PS, don't forget about our event, the PS, for some reason, people pay attention to the PS. But also, it's because, I think mobile has influenced so much in our habit of scroll, scroll, scroll, then when we open an email, if it's quite long, we don't just start at the bottom and read all the way down. A lot of times, we're opening it, scroll, scan, read a little, read a headline, oh, there's some bullets, that's nice, done, go to the bottom, see if there's maybe something there asking us to do, something like that, and then the PS catches our eye and then we're back up to the top, so Jessica, hopefully, can maybe actually get some people to realize she's at this thing. Simplify her signature a little more, and make sure that it doesn't end up looking like a giant mess, on either email programs that kind of can't process the images and things or on mobile where it might kind of blow up and not look really good. And for her, I think it's really about thinking through. What is the message that's being sent about me, or my company, whether it's your signature, your resume, your spreadsheet, all those things. We really want to use design as a tool to help us set that first impression because we know people are forming opinions, interpretations, of us, our brand, our attention to detail, our quality of work, all those things, and we want to use design as an opportunity to send that first impression, build trust, and just to show that we care, that we took the time to think it through, and we didn't just throw a bunch of stuff into a spreadsheet and not think through the person on the other side, the recipient, because design is about people, like we know now. It's not just about the outcome. It's not just about making it look good. It's about influencing what are people thinking, what are they doing, so that they can do their job better, they can make better decisions, and all those things, maybe even make more money like we saw in the beginning. Design is really about that communication and that influence, and we need to use that influence with a great deal of care, so, whenever you're designing anything in the future, just remember that we're not going to start at the solution, that we need to understand the audience, who is going to be using this thing, viewing this thing. Know your content, just like we did with the spreadsheet. Take time to go through that PowerPoint, or the keynote was a great example as well. Know your content, break down your content, and then go design it and apply these design principles so that you can make something great, even if your job title doesn't have the word Designer or you can help direct and give feedback to the person on your team that is doing the real design. So hopefully you can go out and be better advocates for design, in the future. Thank you so much, Sarah. I love that last note, as well, that this class is really, whether you're the one doing the design or you're actually working with people who are designing, but then you have to react to that or work with them to give them feedback, and just understanding the overall principles gives you a language, it gives you sort of the ability to even see what you're seeing, really. Yes, yes. So, how do you recommend people best use this class? I know maybe we can touch again on the bonus materials that come along with it, and how you just, how people should approach, going forward. Right, so, if you really want to apply this to what you are working on, I recommend that you go back and as you're looking at your resume, trying to do an email signature, refer back to all these principles and go back to those individual lessons and just think to yourself, was this aligned? Did I use color correctly? Did I create contrast? Did I ask those questions of how I can understand my audience? Way back in the beginning, we talked about the questions of how you could do really simple research, so, kind of the way that we designed this class, was we made it so that you can easily jump back and go back to that principle of typography or go back almost like a little reference book if you will, and then there was bonuses, like we said. You don't have to start from scratch. Even if you're in Google Sheets or something, I realize, there are tons of templates you can use. Keynote has templates, but you can also go to a lot of online marketplaces, I would call them, where designers are now realizing that companies want to invest in design so they as designers can earn a little living for themselves by selling their templates of great PowerPoint presentations, keynote templates, resume templates, things like that, I think, doesn't show a weakness if you start with a template. It shows a smart design sense, because I have bought many a template for different things I've done. It saves me time, and it takes that stress of the blank canvas, I don't have a starting point, completely away. Plus, like we said when it came to digital templates, for say a website or something, you know that that website, especially a page like a landing page that you want someone to take action on, that company knows how well that performs or not, so you know it has a good chance of actually having someone take action. And then just make sure that you are relying back, going back to these principles, reviewing them, so that you don't get stuck on parts that maybe you weren't sure about, and go back to the examples, too, because they're in there, intended to remind you and maybe use them with your colleagues as well or someone you're trying to convince, well, this is why I designed it. One of the best lessons I was ever given when I was first starting out was, justify your design decision, and you can't just say, well, I think it looks better. It looks better, why? It helps people focus on this piece of content. It helps people focus on this action we want them to take, so justify your designs and justify them through these principles. I made this decision because it makes more alignment. It creates better hierarchy. Not because you like that shade of purple or you think the font is cute. So, be justifiers of your designs as well. I love it, always coming back around to that why. Absolutely, Sarah, where can people follow you? I want to make sure that they continue to follow everything you're doing. I am out on the Internet. I have my own home base. SarahDoody.com, it's the best way to find me. All the links to my social and things like that, I also love Tweeting, Sarah Doody, @sarahdoody. I Tweet a lot of design articles, lots of how-to things, but everything I do is really aimed at trying to help you take action, so you will definitely learn a lot. You might be a little overwhelmed, but it's the best way to find me.
Class Materials
Visual Design Reading List
Visual Design Resources List
Get Started with Adobe Stock
Ratings and Reviews
I wish more people knew, appreciated, and respected the content Sarah covers in this course. Design is such a critical piece of the functionality of the tools we use every day but its often disregarded as "fluff" or just "aesthetic". Sarah does an outstanding job of establishing the importance and methodology of design for beginners. I would recommend this course to literally everyone.
Definitely recommend! This course is aimed towards people who don't make a living as a designer but are exposed to it in everyday life—even if they're unaware. Your resume? Design. Your social media posts? Design. Your spreadsheets? Yep, design. Sarah does an awesome job giving an overview about what design is and actionable things you can do to improve. The "live design" portion is awesome and it's where she re-designs/improves documents, mostly on the fly. She goes through her thought process so viewers can learn to think like a visual designer. I would definitely enroll in another class, especially if she chose to focus more in-depth on a few design principles for the entire class.
Awesome Class! highly recommend.
Student Work