Design Principles: Repetition
Sarah Doody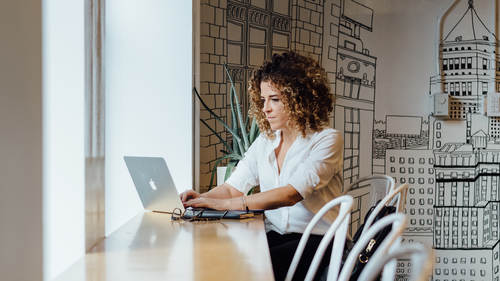 Design Principles: Repetition
Sarah Doody
Lesson Info
9. Design Principles: Repetition
Isn't repetition boring? Learn how repetition actually increases understanding and its power in aiding brand awareness and user recall. Sarah shows how repetition is not only helpful for an audience, but for a presenter as well.
Lesson Info
Design Principles: Repetition
Repetition could be thought of as boring. I think a lot of times we overthink and feel like we need to re-invent the wheel. But repetition, I think is very important because, just as we saw on that last example with the color, repetition helps train us to know yellow means in progress. So, I'm a huge fan of repetition, and it's a tool to really help us understand and help whoever is reading our things or looking at our things, understand even more. And repetition is just helpful when it comes to recall. Now, we know green is ready, yellow is in progress, et cetera, et cetera. So, repetition helps us with that recall, helps us understand the context of things, anticipate content, so now we can anticipate green, yellow, red, and just increase the speed of understanding. So, we no longer have to read, we can just go and understand in milliseconds rather than combing through a giant spreadsheet for example. But the cool thing is, repetition isn't just helpful for you or for your user or yo...
ur viewers' understanding, repetition can really be helpful for you as the person maybe presenting something. If you're doing a presentation at work or teaching a class or something like this, one trick I always use is, if we zoom out to some slides from another class I've taught. I don't know if you've noticed, we have a similar kind of color theme happening in this class, but I don't know if you've noticed, but we've been using, I've been using similar types of slides. We have these black ones that start the kind of topic. And then we have these pinkish purple ones for each kind of new subtopic and things. And maybe you've picked up on that, and that's wonderful if you have, but also, that's really helpful for me, as a presenter, so I know, okay, now we're in a new section, and sometime in keynote, you can have-- when you're presenting on the side, you can have it show up kind of like this, I'm sure you've seen this before, so that you're kind of cuing yourself. So, design can be used, especially repetition, not just to help your readers' understanding, but you, as the presenter, as well. And some people think this is overkill, but I'm not sure how other people really manage their time or know where they are if you're in a presentation that has close to 300 slides, it's really helpful to use this repetition to help cue your audience, especially if you're going back through this on your own maybe, but also, so for me, to know the context of where we are, what's coming up, and things like that. So, maybe you've noticed this so far. If not, now you're going to notice, and you'll know all my little cues for myself about now we're in a new section, things like that. But maybe you work in marketing or maybe you work on a brand, and if you think of going on Facebook or opening up your Twitter stream or your Instagram stream or something like that, repetition is really, really helpful for brands because it helps us recall what that brand is about. And that's why things like logos and colors and fonts are so important because when you think of, even say when you think of CreativeLive, you have a sense of, okay, CreativeLive, I know their colors are kind of like this or I know they kind of look maybe modern or sleek, I'm not sure what words the branding team uses to describe themselves, but whenever, then, you're out on Facebook or Instagram or you happen to come on the CreativeLive blog or something like that, you know you're in the CreativeLive world, and it's very important when you think of it out on social media because your post is right next to someone else's post, is next to someone else's post, and in order for someone to jump out, and look at that, and instantly think to themselves, "Oh, that's CreativeLive," you need to have this repetition, this consistency. So, what we're trying to communicate here is that across all these platforms you could be on, make sure that that message is consistent, is repeated, and that means the message, the words you use, the style, is it round, is it square, is it modern, is it edgy, the tone, the tone of your voice, and the design, the colors, the fonts, the icons you use, things like that. This repetition happens all the time, and now you're probably going to notice, especially with holidays coming up and things like that, you'll notice, oh, I saw that same thing on Instagram, and oh, I remember seeing that on Facebook and that graphic, and it's that repetition. If you're in the branding world, you know all this, but if you're not, don't be afraid of repetition, and I think it's fine to over-repeat because we are so bombarded with information, especially visual information today, it can't hurt to just imprint our brand over and over and over through this principle of repetition. So, let's go back to our cupcake shop, and we're going to look at that content calendar and see how we can apply that principle of repetition to our spreadsheet, which might sound weird, but let's see it. So, now we're looking at it in a little bit larger context. We're not looking at one week now. We're looking at two full weeks, and in reality, we'd probably be looking at four weeks because most teams are planning that far out. So, through contrast, what did we do? We were able to help call out the status. So, now we're helping people quickly glance and see, okay, what's scheduled, what's in review, et cetera. But let's say, think of the context of this, it's a content calendar, so we're pushing Facebook posts and things all the time, but if you work in content, you know that weekends sometimes are slow for people viewing your posts online because why? No one's sitting at their desk, no one's cruising Facebook when they should be working, people are out doing things on the weekend. So, often times, depending on your brand and the topic you're all about, sometimes, consumption is a little slower on the weekends. So, it might be important, if I was the manager, I'd say, "You know, this is great, but I really want "to be able to see the start and end of each week "to be able to kind of quickly glance and know, "okay, what are we kind of focusing on for the first week, "the second week-- "I care about the weekends, but I don't need to worry "about them too much, but I need to know "where the weeks start and where the weeks stop." So, one way to do that would be to use color. And we're not seeing this here. I think it's coming up, but what we're going to see is how we use color to help us spot the weekends. But I wanted to point out that we have now-- Remember, we started with four weeks, now we're seeing eight weeks, and you can see the impact of how that status column is even more powerful now because we can quickly glance and see the difference between the scheduled, in review, production, and things like that.
Class Materials
Visual Design Reading List
Visual Design Resources List
Get Started with Adobe Stock
Ratings and Reviews
I wish more people knew, appreciated, and respected the content Sarah covers in this course. Design is such a critical piece of the functionality of the tools we use every day but its often disregarded as "fluff" or just "aesthetic". Sarah does an outstanding job of establishing the importance and methodology of design for beginners. I would recommend this course to literally everyone.
Definitely recommend! This course is aimed towards people who don't make a living as a designer but are exposed to it in everyday life—even if they're unaware. Your resume? Design. Your social media posts? Design. Your spreadsheets? Yep, design. Sarah does an awesome job giving an overview about what design is and actionable things you can do to improve. The "live design" portion is awesome and it's where she re-designs/improves documents, mostly on the fly. She goes through her thought process so viewers can learn to think like a visual designer. I would definitely enroll in another class, especially if she chose to focus more in-depth on a few design principles for the entire class.
Awesome Class! highly recommend.
Student Work