Impact of Design
Sarah Doody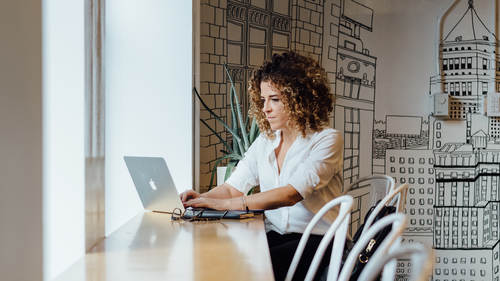 Impact of Design
Sarah Doody
Lesson Info
4. Impact of Design
How does strategic design impact business outcomes? Sarah reveals the economic impact of design on real companies and breaks down design into the simplest terms. Learn the impact of design on your brain's ability to process information.
Lesson Info
Impact of Design
It's more than just that first impact, that first, initial gut reaction whether or not people take action. We also should understand the economic impact of design. So maybe you work at a company, or you own your own company. And when you invest in design, it really does pay off. And Harvard, there's this great article and they said, "Companies that use design strategically grow faster "and have higher margins than their competitors." And you're probably thinking, well, that's a nice statement. Where do we get this from? And I think around 10 or 15 years ago, this group of people created this thing called the Design Management Institute for the purposes of understanding and studying the impact of design on business. And how do they do this? It sounds kind of weird, how do you measure something that's a little ambiguous? So they put together an index, a collection of companies that they wanted to follow over the course of many years to understand what their performance is, their financia...
l performance. So they put together this index with 16 companies, and there is specific criteria. I think there was six criteria, I'm not gonna tell you them all, but some of them were that they had to operate with design across the whole organization, like had to be a big value for them. They also had to have senior design people on their management team. They had to have shown that they had financially invested in their design within their company. And so the Design Management Institute studied and followed these 16 companies. And what they found is over a 10-year period, companies that were in this index of the 16 companies outperformed the S&P by 228%, which is a lot of money. I don't know how much money, but a lot. And so in one of the workbooks that are available for this course, I have a reading list where you can go and read further about these, if it's interesting to you. But just to visualize that, you know, we have 228% outperformance, which, you can't argue with those numbers. Design really does pay off. But it's not just about making things pretty. It's about making it functional as well, using a lot of the principles that we're going to cover. So you can't argue, design is profitable. So if you are in a company where maybe people push back and say we don't want to invest in design, or let's only spend, you know, half of that budget, because we wanna save money, you're probably going to spend that money later on. You have to think of design as an investment, not an expense. And companies that fail to embrace design really do risk being outpaced by their competitors. And if you think back to the '90s, maybe early 2000's, I can't even remember, but if you think, Apple was in a slump. And what happened? They really invested in design. They used aesthetics and functionality to create a better experience for their customers. And now they are doing so well, and they've released so many products. You're probably watching, maybe, on an Apple product right now. But it was because they invested in design. Another example, if you think of the kind of taxi industry and transportation industry, in New York, when I first got there, there was no Uber. There was no Lyft. It was all the taxis. And I came from a little town in Canada, 1,200 people. I grew up on 27 acres. I probably never hailed a cab in my life. And I remember thinking, like, this is so great. And I also hate this because sometimes the machines inside the taxi don't work, and they want cash. I wouldn't have cash. They wouldn't let me out of the car. They're like, "Well, you have to pay." So we'd drive to an ATM. It was terrible. Or if it's raining, you know, you're always in a jam. And then, Uber comes around and Lyft comes around, and what do they do? They use design to improve the whole experience. And now, what's happening? The taxi companies are freaking out because they're losing money. There's lots of problems with the taxi industry in New York City right now, even mental health issues, where a lot of taxi drivers are having issues because they're so losing money and worried and things like that. So design really does have the power to propel you forward or leave you in the dust. And now a lot of the taxi companies are trying to make their own apps. But they're doing it so fast that they're trying to play catch-up, and it's not really working. So, we don't need the word designer in our job titles in order to be a designer and use the power of design. What we need to learn is all of these principles. And you're probably thinking, you know, but I'm not a designer. I can't draw worth anything. I'm not good at colors, I don't like fonts, all these things. And that's okay, because by the end of this, you're going to see a lot of these principles that you can apply to whatever you're doing. And the decisions you're making every day can really, truly start to impact what people are thinking, what they believe, and what they are doing with whatever you are giving them, your resume, your spreadsheet, your website, your app, whatever it is. Even things like trade show booths. I don't know if you do trade shows. Resumes, business cards, packaging, another big thing. And the how of design will keep changing. And by that I mean next year, there will probably be some new design tool. Maybe you use PhotoShop. In a year you'll be using something else. So we don't want to get hung up on trying to master the software, because the software will change. And I think the benefit is to spend more time learning the transferable principles that you can use, no matter what software you are working in. And the good news, though, if you are thinking, I don't know how to use these software. Like you feel like that is an obstacle to you, using design in your role, here's the thing. The great resources out there give you a starting point right now. So if you're intimidated by things like PhotoShop, you can go and buy premade templates by very talented designers from other places online. In the workbook, I have a list of other resources as well. But all of these places, you can go and have a starting point. And I think sometimes we just need that starting point as the training wheels to give us the confidence that we can make something great. And the other awesome thing about having a starting point is that many of these companies are able to see, especially if it's a website template or something, many of them are able to see which templates perform better. It's just like buying something on Amazon. You can review them and things, so you're able to know which ones really are valuable, which ones are working, things like that. So if you're thinking no, I'm intimidated by software, get that out of your head. There's lots of starting points for you, which is awesome. But the thing is, now that I told you to have a starting point, a starting point is not enough, because it is very possible to take a starting point, take a beautiful starting point that someone made, or that is, you know, a template in Keynote, or something like that, and still end up with a terrible thing at the end when you are done. I have a few templates I sell, and I see people who email me and say, hey I used your template, can you check out this thing I made? And I look at and I think, how did this thing you just sent me result from this template that you started with? Like the before and after sometimes blows my mind. And then I think, did I do something wrong? But I see this happen in other people's businesses as well, other people who have templates and resources and things. And it's very easy. If you don't apply these principles of design, you can still ruin your starting point, ruin your template. But if you do use these principles, then you can definitely create something that's awesome. So great design is about understanding people and the content. And we're gonna talk a lot about the content and knowing how to present all this in the most sensible way. And when you understand this, you can really leverage the power of design to truly create something awesome and hopefully impact people and maybe impact the bottom line of your business. So quickly, I wanna talk about how our brains process information. We spoke a little bit earlier about how much visual content we consume today, thanks to video, Instagram, photos. Just having this small device on our hand, and just the physical size of it, it's not conducive to doing a lot of reading. I'm sure we do all read on it. But if you think about most of the content that you consume, truly consume, a lot of it is more visual in nature. So I was kind of trying to find awesome statistics around this, and it kind of sent me in a giant goose chase. But I think anecdotally, it's safe to say that it's much easier for our brains to process and recall visual information. And if you even think back, maybe you can scroll back to some of the other slides that we've just gone through, you can see this mix of text and visual. And sometimes I'm using icons. And sometimes I'm using those photos of Las Vegas. Maybe you can even mentally think of some of those already. And that's why we know that it is much easier for us to recall this visual information. So we want to try and do that. Get rid of tons of text and make it more visual, so that people are remembering the message that we're trying to send them.
Class Materials
Visual Design Reading List
Visual Design Resources List
Get Started with Adobe Stock
Ratings and Reviews
I wish more people knew, appreciated, and respected the content Sarah covers in this course. Design is such a critical piece of the functionality of the tools we use every day but its often disregarded as "fluff" or just "aesthetic". Sarah does an outstanding job of establishing the importance and methodology of design for beginners. I would recommend this course to literally everyone.
Definitely recommend! This course is aimed towards people who don't make a living as a designer but are exposed to it in everyday life—even if they're unaware. Your resume? Design. Your social media posts? Design. Your spreadsheets? Yep, design. Sarah does an awesome job giving an overview about what design is and actionable things you can do to improve. The "live design" portion is awesome and it's where she re-designs/improves documents, mostly on the fly. She goes through her thought process so viewers can learn to think like a visual designer. I would definitely enroll in another class, especially if she chose to focus more in-depth on a few design principles for the entire class.
Awesome Class! highly recommend.
Student Work