Why Design Matters
Sarah Doody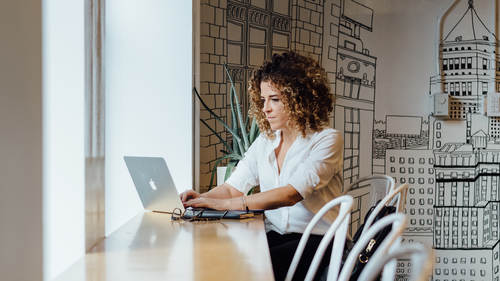 Why Design Matters
Sarah Doody
Lesson Info
2. Why Design Matters
What is the relationship between human needs and design? Sarah introduces Don Norman's concept of the "Norman Door" and demonstrates the effect of poor design. Learn why a design approach is essential to successful business.
Lesson Info
Why Design Matters
We're gonna start with doing a little bit of theory and understanding why design matters and the design process because I think a lot of times, especially with the design process, we jump and we get excited about what colors it's going to be, what font should I use, things like that. Those things do matter, but they don't matter right at the beginning. Why does design matter? This is at a coffee shop close to my house in Manhattan, in New York City. I go here for too frequently. They already have my coffee made when I walk in. I know them all by name. But this door, so I'm normally sitting right up against this wall, and all day long, well, sometimes all day long, I watch people come to this door and what do they do? They try and pull that door. What you're not seeing, it got cropped off, but the hinge at the top indicates that the door pushes out. It's not a pull door, it's a push door. The problem when you look at this door, you naturally think it's a pull because there's a handle, t...
here's something to grip. It's a visual indicator that this is something for your hand to go to and then you pull it. But you don't, and so people approach this door all day long and there is actually something called the Norman Door. In the world of design, there's a gentleman who's name is Don Norman and he is kind of a legend in the design world. He wrote a book called The Design of Everyday Things, and that book really came about because years ago he spent, I believe a year, living abroad in London or just outside of London, and for that whole year he started to notice all these poorly designed things. Doors that he thought were pushes but were pulls, faucets, things like that. I've been in hotels in London where it's very confusing, all the faucets. He just kind of started to notice in his own life, all these problems with everyday things. He wrote this book and that's where this term the Norman Door came from which is a door where the design tells you to do the opposite of what you are suppose to do. Just like the door in my coffee shop, we don't pull that door, we push it even though there is a pull handle. It's a door that gives the wrong signal and needs a sign to correct it, they didn't have a sign. But I decided to go for a walk in my neighborhood to try and find some examples of doors. This is The Poke Place and here there are the doors and it's hard to see, but there are pull handles on the outside, so that's good. They've given us instructions, but there's two doors. We have to use the other door, not sure why. You've all been there where you try to pull and sometimes there's no sign. This one is interesting 'cause there's a pull handle on this side but there's nothing, there's no handle on that side and every time I go to this one I get so confused 'cause I try and push the left side even though there's a handle there and a sign on the left side that says pull in five languages. (chuckles) (woman laughs) The next one is a push door. So we're looking at it, pretend we're inside, and this is a little better because the horizontal bar is generally an indicator that means push, but they've added the sign, I'm guessing because, think of it. That bar may not look like a bar to the normal eye because it's black, it could just look like the frame of the door, but you've also seen doors with the push where maybe the door is white and it's a silver handle or something, so it's much more obvious. But in this case, the push panel just looks like a part of the door so that's why they have to have the push sign. Is my guess, I didn't ask them. Now this door is a little better. This is actually here at Creative Live and I searched all week for a good door, and it wasn't until I got here that I finally found a door that needs no instruction because it's a flat panel with silver area and there's only one option. There's no way you can pull it, so you have to push it. This is a good door. Then just for fun, to my surprise, we also have just a fun door that I had to throw in because when I arrived here there's a special door with a cocktail sign. So just for fun, this is now my new favorite door. I love it. I've yet to be greeted at the door with a cocktail though. But design has the power to instruct, educate, inform, and influence what we're thinking and what we're doing as we saw with all those door examples and now this afternoon when you are going out to do whatever you're doing, you're going to notice these. I apologize but you'll now be a door critiquar, critiquer for the rest of your life. Now, also in New York City, I'm not sure if you've ever visited there, but the subways, thank goodness they exist but I also cannot stand them because here's why. At rush hour, you try to get on the subway and what do people do? Everyone stands right here. No one moves into the subway car and I cannot for the life of me figure this out because to me, I'm a very logical person, but I think clearly when you step into a moving rectangle, you need to move in so that other people can get on. But I guess not everyone is as logical as me, so people always crowd this area. Now this I noticed does not happen in London, does not happen in Paris, does not happen anywhere else in the world so it says something about New Yorkers, but finally we're doing something about it. I noticed on the subway, I really took this picture, we have these arrows now to finally tell people move inside. I don't know if it's actually working, but I was reading about it and the impact of people crowding the doors and outsiders thinking they cannot get on to the car, has this giant domino effect where then cars are moving, people aren't getting on, and you've got crowds of people waiting for the next train. It creates a big, big problem. It's not just that people are hogging the space, but if you think the whole thing through, they're trying to solve this major problem of delayed trains and things like that. We'll see if those work, but I thought it was really interesting. Also, thinking about how design influences what you think and what you do. I needed almond milk the other day and so I went to a larger grocery store than I normally go to, and I guess I've never been at a large grocery store in awhile and I realized, oh my goodness, how are there so many versions of milk? So that's yogurt but about in the middle here, we have all the milk. I mean, it continues very far over here, and there's rice milk, and flax milk, and cashew milk, and coconut milk, and all these milks. I was blown away, and why is this relevant? Because design matters. When you are in a collection of all these different types of milk, you need to do something to stand out. You need to do something to catch the eye of the people who might be standing there for 10 minutes like me, knowing that I was going to buy this one brand but then getting all distracted by all the others. Another example of design and how it really can influence us and our behavior, if you think of the stop sign. We're trained, just by the power of a shape and by color, so we know even if we are in a French speaking country or a Spanish speaking country, just the presence of the shape and the color, even if we didn't have these words, we would know that this means stop. Finally, maybe in your everyday job, design can be used to influence what people are thinking and what people do when it comes to your resume. When someone looks at your resume, people are going to form an impression what they think about you immediately. Like it or not, that's the world we live in. It could help you influence what people think when they open up that spreadsheet you send them. The initial impression they get can be engaging or they can look at it and think this is the most complicated thing I've ever seen, I'm not gonna look at this. Design can help us influence what people think about a website and have them take action or not take action. Even just receiving an email, I'm sure there has been a time when you received an email from a colleague or a friend and you open it up and it's just paragraphs. It's like they wrote you a 3,000 word essay. You just think to yourself, I can't, I don't have time for this, I don't know where to start. You get stressed out, and you could still send an email of that length, just designing it differently could change the first impression of what people think about it and hopefully get them to actually read it.
Class Materials
Visual Design Reading List
Visual Design Resources List
Get Started with Adobe Stock
Ratings and Reviews
I wish more people knew, appreciated, and respected the content Sarah covers in this course. Design is such a critical piece of the functionality of the tools we use every day but its often disregarded as "fluff" or just "aesthetic". Sarah does an outstanding job of establishing the importance and methodology of design for beginners. I would recommend this course to literally everyone.
Definitely recommend! This course is aimed towards people who don't make a living as a designer but are exposed to it in everyday life—even if they're unaware. Your resume? Design. Your social media posts? Design. Your spreadsheets? Yep, design. Sarah does an awesome job giving an overview about what design is and actionable things you can do to improve. The "live design" portion is awesome and it's where she re-designs/improves documents, mostly on the fly. She goes through her thought process so viewers can learn to think like a visual designer. I would definitely enroll in another class, especially if she chose to focus more in-depth on a few design principles for the entire class.
Awesome Class! highly recommend.
Student Work