Sketch Your Ideas
Brooke Shaden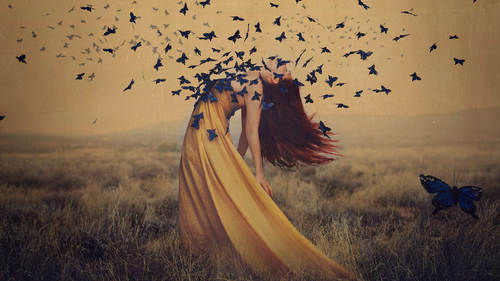 Sketch Your Ideas
Brooke Shaden
Lesson Info
31. Sketch Your Ideas
Lesson Info
Sketch Your Ideas
So we're going to come up with a photo idea right now. Just, on the fly, I have literally not thought about this, even remotely. So, let's do it together. Okay, somebody come up with a theme. Anybody, just a quick idea of what this photo could be about. Anyone. Super fast. Rapid fire, you have three seconds. Spiders. Spiders. Great, that threw me off. Okay, good, I like being thrown off. Okay, spider. So we're going to create something about a spider, and in my opinion spiders don't have to be literal, because this is my show, so, not literal spiders. Good, okay. So, what does a spider make you think of? Fear, mostly. Unless you love spiders. But in this room, we don't. (audience laughs) I love all animals though, just so you guys know. But spiders right now, ugh, and we, we're scared of them. So we're making a picture about fear. Thank you for giving me fear as a theme, that was so easy to work with. And I'm going to say, let's choose some elements to this image. So we've got ward...
robe that we have to consider, we've got lighting, we've got location, we've, I'm trying to choose things that'll be easy for me to sketch right off the bat, coming up with an idea, how can we do this? Okay, so we've got wardrobe I can sketch, we've got location, we've got sort of lighting, I can at least indicate where that will be. And then we've got pose, which will be really important here. Now, if I think about how can I communicate fear through those simple things that I can draw, which is just gonna get me started for trying to create an image here, okay, so if I were to pose fear then what would you do, and this is actually, I've done a lot of this kind of work in India with girls who I cannot speak to who come from a vastly different culture than I'm used to, and it's fascinating how everyone poses the same, all over the world like, you say fear to someone and I swear, like, I'm not gonna make you get up but if you wanna get up and pose fear with me, it would be really awesome. Yeah, I felt the movement. Okay, so we're gonna pose fear. So like, what if, imagine you're a little girl. This is easy, 'cause we're all women, and once you were little girls. And, you're in your room and you're alone and it's dark and something comes in, you think something's coming in the room. Whatever scares you as a little girl. What do you do? Go ahead. (audience member mumbles) Exactly. Like, this the reaction for a little girl, because you're not like, hmm, I've got a window and I bet that I could make it down that two-story drop. No, you're just like, okay, I'm gonna hide under my covers 'cause that's really easy to do, and maybe that'll protect me 'cause I don't know anything about the world yet. So, let's say that we wanna communicate something about fear and we're gonna sketch this, and we need to communicate fear in a way that people understand. Well, people understand poses, because poses really are just our natural reactions to things, unless you're in the fashion world, which we are not right now, 'kay, we're in the fine art world where things are about storytelling. So we can pose however we want, it doesn't have to be like, you know, a fashion pose, which I don't even know where they came from, I would love to actually hear about the history of fashion and how this came to be, but in fine art that's not the case, so, okay. So I'm gonna sketch. First of all I'm just gonna draw my frame. This is my frame, this is where everything will be contained within, and if we're gonna, let's say that we're doing this about fear, childhood fear. So maybe we've got a room. I'm really bad at drawing rooms. This is a room, and maybe we've got this little girl and she's huddled here. She has eight legs today. (audience laughs) And she's covering her face, and this is a dress now, 'kay. She's wearing a nightgown, okay? So I'm just gonna write, I'm gonna write white nightgown and this is going to be our note for the outfit, and I chose white, can you guess why? Why white? Innocence. Because so many cultures will understand that, white is innocence, and we've got a little girl and she's like, this room is gigantic, you see how tiny she is in this room? (laughs) That's my scale problem. And I think it would be really effective, I prefer to start super simple. Like, not like, okay, where does the bed go, where does the dresser go? I'm not thinking about that, 'cause in my perfect world you wouldn't see those things 'cause they're extraneous, they're not necessary to this dialogue that we're having with this girl. So instead I think it'd be really neat to express fear as a shadow. So maybe you see the little girl in her white nightgown, she's huddled in a corner of this room. Maybe this is the wallpaper peeling (laughs) yeah and then we've got, like, a big... (laughs) This is an evil shadow coming in on the wall, 'kay. So if you can imagine it, there's the little girl, and she's down here, and she's like, you know, cowering away from our camera, and then behind her projected on the wall is this giant shadow, just like an evil looking thing. Maybe it's just a hand, maybe it's this whole, I don't know, looks like that guy from the Nightmare Before Christmas or something. (laughs) But, so, so it could be anything. But the idea here is that we're getting a sense of how to visually represent all of those aspects that we need to think about in an image. We've got our little girl in the nightgown, a white nightgown, because she represents innocence which would then naturally make a shadow black, which often represents darkness. So we've got darkness and innocence playing in this one image. Now we have to think about light. Well, if there's enough light for there to be a shadow, then clearly she would have to be lit from the front, because there's a light coming in that direction. So maybe the light that we see is actually funneling in from a doorway. So maybe you see, like, a strip of light that's just illuminating like a little bit of her and the shadow coming in or something like that. Something that would indicate that it's a dark space, and we just have a little bit of light, because that's making it atmospheric, isn't it? That's, it's not just, like, let's just shine a light on this scenario. No, you have to make it realistic and believable. So I think that that could be a really good start to an image. But what I'm doing as I'm sketching is not simply saying, you know, like what would look cool here, how could I do this, what are my options? Notice how I never once said, okay, where are we right now, okay, what space do I have to work with, who do I have to work with? I'm never doing that, and we do that a lot as photographers is we're like, okay, I'm in my house, what do I see? What props can I use today? How can this teacup not be a teacup, you know, and you're like searching for what could be and what you could use, but I prefer to think in terms of, I don't care what I have at my disposal I care about what's in my imagination, and then once it's here, that's an arrow. (laughs) So once it's there, I'm simply saying how can I make this happen now? How can I make it happen? And if you want it to happen badly enough, it will happen. So maybe one of us will be a little girl tonight in the hotel, and we'll just see what comes of it, I don't know. But yeah. Okay, so I'm movin' the white board off and we're going to move on from our little sketching. I'm a very bad sketcher, am I not? Alright, I think that you should sum up your end goal, that's what I'm trying to say here with planning your photoshoot, is if you can, before you start creating, understand what you're trying to get at, that's really good I have a lot of friends who don't create this way, who will create something and just start with their camera, start with a model, and see what comes of it, and that's okay too, you know, I'm not saying you absolutely have to know what you're going to create ahead of time, because you don't have to know that. You simply don't. But it cannot hurt you to know that as long as you give yourself the freedom to experiment within that. So I tend to answer this sentence for myself. I want to create an image that looks blank. That looks, you know, creepy. I wanna create an image that looks vibrant. However you wanna insert a word there is fine. And that communicates blank. That communicates, maybe you would insert a theme there. Maybe your theme is innocence, because that's what we sketched, so maybe that's it. It all depends. But if you can answer that simple sentence, then you're probably on your way to creating something more meaningful, at least in my opinion. Choose every element of your image, as I've said, but in a way that serves your end goal. So not just what's around you, not just what's easy, but what will really help you communicate your vision to somebody else. And then, consider how you're going to edit, and I mention this right now because yes, we've been talking more conceptually, how can you create an image that means something, but how are you going to edit that image? Like, really, what are you going to do to it to transform it, if anything, and that's going to drastically alter how you choose every element of your image, won't it? Because if you decide, oh, I'm just gonna composite somebody into that field, that's gonna really change how you go about your shooting process. So always considering that, and then I've got my little checklist here for creation. Yeah? Are you keeping some sort of a notebook with all your ideas, or is it all in your head? Always a notebook, yes, I am big on notebooks, in fact I have 15 of them and they're all like five pages in and then I get a new notebook, I don't know what's wrong with me, it's like a compulsion I think. Yeah, I have so many notebooks, and I almost always have a sketch. So even if I do it on a napkin and then the napkin gets thrown away, I still find it very important to keep some sort of visual log for myself until I'm done creating. And part of that natural instinct in me is because I have a clinically bad memory, like, a doctor's note and everything, and it's bad. So I often get to a shoot and I cannot remember what I thought of, which is terrible, and people would often say to me, then you must not care about it enough, and I'm like, no, no, that's not the problem. So I like to just have everything written down so that I can keep looking back at it and, you know, maybe a day goes by, a month goes by, and I can keep revisiting it and just see how I feel toward that sketch, toward those words, very important to me, yeah. So in this checklist of your creation process what visuals are you imagining? So just getting it all out there, not thinking about what's available, what are you imagining, and then what theme can you bring into this image? And I think that theme is massively important. I think that the more we consider theme in our images, the more people can connect to our images. But there's a distinction to make, and that distinction is let's say that you're a landscape photographer and you're thinking to yourself, I don't have models, I don't have wardrobe, I don't have a theme, it's a mountain, I take pictures of mountains. I would still argue that there is a theme to be found there, that there is a character to be found there, so I don't wanna limit these elements of creation to just portraiture, or just storytelling images. If you can envision, let's say, let's just get it in your head right now the image, an image of a mountain, 'kay. What does your mountain look like? It's probably really different from my mountain, like, I immediately imagined a dark mountain that's illuminated by the Aurora Borealis. That's just what popped into my head. You might be thinking of a snowy mountain, or a grassy mountain, or a mountain with trees on it, or a mountain with bushes on it, or a mountain with sand on it. Who knows what your mountain looks like? And that's your character, isn't it. You know, the thing that you're trying to capture, whether it's a person or an object or a piece of nature, that thing becomes a character based on how you choose to photograph it. And such is the same with theme. Where suddenly if you have an image of a mountain that looks glorious under the stars and Aurora Borealis, then that mountain isn't the same mountain as someone else's mountain, there's a theme there, and what that theme could be, might be the magic in the world, you know? That's a theme, it doesn't have to be a storytelling theme necessarily, but it evokes an emotion or a feeling and those feelings and emotions often translate into themes. So what theme, what is the story or emotion if any story. There's almost always an emotion, some way that you want your viewer to feel when they look at what you're doing. And I think that's perhaps one of the most important things here out of the checklist, is what is the emotion. And then (laughs) tell a friend your idea and see if they get it. How many of you guys have ever had someone not get what you're trying to do? Yeah. It happens all the time to me, and of course there's the part in me that shows my friend and I'm like, well obviously she just doesn't get it and obviously I didn't do anything wrong, but I have a few core people that I'll show my images to, and if one of them, even just one, says I don't get this I immediately show everyone else, and I try to see, is this my problem, or is it their problem? Is this just not connecting with them, or did I miss something integral to the creation process that is not telling the story that I wanna communicate? And I should mention here that in my way of creating, I'm very much about sharing. I'm not creating for myself personally, exclusively. So I'm never picking up the camera and saying, I just want this picture for myself because I need to make it. That is my reason for creating in general, yes I want to create for myself because I love it, but the other half of that is I love to share my work, I love getting opinions, I love hearing people's interpretations, so of course I'm going to see if people get it because that's how I know if it's going to, one, translate to other people, and two, be marketable. Because at the end of the day we're talking about fine art photography and yes, the artistry of it, but also the business of it, and I wanna make sure that this image will translate to other people. What do you need for the shoot? Super simple, part of the checklist, just something that we have to include there. And then think of how to do it differently. I mean, if you've got your idea, you've got your sketch, like okay, so for example we had that image, or I should say sketch, 'cause it's not a picture yet, of the little girl in her nightgown with the shadow figure coming in. What's another way we can communicate that? What if we used a shadow and a girl in a white nightgown in a room. How could you do it differently? And we don't necessarily need to answer that right now, but you might be thinking, oh I'm so glad you asked, I would definitely not do what you thought of, and that's okay, you don't need to do what I thought of. So thinking about your idea differently, how can I do this in a new way, can often open up this whole entire world of, oh yeah, maybe this other idea that I just had is good too and how can I explore this in more depth? Envision how it can go wrong, which I think, you can't go wrong doin' that, so. Yeah, so I think it's really good to do because if you envision how something can go wrong then you're much more likely to prepare for it to go right. I always ask myself, how am I going to fail at this one today? I get up in the morning, I'm goin' out for my shoot, it's 4:00 a.m. The last thing that I wanna do is be out in the cold at 4:30 in the morning taking a picture and then getting home and being like, hmm, shoulda remembered my memory card on that shoot. You know, like, that's terrible. So always think about how could it go wrong. And then always think about the image as if it's for a client. So if you're creating something, even if it's just for you and you wanna get it right, think about what if you had a client on set, and you had to make an image for that client and they're paying you money and you have to deliver something. I mean, just thinking about how much more I prepare for client shoots versus my own personal shoots is astounding. I mean, I will spend hours preparing an image idea, I will spend hours getting on set first and making sure everything is exactly as it should be, because there's somebody relying on you. What if you applied that theory to your own shoots? It could be really good. Bring backups for shooting. So bring other ideas, bring other props, bring other ways of doing it in case you're inspired there to do something different. Or in case something else just looks better. I mean, we're visual artists, what if something just doesn't look how you thought it was going to look? Happens all the time. And then envision the editing process. So, how will you edit it, and how can you shoot for the edit to make that a little bit better?
Class Materials
Guided Daydream & Writing Exercises Workbook (Lessons 1-11)
Creating an Original Narrative Workbook (Lessons 12-18)
Finding Your Target Audience Workbook (Lessons 19-27)
Planning Your Series Workbook (Lessons 28-34)
Set Design Workbook (Lessons 35-41)
Compositing Workflow Checklist (Lessons 42-49)
Editing Workflow Checklist (Lessons 50-55)
Location Scouting Workbook (Lessons 56-60)
Stock Image Downloads for Practice (Lessons 61-72)
Organizing Your Portfolio Workbook (Lessons 77-81)
Pricing & Editioning Your Work Workbook (Lessons 82-89)
Writing Contracts & Licensing Images Workbook (Lessons 90-98)
Gallery Best Practices (Lessons 99-106)
Pitch Package Workbook (Lessons 107-111)
Writing Your Brand Workbook (Lessons 112-117)
Marketing Workbook (Lessons 118-122)
Social Media Workbook (Lessons 123-127)
Printing Methods Checklist (Lessons 128-133)
Self Critique Workbook (Lessons 134-137)
Ratings and Reviews
I tuned in for most of Brooke's lessons in this course and watched some of them more than once as they were rebroadcast. First I want to say that Brooke is a very good instructor. Her easy-going, friendly, down-to-earth, somewhat quirky manner cannot be mistaken for unprofessional. She is very prepared, she speaks well (not a bunch of hemming and hawing), she is thoughtful, she is thorough, she is very relatable and at ease, and she is definitely professional in her presentation. I really thought when I first tuned in that it would mostly be background noise while I was at work, sound to keep me company. Not because I didn't like Brooke but I really didn't think I was into fine art photography nor did I think I cared about the business side of things much. Not now anyhow. I was really wrong. Brooke sparked a deep interest in me to delve into fine art photography, to consider creating images for myself, from my imagination. In fact, I realized that this was something I'd been thinking about for a couple of years though I hadn't put a name to it (the idea of creating pre-conceived images based on my own creative goals). I gleaned many little treasures from her about image sizes, working with printers, different types of paper, selling, interacting with galleries, and so much more. I may not need all of what she taught right now because I'm definitely headed in another direction at the moment, but she planted ideas and information in my head that I know will be useful at some point. Things I may not have thought of on my own, but that seed is in my head now so when the time comes, I'll know. I'd really like to buy her course but at the moment, with the holidays right around the corner, it's not in my personal budget. I'm grateful to have caught the live and rebroadcast lessons though, and her course is on my list to own. I think it's a great reference to be consulted over and over again, not watched once and forgotten. Kudos Brooke for really putting together an excellent course.
I'm retired now, but spent decades in the people and training business. Brooke is extraordinary! Even though this course is extremely well organized and she's left nothing unattended, she moves through it with friendly conversational manners and without a sense of it being stilted. It's as though we are all her friends, not students, as she shares her heart and passion with us. What a joy it is to listen to her. And what a clear, unambiguous command of her subject. Wow! She explains it with such ease using explanations and techniques that won't overwhelm artists just starting their portfolio or the Photoshop-squeamish among us; but despite its simplicity her resulting art is breathtaking and beyond original. I wish more of my professors at school were as engaging. This was by far my best buy at Creative Live yet.
When the title says comprehensive, it means comprehensive! I loved every part of this course. It's inspirational, motivating, and insightful towards creating art work. Even if you are not necessarily considering a fine art specialty, the concepts discussed in this course are applicable to many areas! I find this super useful as a videographer and photographer and look to apply all of these exercises and concepts for my personal and business work moving forward. It is lengthy, but you will not regret a single minute. Brooke Shaden is an amazing artist and educator. I recommend keeping up with her work, presentations, and any future courses that may come in the future.
Student Work