Live Demo: Manual Focus
John Greengo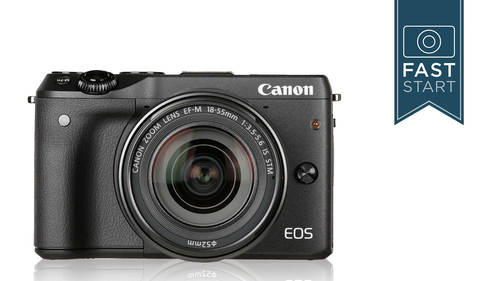 Live Demo: Manual Focus
John Greengo
Lesson Info
5. Live Demo: Manual Focus
Lesson Info
Live Demo: Manual Focus
over the left side manual focus. And so if we want to manually focus, we can put the camera in this mode and let's do a little manual focus test here. I need something close up. So I'm gonna grab a little lens over here. They can in Lens, of course, for us to focus on and let's go ahead and get our camera turned on and we'll give a little zoom in here. And so we've got things in the background and things in the foreground here. And so if I put prisoners to the left, you'll see we have a manual focus over here on on this lens, the ring out in front is the manual focus ring. If I need help, seem well, is that really in focus? I can hit the magnify button, bring it down here, magnify again, get it centered in the frame here. And so now I can clearly see if I'm focusing. Can I get an even closer? Pretty sure I can. Come on, he's either. There we go. OK, so now I can clearly see if I'm in focus, so I have magnified in come back and so now I can shoot a photo where I know that that lends in ...
the foreground is in focus. If I want to focus in the background, let's hit my focusing frame, going to use a combination of the touch screen. And so now I am manually focusing. But I want to zoom in on these cameras in the background, get one here and adjust the focus. Wrong direction. And there we go. And so now I can shoot that photo and let me quickly play these back. And so I have the background and focus and the foreground in focus. In fact, we can play around with our zooming. We can see how sharp we got that last photo and go to the previous photo and see that we got the cameras sharp in the background on the previous shot. So manual focusing is really nice. If you're set up on a tripod, it tends to be a little bit tough to work with on this camera, hand held. It is something that I would use, as I say from a tripod, for instance, for product photography or landscape photography. Anytime you want to be very, very critical and you have that extra time to go in and do it yourself. It's also nice that the lens has a decent manual focusing ring on it. The standard 18 to 55 has a focusing ring. That's not too bad. I've seen. I've seen worse. And so if you do want to manually focus, there are worse choices than the standard kit lens that comes with it.
Class Materials
Canon M3 Recommended Settings
Ratings and Reviews
I am a complete beginner with photography, I've only used my phone until now. I bought my camera about 3 weeks ago and I've really struggled, as, for example, the manual says turn the dial to select, not which dial, or how to get to the correct place, setting or menu, so that the dial will then work. I'm only up to the 5th lesson and I feel that I understand my camera so much more. I wish I had bought this on the first day. I'm not connected to this company, author or anything else, I was just frustrated, and feeling like giving up as I couldn't get an unblurred photo on my new camera. Thank you so much for this wonderful, easy to understand and follow guide.
I wasn't too impressed by the M3 until I found this course. It changed my whole outlook. John gives a great delivery and fully explains in plain English.
Student Work