Nikon Z7 & Z6 Fast Start
John Greengo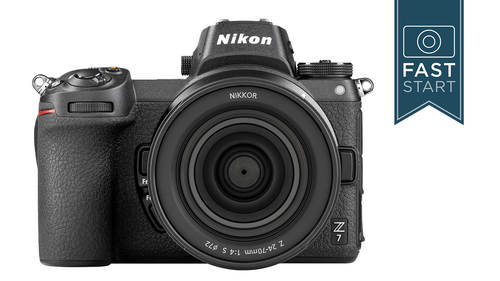 Nikon Z7 & Z6 Fast Start
John Greengo
Class Description
AFTER THIS CLASS YOU'LL BE ABLE TO:
Easily navigate the controls, menus, modes, and settings on the Z6 and Z7
Shoot with confidence in full manual mode
Utilize advanced features like focus stacking
Use the 4k film options for incredible video performance
Adjust camera settings to shoot in challenging situations, such as low light
Master the autofocus system and different autofocus modes
Understand the camera's strengths and limitations
Choose the right lenses and accessories for the Z series cameras
ABOUT JOHN'S CLASS:
The Nikon Z6 and Z7 wrap several advanced features in a compact mirrorless system -- but as first generation full-frame cameras, there's no precedent to get a jump start on exactly where all those features are. Covering both the Nikon Z7 and Nikon Z6 with nearly identical control schemes, this Fast Start class quickly brings you up to speed on using Nikon's new full frame mirrorless cameras. These mirrorless digital cameras offer 4K UHD video recording, superb in-body image stabilization, and excellent low light capabilities. But the Nikon's long list of features is just money wasted if you don't actually know how to find them and put them to use.
Skip the floundering through menus and join photographer John Greengo exploring the camera's many features, from customizing the camera to understanding subject-tracking focus. Locate the controls, find hidden features, and put the camera's advanced features to use, whether you are new to interchangeable lens cameras or have shot Nikon DSLRs for years.
This class is designed for photographers using either the Nikon Z7 or Nikon Z6, from those just pulling it out of the box to photographers that just haven't found all the camera's features yet. The class can also serve as an in-depth look if you're not yet sure if the Nikon Z6 or Z7 is the best camera for you. The Nikon camera class covers the camera from the exterior controls to the menu.
What's packed in this Nikon camera Fast Start? Learn the vital information in less time than it takes to analyze the menu -- and have more fun doing it too.
WHO THIS CLASS IS FOR:
New Nikon Z6 or Z7 camera owners
Nikon DSLR shooters moving to the mirrorless system
Photographers considering buying the Z6 or Z7
Photographers, from beginners to advanced
Videographers and vloggers
ABOUT YOUR INSTRUCTOR:
With more than 50 classes exploring the features of interchangeable lens cameras across half a dozen brands, John Greengo is one of CreativeLive's top instructors. His class list includes Fast Starts for Canon, Nikon, Sony, Fujifilm, and Panasonic, as well as classes covering photography basics and beyond. Shooting his first Nikon in the 1980s, the award-winning photographer is intimately familiar with the ins and outs of different cameras and different camera brands. When he's not teaching, he's building on his three decades of experience as a travel and landscape photographer.
Class Materials
Nikon Z7/Z6 Recommended Settings
Ratings and Reviews
I love all of John Greengo's classes. Now he is a Canon man but he gives the Nikons a fair review and his lessons on them are excellent. I have the Z6 and I picked up a several pointers I had not run across yet, so this course has paid for itself already. The only negative I have, and hopefully this is because the course was streaming, but the camera focus was off when the video was zoomed into the Z camera. John may need to give the creative live camera operators a lesson on focusing. Great informative course at an excellent price.
Thank you very much, John! I've been using Z 6 for 18 months, so far, and now I've got Z 6 II as well and your training about these cameras is just an excellent job. Of course I've been following you in other trainings as well, like "Photography Fundamentals" (or something like that) and I've got some of your books too, all excellent, but with this Z 6/7 training have been useful to learn some new things and to remember others already forgotten. Thanks a lot!.
Loved the class. Just bought the Z6ii (waiting for it to ship) , so this is a great introduction. Would greatly appreciate it if John could add one more chapter to this class - Tell us about the Z6ii and Z7ii updates. It seems Nikon has addressed a lot of the concerns (particularly 2 card slots), so it might be very helpful for folks trying to decide on which camera to buy. Thanks!!!
Student Work