Other Top Deck Controls
John Greengo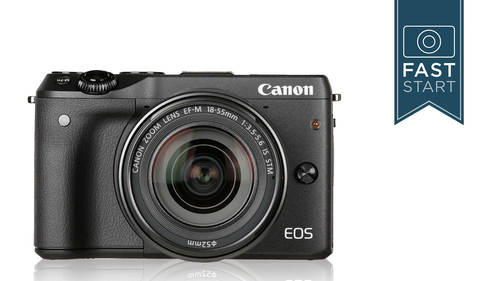 Other Top Deck Controls
John Greengo
Lesson Info
3. Other Top Deck Controls
Lesson Info
Other Top Deck Controls
all right. Moving forward. We have our exposure. Compensation dialling. So this is a very great tactile control on the campus is something that cameras had recently gone to. They used to have him on their camera on the cameras all the time back in the old film days. And it's really nice to have a very easy to see easy to control dial right with your thumb. And this is going to be used in a number of the automated modes for you to get either darker or lighter photos. And so, if you're not happy with the brightness of your shot, you can just simply dial in something to the minus side to get a darker photograph or to the plus side to get a lighter photograph. And so, once again, program time value and aperture value are the modes that you were going to make use of this. It's not gonna be available in some of the most simplistic modes. Now there is another mode in the camera for those of you who know about auto exposure, bracketing where the camera shoots a series of photos all in a rapid ...
sequence. There is another mode where you can do this in the camera and shoot menu number three. But if you just want to do a one off for just two quick shots in one direction or the other, this is the easiest way to do it. But this is also one of the things that you want to kind of keep an eye on to make sure that it is normally at zero mode because it can get bumped. And that could cause a problem if you bump it over two minus three, all your photos are going to be dark by three stops in all cases. And so what you want to do is get that set on zero and just keep an eye to make sure that it's there most of the time. All right, Next up, we have a multi function button, and this is kind of a your choice button, where you get to choose one of a bunch of different options as to what you want it to do. And right now, let me just double check my camera cause I reset it back to the factory settings, and I think it is currently programmed to do nothing and so right Now, if you press it on your camera, if you just open your camera out of the box, it doesn't do anything and you have to go into custom function group number three custom controls and give it an assignment to do. What do you want it to do? And if I had to give it a choice as to what do I think it should be changing? I think white balance would not be a bad idea. Let's see. The drive mode might be pretty good as well. A f method, I think, or a f operation. And let's if there's anything else, I think those would be the key ones that I would look at because the camera may not have a fast enough control for you to change those. So whatever you change most frequently, that would be a good thing to kind of put into that function right there. But it's always nice to have these multi function buttons on cameras, allows you to really customize it to the way you like toe work. All right, over on the left side of the camera, we do have a flash. There will be more flash controls that we talk about when we get into the menu system. We do also have a hot shoe, which allows us to make a lot of additions onto our camera. So we do have the little built in flash, which is good for I would say, about 10 to 12 feet, three meters or so of distance. Anything further than that, it may not have enough power to really reach out and illuminate the subject. So if you do want a more powerful flash, cannon has a number of very good flashes out there. I don't know that I would really bother with the to 70 e X. It's a nice little flash. It's just that it's not that much more powerful than the built in flash. It's probably in the range of 2 to 3 times as powerful, but that's not nearly as powerful a some of their larger flashes. So the speed light 3 20 e x is notably more powerful, but what's interesting is that it also has a video light. So if anyone who wants to shoot video and once once a little catch light, this will get you kind of a two for one deal. The one that I would recommend for people who do a fair bit of flash is the 4 30 e x three r T, and this one is going to be notably more powerful. It's also gonna have the ability to bounce and have a number of other features that will help out for anyone who is doing a lot of flash photography. The top of the line flash Probably a little overkill on this camera cause it's physically bigger than this camera and might even be more expensive than the camera itself is the 600 e xRT. But if you did need the most powerful one, you would want to look at that one now the maximum shutter speed that you'll be able to use his 1 2/100 of a second. You don't need to keep this memorized or anything because you're the camera will not allow you to use a faster shutter speed with the camera. But that is the reason is there is a limit to how fast the shutter speed and flash working together will work. Now one of the other things that you can plug into the hot shoe on the top of the camera is the electronic viewfinder, the D. C. One. Now this is gonna offer you a very good view of what you're shooting at and allow you to see things in bright sunlight. And so I like having this, and sometimes it's available as purchase when you buy the camera. If not, you have to buy a little bit later. There is a custom setting to how smooth the display is, and it uses a little different algorithm for displaying the image. So there is an option in the viewfinder. We'll talk about you do have an on off on the side of it, and a little unlock simply slides in there, and it has a little rotating top on it. And so there is also a Diop ter on the bottom of the camera. So let me just show you on my camera real quickly. So I have one of these cause I got a little package where I got the camera with the viewfinder here, and so that you find her slides in locks in really nicely, and we go ahead and turn the camera on. And nice thing is, is that there's an automatic sensor, so as soon as I hold my eye up here, it switches off the LCD and turns on the View finder. And so where's my little sensor? It's over here on the right hand side, and so you can see that viewfinder coming on and then switches back and forth between the LCD and the reason that I really like a viewfinder like this has to do for two main reasons. One. If you're working out in bright sunlight, it when you have your camera screen having being hit by sunlight, it's really hard to see the colors and sharpness of what's going on on the screen. And the other reason is that once I reached the age of 40 my minimum focusing distance, I used to be able to hold a camera really close to my face, you know, right up next to it. And now it's become a little bit further away, and it's a little bit harder to see if it's actually in focus and so I can play back an image, look at it in the viewfinder and really see if it's sharp if it's composed well. And so it's made things much easier to work with in the field, and it's something that you can very easily take on and off. You don't need any batteries in. This is you can maybe see on the bottom of this. It's got a bunch of electrical pins and a little hard to see in here. But up at the very front end of the hot shoe is some electrical contacts where the hut the hot shoot connects and communicates with everything. And so it's a very integral part of the camera and, well, it does make it look a little extra cool, too. And so it's It's a nice little addition on there, but it does sell on its own for about $ but something that I like on a camera quite a bit. So that is your hot shoe on the camera. Now there is a little indicator right up there that looks like the planet Saturn, and that is the focal plane of the camera. You'll not likely ever use this, but if you ever needed to measure the distance from your subject to the focal plane, that is where the sensor is located in your camera
Class Materials
Canon M3 Recommended Settings
Ratings and Reviews
I am a complete beginner with photography, I've only used my phone until now. I bought my camera about 3 weeks ago and I've really struggled, as, for example, the manual says turn the dial to select, not which dial, or how to get to the correct place, setting or menu, so that the dial will then work. I'm only up to the 5th lesson and I feel that I understand my camera so much more. I wish I had bought this on the first day. I'm not connected to this company, author or anything else, I was just frustrated, and feeling like giving up as I couldn't get an unblurred photo on my new camera. Thank you so much for this wonderful, easy to understand and follow guide.
I wasn't too impressed by the M3 until I found this course. It changed my whole outlook. John gives a great delivery and fully explains in plain English.
Student Work