Back Side: Quick Menu
John Greengo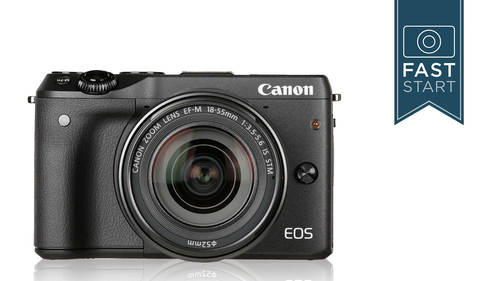 Back Side: Quick Menu
John Greengo
Lesson Info
6. Back Side: Quick Menu
Lesson Info
Back Side: Quick Menu
the Q menu is the quick menu on the camera. And so a lot of the features that we're going to talk about in here we will talk about again when we get to the menu section. But this is a quick access, so you don't really have to search for these things. These air features that are generally considered pretty important features that you may want to get to on a regular basis. So when you hit the cue menu, you're gonna have access over on the left side and the right side of the camera, depending on which modes air turned on and off right now noticing on my camera. Because I haven't in manual focus, some features air not available, so I'm gonna flip this back out of manual focus so that I could get into everything on the top left. The A F method is where we are focusing, and we have two options. One option is a face tracking mode, which utilizes the entire area and is going to be a good general purpose mode. If you were just gonna hand your camera to somebody to start shooting photos, this wo...
uld probably be the safest place to put it. But for those of you who are a little bit more discerning and creative, you're gonna probably want to choose the one point a F mode so you can choose one place where the focusing point is, and you get to choose where that is in that frame once again by heading that frame box over on the right hand side of the camera and moving it around. And so that's my preferred area for working with the camera, for sure, because I like to be in control of where it's focusing. You can also use the touch screen to select where you want that focusing point to go to. The face tracking mode is very good at identifying faces and focusing on him. It can have problems if there are multiple faces in the screen at the same time, and so works very well with one person. But it's a little bit trickier when you get multiple people working in there at the same time scrolling down a little bit. The operation is controlling how the camera focuses, and the two options is one shot where it focuses and stops and then servo, which is designed for continuous or action photography. So remember, when you press halfway down, that is where the camera is going to focus. And if there is a subject that is not moving, it's gonna lock and be done with focusing in the survival mode. It's looking for subjects that are moving, and so if you're gonna be shooting action, you'll want to have it in the server mode because it's gonna look for a subject. And then it's gonna continually track that subject, adjusting focus along the way. Okay, so most of the time I'm guessing that most people are going to be in the one shot mode. But when you get to action photography, this is one of the most important settings to change. Is that the camera into the servo mode? Next up is our image quality. And so this is where we get to choose where that we shoot raw or JPEG images or the size of the JPEG images. So for those of you who are pretty serious about photography, you've probably already got your cameras set to the raw setting. This is where the camera's image sensor gives you all the information that it recorded And for anyone who is pretty serious into photography, this is how you collect all the data, and you would work with it later with appropriate software like photo shop or light room from Adobe Or Canon has their own software that comes supplied with the camera. If you want a picture that's ready to go, ready to email and use in many cases, that's going to be the JPEG image. Now. J pegs are available in many different sizes, and my guess is that if you're not shooting in raw, you should probably be shooting in the largest, best quality J peg option. And that's going to be the top listed J pick option or the one furthest to the left. There are a variety of sizes that are smaller. If you knew that you did not need the largest size possible. But my guess is that you spend all this money to get a good camera. You want to get the best quality pictures off of it. That's gonna be the default place that you want to keep it. Next up is the image quality for recording movies, and so here's where we get to choose whether we're shooting in the full HD, which is the F h D, the standard high definition or the V G a mode, which is more of a simplistic YouTube video, you might think up. We do have different frame rates that we can choose, depending on the mode that we have chosen here. And so I think, for most people you're gonna want to choose the full high definition, which is the highest quality video mode at the 29.97 frames per second mode, which is their highest quality mode in here. We do also have a mode that shoots at roughly 24 frames a second. If you want more of a cinematic look. And if you're familiar with the differences between film and TV, there is a different look to those, and you can create those in camera by choosing the different recording options here. Next up is the drive mode in the camera, and this allows you to adjust what happens when you press down on the shutter, release the entire way to take a picture, doesn't take a single photograph, or does it continually shoot photos. So, obviously, in a sports scenario, the continuous mode would be the preferred option in most cases, so that when action is at its peak, you could fire down on the shutter release, and it's gonna fire photos at up to 4.2 frames per second. So it's reasonably quick for a very small camera. Most of the time will be in the single node. We have a self timer mode, which allows us 10 seconds to run around and get in the photo ourselves. We have a two second self timer. If we're working with the camera from the tripod, for instance, that will allow us to get our hands off the camera and let the vibrations settle out. And there is also a remote control that you can get from Canon. This sells for about 20 bucks, and if you need more than 10 seconds to get in the shot, let's say you and your friends were doing a human pyramid and it takes you more than 10 seconds to get around and get on the top of the pyramid. The remote control would be perfect for that sort of scenario. Working our way around over to the right hand side, we have the aspect ratio. Now the sensor on this camera is a three by two aspect ratio, and that is where you're most likely gonna wanna leave it set. If you do have a different framing, you can do it and see it in camera, but you can always crop it later. The only reason to really be doing it in camera is that you'll be able to see it as you're framing your subject up and yet might give you a little bit of benefit if you knew that's how you wanted it. Framed in the long run next is our metering system. There's four different metering modes that you can choose. The evaluative metering is by far and away the most popular because it's the most comprehensive and the most accurate under the widest variety of conditions. There are some other modes available for those who want to venture off and work a little bit more manually. You might say you can work the camera automatically in these other modes, but they do require a little bit more skill and time to explain that we have here. So I can simply say the evaluative is gonna be where most people are gonna want to leave it. It's where I leave my camera almost 100% of the time. Next up is our auto lightning optimizer, and this is one of a number of modes on the camera where the camera will go in and tweak your photos. Now, if you remember back to the raw on the J peg, the camera will not tweak the Ross. The raw images that you get out of this camera are straight draws, and it doesn't matter where you have this or a variety of other features set on the camera. But for those of you who decide to shoot JPEG, there are many different ways that you can adjust the J pegs to your particular taste. And one of the options is this. Auto lightning optimizer and let me give you one visual example here. And so in this particular photo, those in the shadows are a little bit darker than you might want. And so the auto lightning optimizer One of the things that it mainly does is it goes in and it lightens up the shadow a little bit. Not a lot, just a little bit, and in some cases that's really nice tohave. The problem is, is that that's not something that you wanna have in all cases. In other cases, it's nicer to have a little bit more contrast in your photograph, and you don't want those shadows lightened up. And so it's something that I prefer not to turn on unless there's something very specific that I want to have it turned on for. And so my general recommendation is to disable it unless you particularly need it. Next up is our picture styles. And for those of you who are old enough or adventurous enough to remember shooting film, there's lots of different films Kodak, Konica and Fuji film and each have their own different look and style to it. And we could have our own look to the digital image according to how it's processed in the camera and so we can choose from the different options you see on screen here. But we can also go in and customize it. So if you're just shooting J pegs and you think, you know, I just I don't like the way they look. They're just not quite right and there, but they're not too far off. Well, you can go in and you can customize them. So let's show you a little bit on how to do that. So on our camera, let me get my camera set up here. So what we What I need to do is I need to jump into the quick menu and I need to go over to customizing the picture styles. And so I can choose different picture styles. So standard and portrait, which is a little bit less saturation cause we don't want too much saturation in our faces landscape, which is a little bit more saturation. Each of these are subtle differences in the contrast in the color tone of our images. But we can also go in and we can program this in ourselves. And so we have three different favorite modes user defined and three. And as you'll see on screen on my camera and hopefully in your camera to if I eat info has this extra. Why gonna watch the touchscreen here? Info is gonna have a little extra information right next to it. So if I hit the info button No, wait, what did I hit? OK, so now I can go in and I can choose. What do I want this to look like? And so I can choose. Well, you know what? I want this to be monochrome. I want this to be a black and white image, and I'm gonna come down to the sharpness level, and I'm going to increase the sharpness. Not that much. A little bit. And then I'm gonna come down to the contrast, and I'm going Teoh increase or do we want to decrease now? I want to increase the contrast by a bit here, and then I'm gonna come down. And the filter effect is I'm going to filter when we don't have too much color in here. So this really doesn't matter to me. Finally, were atoning effect. I can change different colors. Do that. Blue looks kind of cool here. And so now I've created this whole user defined system under number one. Now under number two. I could go in and I could hit the info button, and I could change this and say, you know, I want this one to be a little bit more landscape like, and then I'm gonna come down lips. There's my to hit the info, and then I want to come down and I'm gonna increase the saturation on this one and make this supersaturated. And so now, when I come back to the Q menu, I can quickly select one, which is my black and white setting, or number two, which was my supersaturated setting. And so you could have different styles according to what you like, and so you don't have to just accept the ones that they have programmed for you. You can go in in program up to three of your favorite film styles or looks in an image on very quickly jump back and forth between them. So that is how you go in and customize those little picture styles, which can be a great way of personalizing your photographs. All right, next up, what do we have? The white balance. And so the camera does not necessarily know what color lights are illuminating the scene that you're trying to photograph. And so this is a way for you to let the camera no if it can't figure it out on its own, are you shooting under sunlight or cloudy or shady conditions? The ones that are usually the most different are incandescent. Those bulbs that a lot of us have in our living rooms and bedrooms and things like that are very orange in color. And so if you're getting orange photos that don't seem quite right, what you can do is go into the auto or go into the white balance and adjust it to the tungsten or the incandescent setting. And that's going to fix that color problem. Now. There are a couple of other options behind. Besides these six right here. One of the options is where you go in and you photograph a white piece of paper and you tell the camera, Hey, this white piece of paper is supposed to be white, and it will figure out what color lights you are working under, and it will fix the problem. And finally, there is auto white balance, and this is where your camera looks at the photograph, and in particular, what it's doing is it's looking at the highlight information to see if it's tending to be one color or the other color, and it's trying to correct for that. Sometimes it has a problem, but for the most part it does a really good job. And so I can honestly recommend auto white balance a good majority of the time if it's not getting the right color than you can switch it to the appropriate white balance setting. But for the most part, I think you're pretty safe, leaving it in auto white balance and only change in it here and there. If you really see a difference in the color of the images under a particular lighting situation, and then finally, when you want to kind of kick back out of the mode and get back to your normal shooting mode, you can go up to the return shooting mode. Or you can simply press halfway on the shutter release of the camera. All right, on the backside of camera that is the cue menu. Very important button on the camera. All right, we do have a movie record button up there in the right hand side. Now you can hit that button at any time and start recording a movie. You don't have to have them dial on the top of the camera put into the movie mode, but if you do, you will get the framing that you will see in the movie mode, and so it's best to do it in that manner, so I would prefer toe, put the camera in the movie mode and then hit the record button on the back of the camera. But if you really need to do it, you can jump in and do it any time that you want. Now it also does serve as a multi function button, so you can go in and you can set that button up for something else. For those of you who don't care about shooting movies, you would prefer that button be used for something else. And so, once again, as I say, I would prefer to put the camera in the movie mode because then it will show you the movie framing that blue box, which is a by nine aspect ratio rather than the still photos, which are taken with the full sensor with its three by two aspect ratio
Class Materials
Canon M3 Recommended Settings
Ratings and Reviews
I am a complete beginner with photography, I've only used my phone until now. I bought my camera about 3 weeks ago and I've really struggled, as, for example, the manual says turn the dial to select, not which dial, or how to get to the correct place, setting or menu, so that the dial will then work. I'm only up to the 5th lesson and I feel that I understand my camera so much more. I wish I had bought this on the first day. I'm not connected to this company, author or anything else, I was just frustrated, and feeling like giving up as I couldn't get an unblurred photo on my new camera. Thank you so much for this wonderful, easy to understand and follow guide.
I wasn't too impressed by the M3 until I found this course. It changed my whole outlook. John gives a great delivery and fully explains in plain English.
Student Work