Back Side: Camera Controls
John Greengo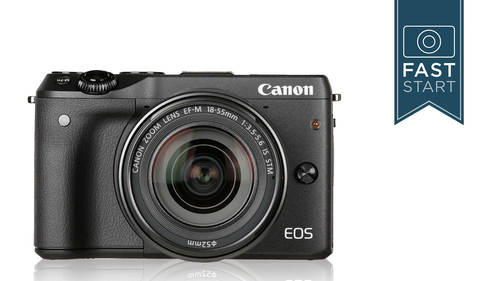 Back Side: Camera Controls
John Greengo
Lesson Info
4. Back Side: Camera Controls
Lesson Info
Back Side: Camera Controls
All right, let's move over to the back side of the camera. All right, So dominating the back of the camera is the LCD monitor. This is a 1,000,000 dots and you'll be using this for composition and so forth. But it is also a touch screen as well. And so there's a variety of things that you can do. So let's go ahead and show you my camera here. It'll zoom in on our subjects back here. And so if you want to use the back of the camera for touch, you can choose where you want to focus. And let me just use my little remote control up here in the foreground. And so if I want to touch down here on the screen, come on, focus down there. What do you know? Doesn't want to focus. There will. Come on, I might be too close. And it I change something on the focusing here. Well, I could move the focusing point, but I'm still pressing halfway down to focus and will be able to use the focusing screen for other reasons. We can also zoom in. Let's see if I can zoom in and move my focusing point around, so...
I can tell exactly where I wanted to focus. And so I'm hitting the magnify button down here to zoom in, and I can see if it's sharp at the return button back to normal. If I want to focus on our light wall in the background, I can zoom in, zoom in, move around, focus. And so there's a number of controls that will see also in the playback feature and also in the movie function where you can use that, for instance, scrolling through images, playing back images and so forth. And some people are really into touch screens and some people don't care. I tend to be more on the I don't care until I find that it's really useful for something in particular. But there is nothing that you have to use the touch screen for. You can use all the buttons on the camera to do pretty much everything else, so you don't absolutely need to use that. All right, next up, down in the bottom right corner is the menu button, and we're gonna be spending the second half of this class going through that feature, so we're gonna kind of skipped past that one. Right now, Next up is the info button, and by hitting this button repeatedly, you will cycle through different info screens. The first option is no info display, which is kind of nice just to get a nice, clean image of what you're shooting at, and then you get your custom display one where it's going to show you shutter speeds, apertures and a bunch of other settings on the camera. After that, you'll get a HIST, a gram display where you get to see the exposure in a graphic form, and this is a very handy way to see if you were getting too light or too dark of photos. And then finally, you'll get what's called the quicks control screen, which is showing you information about the basic settings on the camera. And this would probably be most helpful if you are using the attached viewfinder that I have, for instance, on my camera right now so that you can use the back of your camera for all your control settings. And then you look through the viewfinder for actually composing the photograph, and there is a control in the shoot menu number one about how your camera switches back and forth between these and so there is one customization there and then for the touch screen operation. If you said I really don't like the touch screen, I don't ever want to use it. You can turn it off, and you can also make it a little bit extra sensitive. And so, for instance, if you were wearing gloves, it's a capacitive type touch, which means it doesn't need pressure. Just kind of needs your finger pretty close to the screen. And so if you're wearing gloves, you can still use it if your gloves are thin enough. Next up, we have our auto exposure lock, and so this is going to lock the exposure in when you press the button. So what I'm gonna do is a little live demo here when they put the camera and aperture priority. And let's just set an aperture of F eight just cause that's a nice number. So F eight on the exposure and as I pointed it over here, it our cameras on the stand. I'm gonna press down, and then you can see that I met 1/4 of a second. But if I moved the camera over a little bit towards Kenna. We have different lighting because we have this light wall that's got a black background and we're at 1/2 2nd But if I wanted to hold that, exposure would come over to where I first got this press down on the button and you could see by one press. We now get the star and the quarter of a second, and I can pan over, and I can keep the camera at 1/4 of a second, and it does not change. Even the lighting has changed. And so any time you want to lock the exposure, and a good example of when you might want to do that is, if you were taking a picture of a sunset, you don't want to point the camera straight at the sun. That's going to cause the light meter to darken the photo up quite a bit, because the sun is very bright string to compensate for it. So you point the camera little off from the sun. Maybe I don't know, 2030 degrees. Get the son out of the frame, lock down on the exposure, and then bring the son back in the frame and shoot that photo with the exposure of locked. And so try that in some tricky lighting situations where you have potentially a very bright light. Another situation might be where you have somebody standing next to a very bright window. Point the camera at them who are potentially on the inside, where it's a little bit darker, lock in the exposure and then bring in the bright window. And so just a good way of manually taking a little bit of control when the cameras in a semi automatic mode. This is not something that you would use in manual exposure. There you would just set the numbers as you want them. It's something you're gonna use in the A V mode, the TV mode and the program mode. All right. Next up is our auto focus frame, and so on. This one we're able to change are focusing system, and so one press will activate it, and then we compress it two times to magnify it on there. And so let's do a little demo of how this is going to work. So let's zoom in on our subjects over here again and we're gonna hit this button wants to kind of get it activated. And if we hit it repeatedly, we'll zoom in from 1 to 5 to 10 times. And this is doing the same thing that we were doing on the touch screen before. And so we can use a combination of the touch screen or this magnify button over here. And so it's just a way to magnify in right now to see what we're doing and will be using this to also move are focusing point around. And so if you want to have a focusing point off to the side, you can choose a focusing point, you know, for instance, way off to the left hand side and moving over to the right hand side. So wherever you want to focus, you could just simply press it once and then move that focusing bracket, using the control pad in the back and see if we can use. We can use the dial to zoom in and out. You never really sure what's gonna happen when you turn some of the different a house on the camera, so feel free to experiment around with that. But that's how you can move that focusing point from one point to another or magnify in for sharper images. All right, so on the control dial on the top button press of it. As long as nothing else is pressed, it's going to allow you to set the I S O on the camera. That is the sensitivity of the sensor. Now the sensor is naturally sensitive delight at eso 100. That is the base sensitivity. And it's where ideally, you would want to have it most of the time. But if you need a faster shutter speed, you will need to raise the I S O up. And so, under low light situations, under fast action, you'll often need to raise it up to 204 108 100 sometimes beyond, depending on how dark it is. And so this is something by default. I would prefer to leave it 100 but I will change it according to my needs. We also have the auto setting on this, which allows the camera to go ahead and figure out what I s o you need according to how bright the situation is and what sort of shutter speed and what sort of aperture you happen to be at. And so this is, Ah, setting that. As I say, I tend to want to leave it at 100 but I adjust it according to the needs. Now, after 12,800 it will just say H, which stands for high, and it is one stop higher or double the number, so it's really 25,600. Now, if you want to play around with this, you'll notice that you get very low image quality. You get a lot of what it's called noise in the photograph, and that's very common when you set the cameras sensor up this high. It's not designed for getting super high quality. It's trying to get light in the darkest possible situations. So most of the time on this camera you're probably gonna want to keep it in the 100 to 3200 range. It could do a very good job, especially up to 1 108 All right, flash control on the right hand side. And so there's a few different options that we can have when our flash is turned on, as we can have it on automatic, so it fires whenever it's kind of dark. We can have it fire no matter what in the on position. Slow synchro means the camera will use slow shutter speeds in order to get the photograph. And this convict you some very interesting photographs inside, when it's darker outside, when it's dark, where you want a little bit of flash to illuminate a subject that's very close to you but still gather lights that air in the background and so very worthwhile to experiment with some of these modes, depending on what you're doing, I tend not to be a big fan of the auto flash millet because the camera will fire the flash whenever it's dark. But the camera has no idea if the subject is close, where the flash will have an effect or very far away. Think about being in a theater or a stadium where you're seated very far away from the action. The flash is not gonna have the power to illuminate somebody down on a stage or on the floor, which is hundreds of feet away from you. As I say, the flash here is good for about 10 12 feet three meters or so. The downward button currently does nothing in the standard shooting mode. This is another customizable button that you can go into custom function group number three Custom controls, and you can give it an assignment toe whatever you think is most valuable. And so this is just another multi function button like the one we talked about on the top of the camera, and I would most definitely program it with something that you use, and so get to take a look at that list and choose one thing or two things to customized that top multi function and this bottom button.
Class Materials
Canon M3 Recommended Settings
Ratings and Reviews
I am a complete beginner with photography, I've only used my phone until now. I bought my camera about 3 weeks ago and I've really struggled, as, for example, the manual says turn the dial to select, not which dial, or how to get to the correct place, setting or menu, so that the dial will then work. I'm only up to the 5th lesson and I feel that I understand my camera so much more. I wish I had bought this on the first day. I'm not connected to this company, author or anything else, I was just frustrated, and feeling like giving up as I couldn't get an unblurred photo on my new camera. Thank you so much for this wonderful, easy to understand and follow guide.
I wasn't too impressed by the M3 until I found this course. It changed my whole outlook. John gives a great delivery and fully explains in plain English.
Student Work