Menu Functions: Custom
John Greengo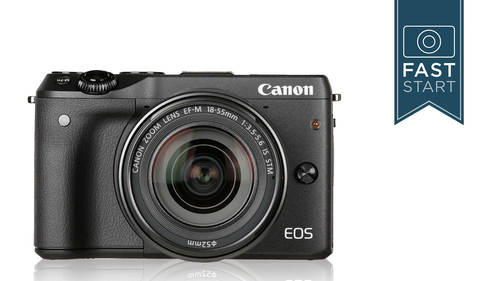 Menu Functions: Custom
John Greengo
Lesson Info
12. Menu Functions: Custom
Lesson Info
Menu Functions: Custom
next section is custom functions. And if this is your first and Onley canon camera, this menu section is not going to make a lot of sense. And the reason is is that this is designed for cameras that have many, many more features, and there's just a few little features in here. But it seems like it's overly organized for how few features were in here. And it's just because they have a standard custom functions that they use it all of their cameras. And as you move up and down the line of different cameras, this will make a little bit more sense. And so the first grouping deals with exposure. And so if you dive into exposure, the first option in here is an I S O expansion, which allows you to use ISO 25,600. And I say, let me use anything that's available on the camera if I want to choose it. And so this doesn't forcing you into using it, but it's allowing you to use it if you want to use it, so recommend turning this one on safety shift. If you are using the aperture value or the time v...
alue mode, and you have set a particular setting that the camera cannot handle and give you a proper exposure for. The camera will then change the setting that you have input into the camera to make it work. And so this could be a little frustrating. If you set an aperture of F eight and the camera doesn't have on appropriate Cheddar speed, it's gonna change that F eight on you to something else. And I would think that that would. It would make most people a little upset, having the camera going and make that adjustment for them and try to override their rulings. And so I'm gonna recommend leaving. This one turned off, and those are the only two things in the exposure section. As I said, there's relatively few things in for this kind of very structured order. So the next grouping deals with the auto focus department. In here, we have an option for the auto focus assist being so on your camera. There's a little light that will sign a very annoying light out the front of the camera to help focus, and technically it works for about 10 feet. And so if you haven't object within 10 feet or three meters. It'll allow you to focus in that area. Problem is, is that it's really annoying to the subject that you're photographing or other for photographers who might be photographing the same subject. And it doesn't help out in very many situations. And so I'm recommending a disable on this particular feature, and that's the only feature in the autofocus section. So we're down to the third grouping deals with other things. So in the other things is we have one of the cooler controls, which is the custom controls of the camera. And this is where you can go in and customize a number of the features that we have talked about earlier in this class. For instance, the in function button on the top of the camera that is not currently set to doing anything so you can go in and have it changed. One of the features that you find most useful on the camera. If you don't shoot videos, you can re program the video button to do something else that you want to dio the down button on the back. Dial of the camera is also not from doing anything right out of the box of program that, and so there's a number of other controls in here that you can tweak or reverse or change their order. So figure out what works for you and customize your camera so it works exactly the way you want it to work. And as you get in here, you'll see that there is not an unlimited selection of choices that you have. It is somewhat limited as to what you can program for any particular feature. And so take a look in here, play around, said it one way, give it a try out, see what you like and what you don't like. Mm, all right. So if you want to hook the camera up to an external device and it's kind of beyond just using the external adapter here, this isn't really necessary with the adapter. But if you wanted to hook the camera, say to a telescope and there was no physical connection communication with any sort of lens, do you want the camera to be able to fire with without a lens on the camera? Now, most of the time, I'm gonna recommend a disabled just because if you don't have a lens on the camera, that's a potential where something could be sticking in towards the sensor. And that's where the shutter is gonna be moving up and down. If you take your lens off and you reach and don't do this, Phelps, don't do this. But if you were to take your lens off, reach in, touch the shutter and then fire the shutter release, you would break your camera because the shutter would run into your fingers and get all jammed up. And so, just to prevent that potential accident, I would leave this on disabled unless you're hooking it up to some sort of special external device. Now there are a few lenses within the canon lineup that extend out in their focusing. And if you turn the camera off, do you want that lens to retract before the camera completely turns off? And I think in most cases it's good to have that lens retract and get out of the way. And finally, you can clear all those custom functions. And when I say all the custom functions, I'm talking about the last four or five things that we talked about. There's I think 123 like six. There is a total of six things in there. If you want to purchase cannons, top of the line camera, it has about 100 things in that particular setting. I mean, all right. The next tab is the my menu tab. This is, of course, my favorite one, because I get to customize it the way that I want it to work. And so, in this case, you get to select what items are in there. So let's do a little live demo here and show you what we mean by this. So let's go and get our cameras set up, turn our menu on, go over to my menu, hit the set button, and let's select a few items to put in here. So we're gonna hit select. Okay. So what is important that I have a hard time finding in here, So let's just kind of scroll through and see if we confined. Okay, Let's see peeking settings. Okay. I like to manually focus once in a while. That might be nice to have in there, so I'll give that a check. Mark, Let's find something else in here. I'm constantly changing the I S O. But I do already have a button on the back side of the camera, so I probably don't need to do that one. Okay, let's find something else in here I'm gonna find. Let's see. Movie recording size might want to change that from time to time. And what else? F operation? Let's have that in a f method. Okay, so that's pretty good. So I'm gonna hit the menu to back out of this, and now I'm going to sort the items. And so Peking is not the most important. I'm going to say that movie recording is more important. So I select it and I move it up. I'm gonna take peaking, and I'm gonna move it down to the bottom of the list and process so you can choose what's in there. And I think you can have 123 I think it up to five items would see Wait, six items, six items in there and you can organize them wherever you want them. And so I always put the more important ones up on top. And once I use less down on the bottom. And so now we're going to hit Set and we're okay. We're gonna hit the menu to go back and set, devote default view. I'm going to say yes, and when we set the default view, here's what happens. I go back to the normal shooting mode. When I press menu, it automatically goes to my menu. If I was to change that to know, then what's gonna happen is when I go into the menu, let's see if I go here. It just goes back to where I last Waas and I prefer it to always go to my menu because there's really not that many things that you're going to need to go to in here. And if you have this set up to customize to what just you have whenever you hit menu, it always goes right toe what you are most likely going to need in the camera. And so that's how I leave my cameras set up most of the time. So it's the quickest operating system I can think of
Class Materials
Canon M3 Recommended Settings
Ratings and Reviews
I am a complete beginner with photography, I've only used my phone until now. I bought my camera about 3 weeks ago and I've really struggled, as, for example, the manual says turn the dial to select, not which dial, or how to get to the correct place, setting or menu, so that the dial will then work. I'm only up to the 5th lesson and I feel that I understand my camera so much more. I wish I had bought this on the first day. I'm not connected to this company, author or anything else, I was just frustrated, and feeling like giving up as I couldn't get an unblurred photo on my new camera. Thank you so much for this wonderful, easy to understand and follow guide.
I wasn't too impressed by the M3 until I found this course. It changed my whole outlook. John gives a great delivery and fully explains in plain English.
Student Work