Class Exercise Files for Adobe Illustrator CC Essentials
Daniel Walter Scott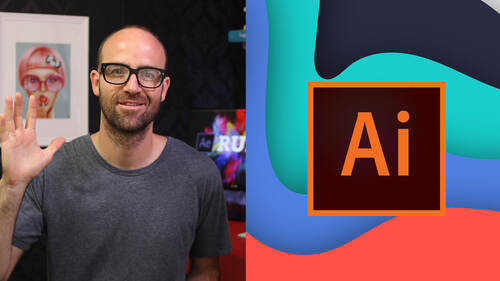 Class Exercise Files for Adobe Illustrator CC Essentials
Daniel Walter Scott
Lesson Info
2. Class Exercise Files for Adobe Illustrator CC Essentials
Lesson Info
Class Exercise Files for Adobe Illustrator CC Essentials
Hi there it is time to get started. The first thing you need to do is download the exercise files. Now if you haven't done that already it should be in the previous chapter so go back one, download the exercise files and we can move on throughout the course as well. I've given you lots of stock images to use and practice on. Okay now if you want to use those for your own work okay, commercially you need to go and license those images they're not free to use. Okay so if you want to license them and use them in your own work go to adobe stock and you'll be able to download them and pay for them and use them. The other thing to do is that throughout the course I made a little change throughout the course I've gone through and said share your work here on the website now we've made a little change to that it's a lot easier just to share via social media. So if I say share on the website and what I really mean now is to share via social media it's just a nice and easier way to give feedback...
. Okay and to share via social media it is fiver okay at Fiverr at both twitter and instagram so make sure you tag us there also tag me personally on instagram I am bring your own laptop and on twitter, I am dan loves adobe. Alright that is us getting started. Let's jump into the course
Ratings and Reviews
BIG COMPLAINT... I'm just starting this course. I have Illustrator CS6. My BIG/HUGE Complaint and I only watched 2 1/2 brief lessons... Is that the FiVRR LOGO (top right) is RIGHT ON TOP of the Illustrator Panels and YOU CANNOT SEE what is under it. IF one is just learning, they need to see what everything looks like in Illustrator (or any class). I STRONGLY suggest that FIVRR and CreativeLive find a better place to put the FIVRR Logo instead of putting it where it BLOCKS ESSENTIAL course visuals! Not sure I can get through this, but I'm not giving up quite yet. I like the course previews and IF I can learn how to get around Illustrator I will be thrilled... I am a Photoshop person, and Illustrator makes me feel like an incompetent! ;) Perhaps IF I can learn Illustrator I can use it for some of the visuals I create! Thanks in advance. PLEASE PLEASE PLEASE find a better place and size for the Fivrr Logo. ~Roz Fruchtman aka @RozSpirations
This class is AMAZING!! Daniel is a very thorough, entertaining and easy to follow instructor. You DO NOT need to take any college course on Illustrator because this is the whole thing right here!! You will be a pro once you complete it. I only wish that Creative Live could send me a diploma for it once I complete it! BUY THIS CLASS! IT'S WORTH EVERY PENNY!!
Such a great course! Daniel made learning easy and fun. Can't wait to go on to the Illustrator Mastery course next!
Student Work