Class Introduction to Adobe Illustrator CC for Beginners
Daniel Walter Scott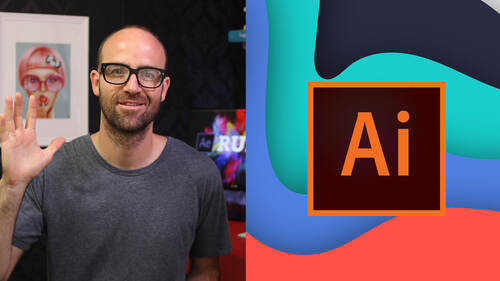 Class Introduction to Adobe Illustrator CC for Beginners
Daniel Walter Scott
Lesson Info
1. Class Introduction to Adobe Illustrator CC for Beginners
Lesson Info
Class Introduction to Adobe Illustrator CC for Beginners
Hi there, my name is dan scott and I am an adobe certified instructor for illustrator and this is the illustrator fundamentals course. Now I've been a freelance designer on and off for about 18 years now. So I know how important it is to make sure your skills and workflow in illustrator are as efficient as possible. Now I'm partnering with fiber in this course because I love what fiber have done for freelancers like our industry has changed so much and five has been a really big part of that. Now this is the illustrator fundamentals course. So this is for people that have no previous experience in adobe illustrator or maybe just some real basic skills but you need to really get started properly. Now we'll learn illustrator to a really high level in this course using practical real world projects that you can start using straight away as a freelancer. The goal of this course is to help you get the most out of fiber lifting, your skills so that you can get an edge here on this platform. ...
We'll start with the techniques that you'll need to create just about anything in illustrator, will customize shapes, use the wonderful shape builder tool and the simple to use curvature tool. There's even a section in here where we'll hone our skills by practicing redrawing these real world brands. We won't forget the essentials like proper saving and exporting plus so so much more your master how to use and manipulate type. I'll show you all the sneaky secrets that illustrator has to discover and use beautiful colors. Like a seasoned designer, We'll explore lines and brushes plus your soon to be favorite with tools. You'll learn how to push, pull, cut and repeat just like this. I hope you're excited. Illustrator is an amazing bit of software. So let's get started in the illustrator fundamentals course. Mm hmm. Yeah. Mm hmm.
Ratings and Reviews
BIG COMPLAINT... I'm just starting this course. I have Illustrator CS6. My BIG/HUGE Complaint and I only watched 2 1/2 brief lessons... Is that the FiVRR LOGO (top right) is RIGHT ON TOP of the Illustrator Panels and YOU CANNOT SEE what is under it. IF one is just learning, they need to see what everything looks like in Illustrator (or any class). I STRONGLY suggest that FIVRR and CreativeLive find a better place to put the FIVRR Logo instead of putting it where it BLOCKS ESSENTIAL course visuals! Not sure I can get through this, but I'm not giving up quite yet. I like the course previews and IF I can learn how to get around Illustrator I will be thrilled... I am a Photoshop person, and Illustrator makes me feel like an incompetent! ;) Perhaps IF I can learn Illustrator I can use it for some of the visuals I create! Thanks in advance. PLEASE PLEASE PLEASE find a better place and size for the Fivrr Logo. ~Roz Fruchtman aka @RozSpirations
This class is AMAZING!! Daniel is a very thorough, entertaining and easy to follow instructor. You DO NOT need to take any college course on Illustrator because this is the whole thing right here!! You will be a pro once you complete it. I only wish that Creative Live could send me a diploma for it once I complete it! BUY THIS CLASS! IT'S WORTH EVERY PENNY!!
Such a great course! Daniel made learning easy and fun. Can't wait to go on to the Illustrator Mastery course next!
Student Work