How to Steal Colors from an Image Using Eye Dropper in Illustrator
Daniel Walter Scott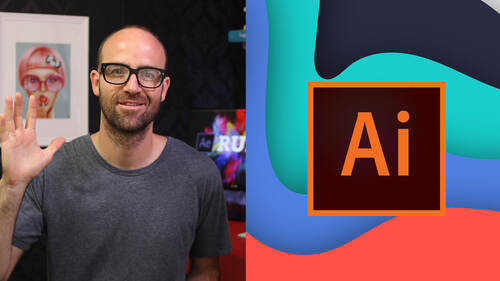 How to Steal Colors from an Image Using Eye Dropper in Illustrator
Daniel Walter Scott
Lesson Info
18. How to Steal Colors from an Image Using Eye Dropper in Illustrator
Lesson Info
How to Steal Colors from an Image Using Eye Dropper in Illustrator
Hey there in this tutorial, we're going to look at using the eyedropper tool in illustrator to drive colors from the logo. So we're gonna start with this black and white version of this post card. Then we're going to use the logo down here to drive the colors in these elements and then we'll use the image to drive some of these colors in these various elements. Alright, let's go and learn how to do that now in illustrator. Alright to get started, go and open up the exercise file called eye dropper dot Ai and grab your black arrow and click it in this box in the background. Then I want you to go and grab your eye dropper tool Okay, towards the bottom of the tool panel and we're going to steal from this logo first. We'll do the image next. But if you click on using the kind of bottom left of this little eyedropper, you can see I can click the purple, the green, the yellow, you can decide what you want to do and I'm going to end up with this kind of teal color here and I was going to work...
my way around black arrow on this white box here. I'm gonna grab my eyedropper tool again and I'm going to use the yellow and my black arrow and click on this text. I'm gonna actually hold shift and click both bits of text. Okay, now I've outlined this text just to make it easy for you because you probably don't have this font. Okay, it's just as easy if you have a font selected. Okay, I'm going to use that purple. I'm not proud of this color scheme, but you get the idea right? Let's say I want to do it differently and I want to use the image to drive the colors. It's a really nice way of connecting kind of things, like these graphic elements to the image and it's pretty basic. Again, with a black arrow, I'm gonna click on this green option here and I'm gonna grab the eyedropper tool and all I'm gonna do is pick a color from in here. I'm just gonna kind of work my way around the side. You can see I can keep clicking until I find something that I like. I'm going to go for be something like that. Okay. And yeah, I'm going to go through and do the rest of the options, but let's say that I really love this color now and I want to use it again and again. Okay. Because I don't want to randomly have to click in the images to try and find it again. What you can do is you click on film and at the moment it's not a pre made swatch, you can't see it in here. If you click on this little option here, it says new swatch. Okay, you can give it a name. Okay, I'm going to call this one, my minute furniture, gray. Let's call it gray maybe great dark and I'm going to click. Ok, Okay, and you'll see over here. Okay, now it is a swatch that I get to reuse later on. Okay. So I can click off and say actually having used the eyedropper, I can go to my properties panel. I can go to fill, I can say that you are ready to use. Okay. So I'm going to use that color. I'm going to do a couple of other things. I'm just going to color the rest of it basically. So I'm going to use a different color for this. May be a, I'm trying to decide now. I'm just mucking about so gay. Let's click on him. I might reuse that same one. Okay, so I drop a tool I can turn into swatch or just steal from the bottom here and you? I might kind of start using one of the browns. Maybe a dark brown in here. What am I doing eyedropper tool. Thank you, dan. And click in here a little bit hard because it's got it's got outlines. Yeah, I get the idea. So the selected, I'm going to add it to my swatches so I can use it later on. I'm gonna call this often. I give it the initials of the company. This is my new furniture. Right. MF. Um so I'm going to use brown. I call, I use the acronym at the beginning because I work on so many different brands that if I just killed brown. Um it's obviously not going to help me later on, so it's going to give it a special name, this one here, and you can move on to the next tutorial. I'm just going to do this. Awesome. Alright, that is gonna be it for this tutorial. Let's jump into the next one.
Ratings and Reviews
BIG COMPLAINT... I'm just starting this course. I have Illustrator CS6. My BIG/HUGE Complaint and I only watched 2 1/2 brief lessons... Is that the FiVRR LOGO (top right) is RIGHT ON TOP of the Illustrator Panels and YOU CANNOT SEE what is under it. IF one is just learning, they need to see what everything looks like in Illustrator (or any class). I STRONGLY suggest that FIVRR and CreativeLive find a better place to put the FIVRR Logo instead of putting it where it BLOCKS ESSENTIAL course visuals! Not sure I can get through this, but I'm not giving up quite yet. I like the course previews and IF I can learn how to get around Illustrator I will be thrilled... I am a Photoshop person, and Illustrator makes me feel like an incompetent! ;) Perhaps IF I can learn Illustrator I can use it for some of the visuals I create! Thanks in advance. PLEASE PLEASE PLEASE find a better place and size for the Fivrr Logo. ~Roz Fruchtman aka @RozSpirations
This class is AMAZING!! Daniel is a very thorough, entertaining and easy to follow instructor. You DO NOT need to take any college course on Illustrator because this is the whole thing right here!! You will be a pro once you complete it. I only wish that Creative Live could send me a diploma for it once I complete it! BUY THIS CLASS! IT'S WORTH EVERY PENNY!!
Such a great course! Daniel made learning easy and fun. Can't wait to go on to the Illustrator Mastery course next!
Student Work