Course Conclusion for Adobe Illustrator CC
Daniel Walter Scott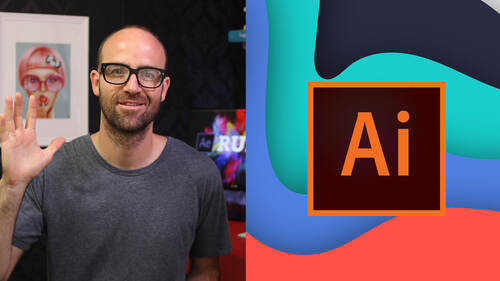 Course Conclusion for Adobe Illustrator CC
Daniel Walter Scott
Lesson Info
44. Course Conclusion for Adobe Illustrator CC
Lesson Info
Course Conclusion for Adobe Illustrator CC
Hi there, you made it to the end of the illustrator fundamentals course. Now I hope you're ready to get your gig going up on Fiverr illustrator is such the backbone of so many creative projects. It's time to get your gigs ready. Now the next steps for you is to practice what you've done, get your gigs up. But you also might be ready to go to the next level with illustrator. And that next level is the next course called illustrator Mastery. So check that out if you're ready now, if you haven't already, it's time to get your gigs up on fiber that use the skills that we've learned in this course. If you not too sure how to get started. The easiest way is to check through fiber and just see what related gigs are out there and then see how that you can maybe bring your own unique flavor to that topic. Alright, so that is the end. I hope you enjoyed my class. I really enjoy making them and potentially I will see you in another course. But for now I wish you amazing success here on fiber. Mm ...
hmm mm hmm.
Ratings and Reviews
BIG COMPLAINT... I'm just starting this course. I have Illustrator CS6. My BIG/HUGE Complaint and I only watched 2 1/2 brief lessons... Is that the FiVRR LOGO (top right) is RIGHT ON TOP of the Illustrator Panels and YOU CANNOT SEE what is under it. IF one is just learning, they need to see what everything looks like in Illustrator (or any class). I STRONGLY suggest that FIVRR and CreativeLive find a better place to put the FIVRR Logo instead of putting it where it BLOCKS ESSENTIAL course visuals! Not sure I can get through this, but I'm not giving up quite yet. I like the course previews and IF I can learn how to get around Illustrator I will be thrilled... I am a Photoshop person, and Illustrator makes me feel like an incompetent! ;) Perhaps IF I can learn Illustrator I can use it for some of the visuals I create! Thanks in advance. PLEASE PLEASE PLEASE find a better place and size for the Fivrr Logo. ~Roz Fruchtman aka @RozSpirations
This class is AMAZING!! Daniel is a very thorough, entertaining and easy to follow instructor. You DO NOT need to take any college course on Illustrator because this is the whole thing right here!! You will be a pro once you complete it. I only wish that Creative Live could send me a diploma for it once I complete it! BUY THIS CLASS! IT'S WORTH EVERY PENNY!!
Such a great course! Daniel made learning easy and fun. Can't wait to go on to the Illustrator Mastery course next!
Student Work