Review Session 02
Theron Humphrey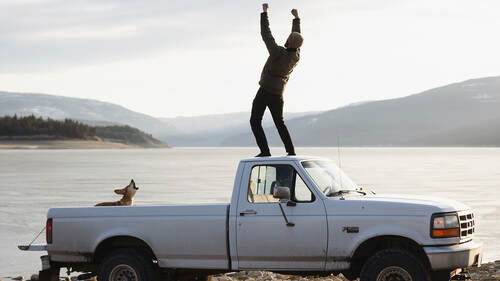 Review Session 02
Theron Humphrey
Lesson Info
19. Review Session 02
Lesson Info
Review Session 02
(wind whooshing) (chiming music) So, everyone, thank you so much for being here for our second session of review from Theron Humphrey, "This Wild Idea." First session earlier today went really well, and so we're very excited to offer session 2.0. We'll be a bit more refined. (laughs) On that note, the dog under the blanket going on back here. (laughs) Not staged. This is the cuteness I'm dealing with in my life. (laughs) This is natural. (chuckles) Awesome. So today Theron's gonna be going through five selected submissions to the assignment. Even if your assignment has not been chosen earlier sessions, you'll get a lot of feedback. You'll learn a lot, even by just hearing his feedback, criticism, positive notes on any of these photos. So stick around. And if you do have questions, because there will be a moment tonight where you can ask some questions, in the bottom bar you'll see that there's a chat forum and there's a Q&A. And we would really appreciate it if you were askin...
g those questions in the Q&A section, and we will get to those a bit later. Theron, would you like to kind of... Last session you kind of introduced yourself a little bit, like a little bit of history. If you don't mind doing that again, that was awesome. Yeah, for sure. And like Joel said, so tonight we just have bandwidth to look at five sets of images. And then I think there's going, hopefully things to take out that's applicable to the work that you're making and gonna make in the future. And then if you do have Q&A, I'm just kind of repeating Joel here, but I'm pretty sure I can get to almost every single Q&A if you have something and you weren't in the one people that we weren't talking about, you know, the five groups of work tonight. But anyways, (laughs) I was rambling on in my mind. Yeah, so I was born and raised in North Carolina. I grew up on the coast of North Carolina. And I had my BA in photography and in computer science. And then after that, I went and got my MFA in photography from the Savannah College of Art and Design. And then post-school, graduated grad school in 2009. As we all know, that was just this not-great moment for the economy. And I was lucky enough, even in that time, to land a really great commercial job out in Idaho. And that's kind of where I cut my teeth in the commercial space shooting fashion, on figure, handbags, necklaces. Essentially anything for web, I was doing out in Idaho. And then that work led me to pursue a personal project, and that was actually "This Wild Idea" project. And pursuing that body of work, kind of dedicating myself to an idea and a long-formed storytelling project not only honed my aesthetic in my vision for creating work, but it also became a body of work that you can kind of become known for. And that's how you build and grow as a photographer. 'Cause ultimately photography is a craft and it's something that you have to practice and do a lot of. And the big takeaway that I want you to take from this whole little hour of me rambling in your life is that it's really important to assemble a loving and trusted group of friends that you can bounce your images off of. So nearly every single photo that I post on Instagram, I've checked in with three friends. Not necessarily to get always affirmation from them, but they'll be like, "Hey, which of these three selects do you think is the best?" Or even having them check in with me or I'll check in with them. When I'm close to an image, I'm like, "What do I need to do to make this happen?" And that was one of the most valuable things that I took away from being in school was an opportunity to print out your images, put 'em on the wall, and just have the full attention of five or six classmates and just to hear some incredible feedback. So the structure that I wanna take with giving you feedback is this is something to seek out. After we've ended our time together here tonight, find it in a group of friends that also love photography. And so we're gonna name and point out things in your work that is phenomenal, that's working, and then we also have to highlight things that are not working, that aren't as strong, that are not gonna serve you well. And I think criticism ultimately is just about interpreting work. It's not about hurting anyone's feelings. And hopefully I will be more loving than crass, like, that's always my goal, but there is a moment where we have to note what's not, so we can move forward and create something that's even better. So that's my intent, and that's why we're here. What have you got, Joel? Check, check. Fantastic. (Theron laughs) You know, that's perfect. Is that a beer that you're drinking? Yeah, I am. Well, okay, so I've been on keto for like, I don't know, two months? I've lost like 10 pounds, but I'm drinking this... I don't know if it's gonna auto-focus that close, but it's this Reed's Ginger. Ooh. Feels apropos. Zero Sugar Classic Mule. So that's what we're doing. Sounds delicious. I would love to be joining you right now. (Theron laughs) I was supposed to apologize to everyone ahead of time. I am in my truck right now. Thank you for 5G. Yeah. I was supposed to be doing this from a friend's apartment, but that kind of fell through. No worries. Well, I live in a town of 1,400 people in Eureka, Montana, and I have gigabit internet right now, so. (laughs) I need this in my life. I also just wanna let everyone know, in case you do see at the top, this is being recorded. So we might send this out to just the people that are participating, if you wanna watch it again. So I think I'm gonna dive into talking about work. And I do wanna note that it'd be cool if the person who I'm talking about wants to hop in. And you're obviously welcome to do video chat, if you want, but, in the least, doing audio chat would be awesome, just so you can tell me your thoughts or what you need and, yeah, we can just go from there. Does that feel good, Joel? That feels great. So if you wanna share your screen with us. And I think our first guest is a Christy Draper, so. Oh, yeah. Christy, we just gave you the ability to chat with us. Would you like to come on in video? Yes, please. Okay. (chuckles) Nice. I'm gonna promote you to a panelist. I'm here for the criticism- (Theron laughs) And no one feel pressure to do video. So the last session, it was half and half, so it's- Oh, there we go, okay. Cool. Are you there? You lost me. Oh, I need to turn down... I should've got some criticism about this exposure on my video. There we go. How does that feel? Went down to stop. (chuckles) Awesome. Are we good, Joel? Christy, are you here? I'm here. I thought I lost you, but I didn't. Okay, good, good, good. Awesome. Okay, yeah, so kind of this idea was that I... I've recently been shooting a lot of work for Blundstone. They're a client of mine. And I've been doing a lot of self-produced shoots with them, kind of where I'm responsible for finding a location, the talent, having some high-level creative direction from them and then getting feedback from them after the shoot to see what's working and what isn't working. So that's kind of the guide of, you know, kind of like me throwing out this assignment into the world. So let's just look at your images real quick. Did you go out and shoot these? Or is this some work you had already been heading? Oh, I did this as the assignment. Okay, awesome. And I had to do it in between... That's not mine. Okay. In between work and they're all selfies. Sure, okay. You know, that's been a common thing. And it kind of highlights how difficult it can be to sync up the schedule of trying to find someone to photograph. You're obviously in the photograph. So when there's an on figure, that's actually you in the image? Correct. That's super tough to do, so- It was. It was a great challenge, though. Yeah. I learned a lot. Yeah, so I think that these studio shots, I'm not much of a studio photographer, you know, it's not really my jam, but I think that, for the right brand, these would totally work. I don't have a ton to comment on the in-studio product photography, just because this isn't type of work that I shoot, but an image like this, totally great detail, right? You know, you got low depth of field, we have the branding. I could see a brand using this in some capacity on their- I went to their brand website to see what they liked. Yeah, I mean, that's a huge part of it is meeting a client's needs. And most of the time, a client is gonna choose you to photograph a project because they like your style and it fits them. So that goes hand in hand. But we can talk about this kind of lifestyle image that you shot. I think that if this was an ad for Indian motorcycles, I think we're kind of on the right track. Or even Shoei helmets or any of the accessories. But I'm kind of interested in the location. But what isn't working for me is having you on this side of the motorcycle. We have a little bit of your feet poking through the bottom, and then we have the mirror breaking your back. To me, this composition just isn't quite working yet. Okay. So I would just want to see this revisited with you somewhere else in the frame. Well, if you go to my... So I had to pick and choose, and actually I struggled to upload and then they sent me another link and I actually had to do this from my phone, and that is not the shot that I wanted to send you. Yeah, (chuckles) no worries. Like it's totally okay. So if you go to my Instagram, which is cjdraper, you'll see a series that I did where I'm actually sitting on it and you can see the boots better. This was not a great boots shot. Right, yeah, and it's okay. And, ultimately, I think it's just important not to take any of this personally- But the mirror and then be on the other side. Yeah. 'Cause the things that are getting confusing to me... Like I actually like this. This is really great framing here, this pole with the reflectors on it, but all this information over here to the right of it, whatever this some kind of dock thing, it's just becoming- It is a dock, yeah. Yeah, to me, it's becoming really... It's visually convoluted. Then we have the helmet and the bike. It's just a very busy, just a little bit too messy of an image. So I would just wanna revisit that shot. Okay. Yep. So with this image, I like that we're on the bike. I like that we're kind of adding some depth and some interest to the image, but what I'm not loving is... Man, they're just feeling... Where would I wanna go with this? (exhales) Yeah, the... Hmm, I think that... I'm trying to be pretty careful with my words. I probably shouldn't- Don't be careful. No, no, no, please. (Theron laughs) Do not be careful. I can't learn if you're careful. (laughs) Yeah, so, one, I'm feeling claustrophobic with the image. So what's not working is we have the wheel up here and then we have the engine and then the boot. It's just like a whole visual wall of information. Okay. So I think we just need to have one side or some of the space open in the photograph. Oh, explain that again? So it's just really claustrophobic. So up here in this part of the frame, it's all wheel, we're all closed in. Down here, it's all engine, we're closed in. And then we have boot, and then we have something coming off your motorcycle where this kind of becomes like- I should have shot that out. Yeah, a little tiny element that just becomes distracting. It is, yeah. And, you know, this is like a type of photograph where, if we're talking about trying to into and turn to the highest level caliber of growth as image making, I wanna see this photograph, you know, someone riding the motorcycle, but we need it to be in motion, you know? You would have to be in a situation where you have a friend riding the motorcycle with the boots on that you're shooting. You would have to be riding cupcake behind somebody else driving another motorcycle, shooting off of that. And I totally understand, for the context and the timeframe for this assignment, not possible, that's not what these comments are about. It's more about pointing out what it would take now to execute this same image to a higher level. And that's the kind of image that- So if there was movement, it wouldn't feel so claustrophobic? Yeah, like a little bit further, like I think we'd have some blur from the wheels. Because then if you're shooting it sideways, you would have that space in between the wheel and the engine and the boot. And I think the image could breathe a little bit more. Okay. Yeah. So I wanna see the same image, but you from another motorcycle or out the window of a car, shooting that a little bit more sideways. I think that would be a pretty rad image. Okay. Yeah, so I mean, again, this is just all about like, let's come up with ideas to next-level our photographs. There's two types of photographers. There's found photographers, people that find images and document and try to create snapshots and kind of fly-on-the-wall. And then there's other photographers, it's like with this lifestyle work, where our charge is to create candid-feeling, lighthearted, free images, but they're fabricated moments. And within the fabrication of the photo shoot, we have to try to find times and moments that feel natural. Okay. And then, yeah, this one, for me, I think it has a better sense of space. We have a little bit more room to breathe, but it's still just like, I don't know, maybe I wanna see the jeans... This is where details start to come in. Like I want maybe the pants to be dirtier or the boots to be dirtier, just a little bit grittier to it. Okay. And also, it feels just slightly, just a little stiff. And I know that you're shooting it yourself, and that's really tough when you're trying to photograph yourself. You're the photographer, you're composing the images, and then you're trying to find a natural moment. And that's kind of when it comes into play when you're photographing models is the model talent is almost... It is equal in difficulty and importance to the talent of the photographer. So I would say kind of revisit the ideas, but see if you can find a model, and then it's just gonna change everything when you're not photographing yourself. Mmhmm, okay. Yeah, well, thanks for sharing these images. And, yeah, if you have any more specific questions, we can hop back on and talk about it a little bit more. But, yeah, with this, I think... Let me just hit one more. Like, yeah, I think I just wanna pull back a little bit, you know? I think that's my takeaway. I'm just feeling a little too constrained when I'm looking at the images. I need a little bit more space to breathe. Okay. Well, I appreciate it. And you know what? A client wants what they want. They don't care, so. Yeah. (laughs) Yeah, no doubt. I mean, it's all about meeting their needs. And, again, photography is a craft. The more you shoot, the more you think about your images, that's how you improve and grow as an image maker. Awesome. Well, thank you so much for choosing me. I really appreciate it. Yeah, for sure. Thank you very much, Christy. Who's up next, Joel? Who is up next? I'm gonna be all professional right now and grab my iPad. Oh, I got 'em up right here. I've already seen the list. Oh, you got it. It's Jessimar Lopez. I hope I pronounce your name right? You can correct me. Hello, Jessimar. Hi, you can hear me? Yeah. We can hear you. Are we saying your name right? Yes, you say right. Okay, awesome. Would you like to come on video or you just wanna speak? I was checking here. Yeah, you can just do video. They can choose, Joel. They know- Oh, they can choose to. Sure, I'll do that. You've been promoted to panelist and you can choose to or not. You Canadians are very aggressive, you know? (laughs) I am very aggressive, yeah. I don't mean to hurt anybody's feelings. (laughs) (laughs) Oh my God. Let me see, I start video. Go ahead, Theron. Jessimar, are you in these photos as well? Or did you photograph a model? It's a model, actually. Okay, okay, cool. 'Cause I think it's a whole 'nother thing when you're photographing yourself 'cause there's so many things to deal with. Taking self portraits is a different level. So, yeah, let's just talk about your work. So these first images just didn't speak to me, but then when we moved down here, when this one, now I think we're getting to something really interesting. This is the image of your set that really has the vibes, that has good feelings. Did this image stand out for you as well? Did you kind of note this as your hero image when you shot it or sent it in? Yeah, definitely, definitely. I was visiting Mineral Wells. It's a state park here in Weatherford, Texas. Yeah. And it was the first time that I was visiting the state park, so it was a surprise for me. I actually don't know what I was expecting from this place. So I went there with the model and just discovered the landscape that same day. It's a place that I didn't know. Yeah, I mean, I- Oh, I love it there. I love it. (chuckles) Yeah, I love this image. I'm gonna be really kind to this image, and we're gonna be less kind to your other images, you know? So what I love about this photograph is it really has the essence of carefree. And the whipping of the hair was that perfect decisive moment. I'm guessing you asked her to kind of turn her head or- Yeah, she actually was a really good model. She was, like, glowing, and that helps me a lot because that day was raining. It was cloudy and that doesn't affect the vibe of the search. Right. The good thing about overcast days, essentially you have a giant soft box in the sky. It allows you to shoot for hours throughout the day, where if it's a bluebird day with full sunshine, it can be difficult to shoot outside in those settings. So when it's raining and overcast is actually a great opportunity to shoot really even lighting. So, you know, the reason this image is working is that we have that open sense of space around the photograph. Like we have a very defined horizon, we have all this open area, we have visual lines to lead our eye, and then we have a really great moment where she's obviously posed and she's there to have her photograph taken, but it's just like good energy to it. So I could totally see, whatever this shoe brand is, I didn't look that closely, but New Balance or whatever it is, you know, they could totally have this in a magazine with copy over here explaining, you know, this is a good feeling. So that kind of sense of space and moment is missing from these other images. And I think that's just important for me to show. And I say that with a grain of salt, because brands in the midst of seeking that hero image, your final shot that just has all the good feelings, you know, they do need the product shot, but that magic is just still missing from these, from this image. So kind of like what's happening with this one is like your focus is right here, but it's kind of leading you back up in between her legs. And it's not that it's a sexual image. It's just kind of like, it's leading us away from the product, you know? Her legs just become the focus of the image. When I look at this image, I'm just staring right here at her kneecap, you know? So that's why I think we just needed to change the composition, we need to be a little bit lower, and we maybe even need to have those shoes breaking in the background. So if you could have shot it with this same sense of space, get down low, see the sky, I think that photograph really would've been working quite well. And the other thing to keep in mind is, like with this one, I think it's always dangerous just to cut people off at awkward places in their body. So, for me, having someone just cut off at the waist just isn't working. And, again, we don't have that open sense of space. There's no view. We don't know what she's looking at. We're just kind of staring at the green. So when you're framing subjects... You know, most of my work is center-framed. I don't do a lot of rules of thirds in my photography. So, again, when I'm looking at this photograph, I'm just staring right here at this blank area. My eye is just kind of fixed here. And with images, you want your focus, your composition to lead you right to it and then your eye to kind of circle around it. Yeah, and, same thing, these just don't have that whimsy and that magic to it. I think part of it is just the background. So, you know, I think with your images, I think seek out this moment, you know? 'Cause I love that photograph. I think a brand would adore having their product sold by this photo. Perfect. Yeah, thanks so much. Thanks to you. Thank you for having me. Yeah. Absolutely. Thank you so much, Jessimar. Who's up next, Joel? We got Lara Vukson. I'm going to beam. What's Canuk? Is that Canadian? What's that? What, sorry? This boot brand, I've never heard of. Is that Canadian? Oh, Canuk. I think it might be. Also, I got a question for you, quick one. Is the word when you follow someone to shoot photographs called "cupcake"? (Theron laughs) I don't know, I've never heard that before. It's a motorcycle term. It's like when someone's driving the motorcycle, and then the person riding behind them, that's cupcake. I love that. Yeah, 'cause a lot of times the seat... I think it's 'cause the seat is sometimes higher. So you're like a little cupcake on the back. It's a good term, man. I like it. Hello, Lara. Hello, how are you? Hey, Lara. Good to meet you. Thanks for having me on. Yeah, where from? You too. Where do you live? I live in the Boston area. Okay, yeah, I've been. It's windy. (laughs) It can be, yes. (Theron laughs) We have all the seasons, that's for sure. Do you shoot photography a lot? Is it something that you're pursuing, or doing more of? I do, yeah, yeah. I am actually a creative director, so I work in advertising. Okay. And I am on shoots all the time, and then I shoot a lot myself. So I wish I had more time to do it myself. Yeah. This was a great exercise, and I so enjoyed the workshop. So thanks for having me on. Yeah, yeah, you're welcome. Yeah, so I mean, I think it's good to talk about what is working and what isn't working. With this image, what is working for me, I love that we have context that it is a canoe. But without this image, then if we skip to the next one, what isn't working for me is now I don't have that canoe context, you know? I mean, I know what it is because I saw the previous image, but if I'm just looking at this one, I don't know really what the boots are sitting on. So as far as like... I think that's really important to think about when you're shooting your images is like, what are the objects around the photograph? Are they being communicated clearly? This to me is instantly canoe. This one, it got lost in translation. Also, I like this, your styling, way more on this one. Obviously, Canuk, this boot company, would obviously love this because their logo is kind of like front and center; where this one the boots are a little bit more brandless, a little bit more anonymous. So that's just like when I'm shooting Blundstone boots, and that's just part of it is learning clients. They almost always want the little tags on their boots sticking out. And that's just something that you pick up on and then you know to shoot for a client. Yeah, this one, it was tough. I was trying to capture a more heroic angle, make them look really important, but the logo is on the side so it's a little tricky. The one with the red canoe, yeah. Yeah. So that's good feedback. Yeah, and, to me, things that stick out, we're talking about trying to elevate our images to the next level, like let me just kind of poke a finger at things that aren't as strong. And I love that they're kind of in this grass. You know, they obviously are very placed there. I would kind of love to have seen some dew on the boots. It looks a little wet where you were, but dew or dust, whatever the situation is, like put 'em on, walk through the grass for two minutes, and then come back and photograph the boots then, so they're a little bit more used. And also, I would've liked to seen the patches of grass down here. Like this not to be brown. I kind of want that all to be green. So making selections where you're looking for the details ultimately really stand out in the images. I don't know if you cropped this image already, but just be really aware of your, you know, kind of not leaving enough space at the bottom. So maybe possibly in your file, you have a lot more information. Let's just assume that this was your out-of-camera crop. Now you don't have any choice of what to do with the space at the bottom so we're really locked into that. So I always try to leave a little bit of breathing room on the top and the bottom and the sides so then in post we can make those decisions. That's good advice, thank you. Yeah. Obviously these images with these boys are a huge departure from the previous work. And what I would say is, the jarring thing, is I actually wish all of these images were in black and white. Because now that I'm starting to look at all three, I kind of want to see them as a set. And now we have this one. Okay. This image right here communicates so much more strongly to the first one. So, right, feel this image, and then we come here, and here, and that one. And those two in the middle feel like a part of a different set of images, a different body of work. Okay. And part of it is just simply being black and white, but it's also the feeling. And the one that I love the most is this one right here. It's kind of like being intentional, let's go out and shoot some boots for this company, but then let's try to find a found moment within that. And the space, the crop, the movement of the water, that's all working. And if we wanna start nitpicking things, which is like a good place to be with photography 'cause that means you're onto something good, I actually would Photoshop or clone stamp out this white pole right here. And even just that one. Yes, okay. And it would just totally clean up the background. 'Cause my eye actually, and this could be because I'm a weird dude, but my eye just gets really hung up on that piece of white right there. But when I come in closer like this, when I've zoomed in, it's actually much more, it's less pronounced, so. Yeah, this image could probably just be served with a little bit tighter crop as well. But the vibes in this one, the moment, the feeling, it's just like Lopez, right? What's her last name? Might have to touch base on that with Joel. She photographed the pink shoes or the purple shoes? (laughs) Oh, okay. Oh, yes, yes, Jestifer. Yeah. (chuckles) Yeah. It's the same feeling. Jessimar, Jessimar. Yeah. Jessimar. It was that decisive moment where it's just the feeling, the vibe, the moment, the setting. And all those little details are so deadly important that they have to be all dialed in. And this one does it. Right, this first image. This is the same, so maybe the same evening or the same night. And I love that we have the movement of the water, but what's not quite working for me is like, I know he's maybe thrown a rock or something, but the twist of the body, he doesn't look like human right now. Like there's something... Like, we're just kind of staring at his hip that's just kind of like a little awkwardly twisted. So I wanna see the other frames on the left or right of this one to maybe pick. Yeah, okay. But if we're just talking about the boots, that's great though, you know? Like this down here? That's totally working. Just like that right there. So I dig that. Oh, cool, okay, interesting. And, yeah. And then this one, yeah, I'm just not a rule of thirds guy. It's hard for me to think and feel in that space. Now sometimes you have to because somebody might wanna throw some copy all up in this space, some text or logos or whatever they're doing, you know? And let me also note on this. When you're shooting for brands, you have to be careful about including other people's logos. So, who knows, this could have theoretically been an Under Armour shoot, it's no big deal. But if it was, for instance, if it actually was for the boot company, this, what the model is wearing, can be a deal-breaker if it's something that cannot be photoshopped out. So obviously in the context of this, you're out with your boys, you're just having fun. Yeah, for sure. (chuckles) Hopefully you understand where I'm coming from. Yeah, definitely. I agree with all those points. These are actually my kiddos and I negotiated a little bit, so I did not win the wardrobe discussion. (laughs) (Theron laughs) But were I in full control of that, I would've, absolutely. Yeah, yeah, it's just something I noted. He loved the shirt. (chuckles) Yeah, just try to note. Because if we're talking about trying to become the most amazing photographers that we have because we're invested in the craft, those details will totally matter. Those are the difference between an average meal and just the most amazing meal at an incredible restaurant where the vibes are perfect. And those craft between taking images and cooking food, there's a strong correlation and connection between them about the amount of time that you have to commit and the interest in becoming a better chef. Same space for using the camera as a tool. But what is great about this work is you picked the right location and the movement of the water is amazing. And you know what? If I was shooting for a brand, let's say this is our location, we're shooting for this rubber boot company, I think you just kind of go... And then you have to go find the one crazy hero shot where there's running off the dock, jumping in the water, you know? And I think seeking out moments like that. And, again, I understand, in the context of this, it doesn't make sense with your boys in the moment and all that, but we're kind of talking theoretically about elevating our work, because this is such a rad location for the boots, so I dig that. So nice job on there. Thank you. Okay. Oh, and I can just touch on this one. So this is like one of those where there's part of this that is working. I want your other son to be mimicking the same movement as your son on the right. So I want them both be to be jumping the same, like feet. Oh, okay, yeah. Yeah. And then, you know, just these little details that make it... I know you're shooting kids and stuff, but let's just be, you know, again, we're removing all the difficulties from it. But I think we just need his arms to be a little bit more free. I think having one arm like that just feels a little bit unnatural. And then, even stuff like this, like I think that if a brand would see this, they would be like, "Well, it's super close, but I don't like that his shirt is kind of up over his head and we can't see his neck." So I think instructing them to actually kind of both jump straight up in the same way would've really highlighted symmetry. Obviously you're aware of composition 'cause we're framing our dock straight down and our eye is leading us off into the horizon, which is quite lovely. But, again, having them both jumping would be really cool. Or at least jumping in symmetry. Yes, definitely, I agree. I love that. Yeah, the hand placement in this one was tough. I have a couple of frames and there was a little something funky with all of them, but this was a- Yeah, yeah. And what camera do you have? What are you shooting with? I have a Canon 5D. So, yeah. Okay, yeah. So you have the spray and pray mode, where you just put it on- (Lara laughs) Yes, right. And a lot of times, if I'm shooting paid models... So when you're shooting paid models, they're much more compliant because it's their job and they're getting compensated for it and they're intentionally there. Right. (chuckles) So I would shoot just probably eight or nine times of them just jumping and down, just (imitates camera clicking). Because within all those takes, there's gonna be that one decisive moment where they're flat and just like, "That was the right moment." Yeah, definitely. Yeah, I didn't capture as much as I would've liked to, quite honestly. So we were a little bit rushed with this one, but that's definitely a good approach. So super helpful, thank you. Yeah, but all the elements are there to make amazing work, so that's a good thing. Thank you. Yeah. Thanks. Yeah, it was good to meet you. You too. Thank you so much for that. Thank you. Checking on this dog over here. Oh, sorry. (Lara chuckles) Okay, I'm pretty busy. (laughs) Oh, man. Awesome. Who's next? Oh, we got Lori, Lori Gola. Awesome, I've just promoted you to a panelist and we can hear from you shortly. Lori, what's up? Oh, someone's shot Blundstone. Trying to take my client is what that person's doing. We're skipping that, Joel. (chuckles) We're scooping in. Lori, are you here? I think your microphone is muted, Lori. Mute, okay, great. That better? Yeah. Hey, Lori. And am I on video or no? No, I mean, your choice. You're not, though. But you don't have to. How do I- Whatever you wanna do. It would be at the bottom of your screen, the option for video. Goodness. Share screen? At the bottom, kind of where the Q&A is, there'll be on the bottom left, it would say start video, stop video. Your voice is also totally fine. Yeah, yeah. Yeah, it's totally fine, Lori. Well, there we go. Oh, hey. (chuckles) Now I see me and Theron. Yeah. Where's home for you, Lori? Where do you live? Smithville, Texas. Okay, right on. And where are you at with your photography? Is it something you enjoy pursuing? Like, what's your story? Yeah, I've been doing portrait photography for a long time now. I don't know, 10, 12 years. And I'm a little burned out I really want to do commercial and editorial. I love animals, so I was a little bummed out when you said shoes. I was hoping for a Maddie-type shoot. (Theron laughs) I can get dogs to close their eyes or anything. (laughs) Yeah, fair enough. Yeah, right on. When I'm looking at your work and I'm thinking about it, obviously, the kind of the one hero-captured moment is... Let me just turn off the light. I should've put my camera on automatic. You know, this is that kind of discovered moment, right, where you were out shooting and you just captured something that is much closer to an authentic, carefree, easy moment. So, of the bunch, this one has that vibe the most. Oh, let's see here. Sorry. How do I get back to where I was, Joel? There we go. First time using a computer. (chuckles) All good, all good. And, again, I think what we're running into with these, for me, is they have that, again, that feeling, like I'm just feeling a little claustrophobic, where everything in the frame is almost at the same dimension. So we have the skateboard and the boots and the wall, and it's just creating a little bit of a visual, not mess is the right word, it's just visually dense. And I just wanna have a little bit more of an open sense of space. (doorbell chiming) One second, my door bell. Oh, sorry, y'all. (Joel chuckles) Oh, Maddie's getting up. Who's there, Maddie? Sorry, y'all. Oh, Maddie's up. (chuckles) UPS man, which is Maddie's favorite person in the whole world. Yeah, so again, with this image, I just wanna see some break in the planes. It's just like we have the skateboard line coming up here, we have the toe crossing over to it, then we have the wall. It's feeling a little bit too flat, a little bit too visually dense with that image. In this one, we have kind of like you're starting to resolve that problem in the last one where we have a little bit more sense of open space, but what I would just be careful of, again, is just not leaving enough room at the bottom of your image. And maybe you crop it like this. Maybe you do have more information in your file. 'Cause my eye, when I look at it... So this is the sharpest part of the image. I would've probably have shot this image vertically and... (whistles) Come on, Maddie, get up. You got it. Oh, actually, I'm getting old, I can't. Oh, it's okay, come here. (whistles) Nope? Okay. Yeah, I probably would've shot the image vertically because with the leg going out, it's just leading my eye up and down. So that's another really good thing to note is when you're shooting for clients is to... Turn my brightness more. Is to always try to shoot the concepts both horizontally and vertically, so you have options afterwards for them to choose with. I did, but when you said landscape, I kept thinking I had to shoot this way and I may have cropped this one landscape. It may have been vertical, so. (chuckles) Yeah, no worries. No, if you have a few minutes, but in this shoot, it was quite a story. It had been raining in Texas, thunderstorming for two weeks, and so finally there was a day where there was no rain and there was a break. Yeah. So I had a friend's daughter model. We go out, we were gonna buy new Vans, and then we get there and she's late so we just go with her Vans. And halfway into the shoot, she tells me she took mushrooms. (laughs) Nice. Mom mode, I'm worried about her hurting herself and so- Yeah, sure. (laughs) Yeah, no worries. Yeah, and that's the other thing is, doing these shoots, I think the important thing to remember is we become better photographers by shooting a lot of images very frequently. Like you have to pick up the hammer and you have to start building houses to get better at building houses. It's just through a process of creation and making images that you become a better image maker. My only goal and point here is just to kind of highlight things that when you go out and shoot next time, you just have it in the back of your mind, because you've looked at these images, you've gotten feedback, what was working, what wasn't working, and let's bring that into our next group of images that we're shooting. So, yeah, I mean, that's my only hope and goal with rambling on about images that y'all have taken. No, I'm all for critical critique because- Yeah, and again, for me, I'd almost wanna see this same similar photograph at the top of the vert ramp. Because right now, the background and the cars, it's just visually isn't very interesting. Like I just feel like I'm in suburbia. And I think a lot of times with photography, it's about trying to, even if you are in suburbia, it's trying to like take you somewhere else to make it maybe you're on the coast of California. So I could see, going up to the top, having her at the top of the vert ramp, you down in this small, whatever this is, quarterpipe, halfpipe, so you're kind of looking up at her a little bit and shooting that same image again, because it's just like that canoe photo where instantly we knew it was a canoe, we knew there were boots, we got it. And if you could just show the concrete, the edge of the halfpipe, the boots, the skateboard, everything is immediately communicated and connoted visually, instantly. And that's the goal of it. Yeah. What I do like, I don't know if I love this foot, but I do really like this foot, the bend and the skateboard. Sorry, this isn't really a true cropping tool here. And the skateboard wheels, you know. Anyway, sorry, it's not really meant to doing that. But, yeah, I wanna see that image at the top of the skateboard ramp. And the cool thing about photography is when we talk about what isn't working in the image. That gives us a great place to go back and shoot it again. Or if we're making bodies of work. 'Cause now to go photograph that same idea again in this location at the top of the vert ramp becomes much more attainable 'cause we're not starting from scratch. So that's, I think, the positive note to remember about it. Yeah, and, again, I think this is that, I guess she's obviously high off her ass right here in this photograph. (chuckles) But, yeah, I wanna see this. I wanna see this same moment in the same, you know, having fun, carefree. I wanna see that on that piece of concrete with a little bit more open sky. 'Cause why I love her having a good time in the captured moment, I think it just becomes a little visually dense for me. I need it to be a little bit more open. And also, again, with just the other branding, this doesn't ruin the image, but I'm just noting that if you are shooting editorial or a campaign for somebody, like, is this now a water bottle ad or is it a shoe ad, or is it a skateboard ad? So they're just little important things to make sure that they're supposed to be in the image and the client is gonna like them, so- I didn't think I could do it with the graffiti. Yeah, yeah, just a note, something to keep in mind. Yeah, and this one, obviously I like that we're using kind of the sense of the road to carry our eye down. And I like that she's now riding the skateboard. I think that's a really interesting story that we haven't had captured yet. But I kind of wanna see it photographed from the side, I think, so I would wanna see other options of this one. But, yeah, I definitely am interested that she's riding the skateboard. So that, to me, is a really compelling part of the story is motion, action, actually doing something. And it's kind of like that, going back to the very beginning with the motorcycle, I wanna see the boot and the motion blur and it being used and dust getting stirred up. And that action and that next level of effort that it takes to create that images is what makes amazing photography. And let's just say this was a really great paying job and you were totally committed to making great photos. Even riding next to her on a bicycle, holding your camera, doing a little pray and spray, following with her as she skateboards, or you could be hanging out of the car or on the back of the scooter, or you could be on a skateboard, whatever the circumstances that you would be comfortable with, but that's kind of what I would wanna go do. Like join that person in the activity, be in motion with them. That extra effort is what is needed to start making amazing images. Okay, that's like a movie set, yeah. Yeah, it is. And, you know, the stuff that I'm doing is self-produced and it's really that level of dedication to get phenomenal images. And it, no doubt, takes an insane amount of effort and energy and work. But if your interest is in landing more editorial or commercial clients, you have to put in that extra layer of dedication to get those images to stand out. Because the truth is, is there's a ton of photographers out there and there's a lot of amazing photographers, and iPhones are taking really great exposures now in difficult situations. So if the goal is because we love making images, we can never microwave anything. Everything has to be handmade, handcrafted. Just like the finest restaurants, you know? Because there's already a bunch of McDonald's and they've already done that. It's like, I think the way we're leaning is like we have to be the best. Anyways, I don't know, this is all off-the-cuff. (laughs) Just my feelings on it. Are you talking about the last image where she's doing the ollie? Oh, yeah, sorry, yeah. Oh. Okay, yeah. My action shot, but- Yeah, you know, I do like... You know, I think one thing that is great about this photograph, this is one of those moments where having this busy background is really good because, you know, active skate park, there's other humans around. I actually like this guy's arms right here, how his arms are kind of mimicking her arms. Like they're both doing some skateboarding stuff. I don't quite know if this is the total decisive moment for the ollie. It could be, you know? What is a little bit distracting is kind of the other people through the middle of her legs. So, I would, when you're shooting that, think about the space, how can you move her and direct her so the background is the least distracting. Like minimize the other people, the other shapes, the little elements, 'cause those all little pieces add up, and that's what either makes a great image or takes away from it. So I would just be really aware of your space and looking at the background. You know, is her head getting lost in the awning? Is that a good place to cut it off? You know, I actually really love all this kind of industrial parking garage thing. I think that's a really good look. So, yeah, I mean, just think about what's behind your subject as much as what your subject is doing. Can I ask a question? Yeah, please. When you shoot for a brand, how many images do they want you to submit? Right. So I'm currently doing a kind of long-term retainer type project with Blundstone. And this year I owe them 70 photographs. And I'll do that over the course of three photo shoots. So I just did a... Here, I can just show y'all. I think I have them on here. So, I mean, this is obviously work that you don't really see on my Instagram. It's gonna take me a second to... I think that they're on this drive. What would I have put it under? Oh, you know what? I think this might be a quicker way to find them. Are these from the new welding boot? Yeah, these are for the new welding boot. So I just shot these. Cool. So you guys can hop on here and critique all my work, too. Let's see here. I just have shot a little bit for them, nope. Okay, garage. Which one is this? Okay, let me try to find the welding ones. Okay, yeah, so this is just some work that I shot for them. And, again, I think work falls into two categories. Like none of these images are gonna be over-the-top phenomenal. Like you're never gonna see these photographs on a billboard or in the coolest magazine. A lot of times brands just need images to be placeholders on a website. Like if you're scrolling through images and you have a bunch of products on white, and then it's like, what does the product look like on a human? So what I did here is like, I'm just trying to give them lots of options when I'm shooting images for them. So these actually aren't the welding ones, but this is just a huge group of images that I gave Blundstone. So on these self-produced shoots, the idea is try to over-deliver and give them an overwhelming amount of options for them to choose from and make the selects out of. So, again, you can see none of this stuff is groundbreaking. It falls into that space of function. But how do we try to bring in some design elements that are visually interesting? You know, that's always the hope. I'm sure no one is sitting behind their desk gasping right now at these photographs. But a lot of photographs are not on the mountaintops, of images. It's just about delivering nice, clean product shots for the brand. And here, again, this is just me giving the client options. So I'm closer, now I've dropped them on the floor. You know, give them an option of the boot out of the truck. So that's kind of just a really recent assignment. And then, you know, let's see here. Is this one? Yeah, think that these are the... Okay, so then these are when we get into a little bit more action, this is just a way where the focus for these is trade shows. We need to show that our boots can survive and be used. So let's just try to get them in the shop with a little bit of action. Anyways, so then I just shoot a couple still lifes for them 'cause I'm there in the shop. It's not a big deal, it's pretty easy to do. But, actually, I did have one still life of this that I really loved that I think just visually came together anyways. Okay, yeah, this one. I thought this one worked pretty well for me. It was just like a simple setting, interesting background, lots of textures and layers and, yeah, this will just be on their website to help sell some boots, you know? Just this nice little photograph. Anyways, (laughs) I feel like I've been talking to myself forever, but that's stuff that I shoot for brands sometimes. So not hero work, it's just stuff that's needed. Anyways. Lori, thank you so much. Yeah. And we'll move to the last one. We got Sasha coming up. Yeah. Theron, it was really cool actually to see. I think it's pretty sweet to see your work that's not always shown on your Instagram account. Yeah, yeah, I mean, that's like non-Instagram work. And it's also not... I wanna be clear, and I think that's just the reality of being a photographer, it's like sometimes you get sent to the most amazing location and it's epic work, and then other times you're like, "Man, I'm so glad that this project is gonna pay my mortgage this month, and I get to use my camera of doing it," you know? And I think it's just celebrating both and being grateful for both. I mean, am I ever gonna post a boot shot like that on my Instagram? Like no way, it's not interesting enough. But it's needed in the industry because it communicates and it sells and, yeah. And to tie your workshop together, right? Like personal projects, commercial work, people, Blundstone, whoever, maybe they fell in love with your work because of, you know, they noticed you in a different context. And they believed in your work and they see how talented you are and they know you could probably deliver. Yeah, yeah, yeah, yeah, absolutely. And the thing is with Blundstone, they approached me because of my work with Maddie. And they were like, "Oh, you have a social media following, you have a cute dog, we like the photographs you take." And then when I'm talking to them, I'm like, "Hey, I love being a photographer." I was like, "I can make you a huge library of images for a way better price than you could pay someone to go shoot that same work in California." 'Cause in California, there's permits, locations, and talents and SAG and lots of good things, but also lots of difficult things. And I'm like, I can get you a library of 70 images for a fraction of the cost, and I can feed myself very well and be very content. And if you're willing to let go of a little bit of control, which is creative direction 'cause you're not there on set, I can bring you a ton of value. So that's pretty much what I've been doing for the past decade is upselling clients whenever they come to me. You know, Samsung's like, "Hey, we want you to shoot our new smartphone and put it on Instagram." I'm like, "Sure." I mean, I'm so grateful that I get to be a photographer, but, "Hey, by the way, for an extra X amount of dollars, let me get you some more images of your laptop that you can use with open license because I'm already shooting it anyways." And that's kind of how I built my career, doing little upsells like that. And it also is fun to have an assignment and a real sense of purpose. And that's all, again, tied back into making bodies of work. Because when you're shooting for a client, it's all about being consistent with your style. And I'm so sorry for not remembering your name, but going back to that group of images with her sons, those black and white images on the sides, though they fit together visually and aesthetically, and then the two in the middle that were color, they just felt the visual language was different, it's really important to have them all feel, have a great sense of continuity. Mm. Shall we jump into the last one? Oh, yeah, yeah. This is Sasha's work. Yeah. Blundstone? I just got my newest pair of Blundstones. Did you? They're like my favorite shoes I've ever had. They are the best boots. The best. I can't even deal with laces anymore. I know. No time for laces. Way too busy for laces. (laughs) (chuckles) Thanks so much for having me here and critiquing. I'm so stoked. (giggles) Yeah, Sasha, I'm loving this. I'm not gonna show Blundstone this photo, you know? (laughs) (Sasha laughs) My favorite shoes. Like absolute adventure gear, dog walking shoes, going to work shoes. (chuckles) Yeah. Actually I think this is a really good note because this photograph is way more fun and quirky and lighthearted than any of the images, if you were looking, that I went through on the shoot that I did. This photograph is way more dynamic and interesting and compelling. But it's also really good to note, my charge for that shoot was like, "Hey, we just need product shots of welding in the shop for a little bit more of a true Carhartt clientele." And that's really important to know, is when you're shooting images is meeting the needs of clients. Like if Blundstone was marketing to REI crowd people, I think that this would be the photograph for it, you know? It's way more lighthearted and quirky. You know, no one would ever just kind of naturally be doing that with their feet. So it's very kind of fabricated for fun. They both have value. It's just good to know, what is the goal of the client? What do they need from you? And if they were like, "Hey, go make fun, quirky images," this would be the one to do. So the things that I do love, I like that the tree is coming out of the toe of the boot. I think that's great. I would maybe watch the skin tones on this top leg right there. I would maybe just kind of darken that down half a stop. Okay. And just knowing Blundstone. This is about just knowing your client and knowing the details, the same way as making sure that water bottle or the Under Armour logo isn't distracting to the brand. And, by the way, those things might not be. Like this, I think this tag right here is really great. This bottom tag. The top tag, I wanna see just turned in the same way. So I'm nitpicking stuff. And when you start nitpicking stuff, that means you're onto something good. And that's stuff that the directors are gonna get you all the time. You know, if you get work, you're like, "Well, I want the tag turned this way." So it's just really becoming aware of that. I would love if I can make this image even more amazing. All this foliage right here, I love this big green leafy thing going on here. I want that same leafy green up here in the top of the frame to fill it all up. Maybe there's another background to choose from, but I like what's going on. Okay. (laughs) (Sasha giggles) What else have we got? Okay, so this is another thing where my eye instantly goes to his butt. (Sasha laughs) So in this photograph, that's what I'm staring at. So I think it's being really aware. So this isn't about the shorts, it's about the boots. We're just making that assumption. So like we just need to make sure we're leaving enough negative space at the bottom. I love the agave plants in the background. I think you're choosing really interesting backgrounds here, what I've seen so far, but it's about let's make sure we have enough negative space at the bottom. And what is the focus of the image? So my eye, again, goes right to his butt, it goes right here to this cactus plant, but it doesn't down here to the boot, the shoe. My eye is stuck at the top. So just being aware of the compositions. So pulling back and reframing. But great location, so we're onto something good there. Yeah, I mean, I love the shape... Oh, first-time user. (Sasha chuckles) Let's see here. Was it this one? Nope. I think it's the third one. Actually, I just kind of wanna see this one cropped a little bit differently, 'cause I think the top is just a little bit distracting for me. I like that way more, you know? Oh, yeah, I can see that, yeah. I like how his leg here is coming back at this angle, his leg's coming down here. It's just making a really nice shape. I dig that. It's just the top of the frame to me is getting lost. And I think that's a great product shot right there. I dig that. Sweet, yeah. No, I couldn't agree more, now that you pointed it out, yeah, 100%. (giggles) Yeah, you know, I don't know. Yeah, it doesn't have the magic for me. Maybe it's just the botanical garden. And it's actually kind of cool to see now where you were shooting for the images. Maybe it's just because I was expecting the quirky thing, and that actually ties really well... Let me just turn my camera really quick some more. That ties in really well to this idea of being consistent in our style. So your other images had a really quirky sensibility, and this one, it's not salt in the earth, but it's just like more subdued. And there are moments to pause in the work. Yeah, I don't know, let me try to figure out what's not working about it. I don't know, it's not doing it for me. I like the light. I do like the setting. It's just, yeah, let me come back to it and maybe I'll have another thought about why. Okay, so. (laughs) I mean, this image, to me, highlights the struggle of the photographer where it's like, when you don't have to deal with a person's body and their expression and their face, it's a lot easier to take images. You know, when you're just focused on the feet and they're anonymous, it just makes photography so much easier. So for me, again, I would just be really aware of your negative space. So, again, we have almost no... Let's assume you haven't cropped it. We almost have no breathing room in front of the boots. And this is the part of the eye that's leading us back. So I actually just wanna take your camera, 'cause its on a tripod where you're hand-holding it, I just want you to move that way a little bit to include more of the frame over here to let us breathe down that pathway. But, yeah, I don't know, it's just a little stage for me. And it's tough to get very carefree, natural, lifestyle images where you've been assigned, you have a short period of time. And this is the hardest thing to do is to photograph people that aren't professional models and try to get images that feel good and natural. And a lot of times, what I'll do with people that aren't pro models, or who aren't even love being photographed, is that I'll give them assignments, something to do, where it's like, okay, so your friend's here. I'll be like, "Hop off the wall," and I'll be like, "Take three steps away and now walk back into the wall and turn around and hop up again." So now I've given them the activity and I'll shoot that same activity four, five, six times over and over again. And I'll be doing a little bit of spraying and praying with the camera, so high shutter speed, not over-the-top though. Within that movement, they start to loosen up, they start to feel good, they start to forget a little bit about the camera, and then you're gonna find that moment within that scenario that you've created. Because the difference is, is professional models, they can just turn it on and they can become actors instantly. And that's why they get paid 5, 10, $15,000 a day. But to circumvent that, let's give our models a thing to do. Pick up your drink, you know? Hey, come in here, come into the frame, sit down. Okay, no, oh, do it again. I mean, this is literally what I'll do. Now I'll be like, "Flop down this time," you know? And then after the fourth, fifth time, that person has loosened up and they've just become more playful, more aware of living instead of being photographed. Does that make sense? Mmhmm, mmhmm. Cool. Yeah, no, that's funny. Actually really great feedback. Thank you. Yeah Yeah, and things that are working here, like I actually really kind of loved his pose, even though it is kind of a posey dad joke (Sasha giggling) kind of thinking there. Sometimes photography doesn't all have to be this snapshot. 'Cause a lot of times, the lifestyle, you're trying to find the snapshot by fabricating it, but sometimes it's okay just to be like, "Hey, be a model. Strike a good-looking pose." And I like the, I don't know, it's like a little phallic, you know? But, you know, our eye is leading up this way. But elements that are becoming distracting, like the little light here, and then just the dog's face is being lost. So in this image, I want some of that lightheartedness from that first photograph with the boots on top of each other. So, I don't know, maybe it's holding the dog. But your images when it seems like a really graphical element is involved with the space behind it is when they're most successful. So, you know, now if we can jump back to... Oh, to this one. I mean, you know, right? I mean, to me, that's such a more compelling image. So I'd say lean into this quirky, lighthearted, fun space that you're doing. That just seems to be where your images are really on track. Sweet, yeah, no, thank you. Thank you so much. I really just cannot say enough thanks. And I really appreciate the feedback and actually apply it. (laughs) Yeah, for sure. No, that's really helpful. Yeah, and I'm mostly doing this because, you know, I know people follow me for all sorts of reasons, because Maddie's cute or they like my photos, but, for me, I love being a photographer and I love creating images and I feel blessed to get to create for brands. Like, my holy take is just like, let's give each other feedback so then we become better image makers. 'Cause if you don't know the steak that I cooked was overdone, how I'm ever gonna become a better real master? No, exactly, yeah. It's easy to get just stuck in kind of like an echo chamber. You know, if your same friends are saying like, "Oh, it looks great." (laughs) No, I really appreciate the feedback. Thanks for sharing your work. Yeah, thank you. And, yeah, thank you, thank you, Joel, also for doing this class. This has been incredible. Always, thanks so much. Should we take some Q&As? Yeah. Actually I'm feeling a little saucy, so after I'm done rambling I can maybe look at one or two more people's work. If anyone wants to chime up right now in the Q&A, kind of raise your hand. And, Joel, you peace-out whenever you need to as well, 'cause I know you have a life outside of talking on here, but- It's all good, dude. I'm here with you. (laughs) So in the Q&A, go ahead. I see there's five questions in there about to click, but if someone in the participants that are still here want me to look at your work, raise your hand and- Derek, Derek Cloutier just asked you. Okay, cool. Okay, let me dive into these Q&As here. Wait a minute. Let me take a sip of my Reed's Classic Mule no sugar drink. I'm gonna have to try one of these next time I'm down South. Kicking sugar is the hardest thing. So hard. (chuckles) I hate, hate not eating sugar. (chuckles) That's a struggle. Do you like Prickly Pears? I mean, I know that as a cactus. Is it a drink? I don't know. I always see people whenever I was in Montana, this one kind of beer. There's a couple beer that basically- Oh, okay, I'm familiar now. I just figure you guys only drank Kokanee or- (laughs) Yeah, when I was in university. Yeah, for sure. Okay, well, enough of us pretending like there's no one else in the room. (laughs) Keenan, let's see here, how do you avoid scrapping good photos and keeping the bad ones? Oh, man, you know? I mean, yeah, let me just... Let's see here. Let's see here. With this, I can just show you some recent work. I posted this to Instagram not too long ago. So here were my selects from this one. I think I can go back to one star. So, yeah. So this one, you know. This might be a bad example (chuckles) because I got so honed in on exactly what I wanted. Here's a better example. So I shot this second image 'cause I knew on Instagram, I... Joel, is my screen being shared? Your screen is still, for me, is still locked onto- Okay, okay. I'm glad I asked because I'm over here using Lightroom talking. I need to switch it to... One second. No problem. Let's see here. How do I do this, Joel? Stop share, share screen, right? Here we go, Lightroom. Boom, got it. Okay, so this is a really recent image I posted. Can you see Lightroom, Joel? Yep, yeah, I can see Lightroom. Okay. So I knew for this image... So here is my hero shot. I knew that was my hero shot. It's like, canoe, white truck, reflection of the water, mountain in the background, right time of day. And, by the way, I knew. I went out and scouted. So this is just right near my house so I've seen this before, I've looked at it. But I went out like three hours early- I'm going to interrupt you, Theron. I'm still just seeing a blank screen, and I think others are as well. Oh my gosh. Share screen, this is so important. Lightroom, share. Oh, all panelists. All panelists. Is it working now? I mean, I can see your screen, but the image isn't actually up there. I apologize. Okay. No, you're fine. I'm glad you said something. Yeah. Share screen, desktop. I'm just gonna go share screen. There we go. Are you sure? That's perfect, yeah. Okay, so this image right here, I posted it recently, but the thing is, is this photograph looks very simple, but three hours before I took this photograph, I went out, you know, Maddie was nearby, but she wasn't on the canoe. I set up my truck, I set up the canoe. I looked through the frame. I was like, "Yes, this is the photograph I want. Now I just need to be patient and wait for the light." So before I even made this final hero image, I had already shot this image in bad lighting just to hone in and get my composition ready for when I knew good light was coming. And then with this photograph, I knew I wanted a secondary image for this photo. It's like when you swipe to complement the photograph. So my next place was like, "Oh, well, let me just show more of the canoe. We've showed it at the end, let me start scrolling down the canoe." So the place I went, Maddie hopped off the canoe. And then these aren't edited, these are just kind of raws. And, you know, I shot this. I was like, "Oh, cute dog face over the side of the truck." But what I didn't like about the image, I just didn't like the hump in her back, how it meets the canoe. It just felt like a little bit of a visual tangled mess right here. So the next place I went, I was like, "Oh, Maddie, hop back in the truck." And then she hopped back in the truck and she popped out. And then I can kind of show you frames around this of my process. So I liked her looking off that way. And then she's kind of looking around. And these are all very subtle. Look, there's one where she's looking at me, squinting her eyes. But I was like, no, I like that visual story where she is pointed the same direction as the truck, the same direction as the canoe, kind of the same plane as the mountains, and it's all moving to the left. So then that became my second, my paired image. So then if we go back to two star, so now these are a pair of images where that was my process for making that work. (chuckles) You didn't see that, Joel. Was that helpful? It's cool to see people, you know, when you're not praying and spraying, but you're capturing this moment of her looking out the back of the truck. Yeah. And it's cool to see why you chose that image, and how you made that work. Yeah, it's really important. Yeah, because this image shooting... And that's why it's so important to take the photo, because this image led to the one of her in the back of the truck. And without this image, I wouldn't... You know, it's like the broken heart. Like it all leads on the pathway to healing on your journey. Same thing with making it work, like shooting this photograph led to the final image that I landed on. So that's super important to do. Okay. Hopefully that, let's see here, answered. That was a long way to answering that. (laughs) (Joel laughs) Do you ever find you have to manage your client expectations when they are hiring you based on exciting Instagram content we're seeing? Yeah, so they're kind of two different things. And the Instagram photos I take of Maddie, I very much consider those hero photographs. They don't come easy, you know. Hopefully they don't come cheap when it's a client. I mean, after 10 plus years of doing it. And I try to always grow and move forward as an image maker, not just constantly shooting the same thing. And I try not just to be a guy photographing a cute dog, 'cause, to me, the idea is everything. And hopefully sometimes there's some conceptual essence to my image. So I definitely am like, hey, if it's a Maddie photo, we're talking super low volume, you know. If I get like two a week that I really enjoy, my gosh, what a cool thing that I've done. And that's why I get so excited about shooting boots in a welding shop for a brand because they just feel so easy in comparison. I was like, "I could do this all day." And also it's like, they're not trying to be... The intent isn't trying to be the hippest Filson matte-finish catalog. And it's good to know where the images are going and what there's gonna be used, because it's okay to just have a job that's paid. It doesn't mean you're compromising your craft or your integrity. It's just like, you know, this is just a photo shoot because they need some product images on their website. And that's awesome. Okay, let's see here. Can you explain why these are not your closeups? Okay, okay, yeah. I mean, (exhales) that's gonna be a little bit more nuanced. Let's get into that. We can talk about it. And so you might disagree with me. By the way, that's okay. So, for instance, this to me, and you can chime in. Can you share it? Oh, gosh. (chuckles) Let me. Oh, I thought I was sharing the whole thing. Oh, I stopped, my gosh. Okay, how do I do this, Joel? Here we go. Desktop, I'm just gonna share the whole thing. There we go. Okay So you can totally disagree with me, because, again, this is not the final gospel, it's just a gospel. To me, this image, although it's a very flat photograph, this image, to me, does not feel claustrophobic because we have plenty of open space down here where I feel like I can breathe. We have the black hose that's kind of draping across, holding the space at the back, and then, of course, we have the steel beam right here across where the person is standing. So, to me, while this photograph is very flat, it still gives my eye visual room to move around. 'Cause when I look at this photograph, the first thing I'm looking at is the Blundstone boots. Because that's what this was about. It's about product photos of these boots to sell them on a website, right? Boom, the first thing I look at, and nothing else in the top or the bottom of the image is making me feel stressed. So, I mean, normally there would be people talking, disagreeing with me or agreeing with me. (chuckles) I mean, I'm getting no feedback 'cause I'm just talking to myself right now. Or is there something happening in chat? Let me look at that. I don't see anyone chatting about your idea of that, but, I mean, I would- Yeah. I don't know if my opinion is valid, but I would agree with what you're saying. Okay, so that's, yeah, that's what I'm feeling about that. Sweet. So, I mean, we're talking super... I mean, these are... Sorry, going the wrong way with my camera exposure. Cool, Reese, good. Let's see here, Christy Draper, if they're still on. Can you talk a bit about copy? Do you automatically leave spaces or ask them when they need it? So, yeah, with this Blundstone shoot, what I did was I shot most all of it vertical, and then also all of them almost horizontal. And since cameras have such high megapixels now, like the new Sonys are like 60 megapixels and the one I shoot on I think is 42 megapixels, I'm almost always shooting at least a little bit wider than I need to be. Not too wide, because when you get further away from your subject, you're losing depth of field and other things are happening. But I try to be generous because it's always easy to crop in. And what I did for this job was just go through, make the hero selects that I wanted, and be like, "Here, here's my selects," 'cause that takes a bit of work. And then also delivering all the files, like, "Here's all 30,000 raw files. You can have them as well. And if you disagree with my choice, you have nine options on either side to pick from." Okay, let's see here. Wow, that's a cool name. Lucrecia Acoba? Hopefully I said that right. That's a neat name. Oh, let's see. I just wanna say thank you to Theron. Whenever I get discouraged, I hit Insta, the website, for inspiration. I'm grateful for him. Aw, thank you so much. (laughs) Yeah, I mean, I'm grateful that I've kind of made a life out of this, so it's been a neat ride. It's not easy, but it's also, I don't know, I'm super grateful, so, yeah, thank y'all. Who else we got here? Let's see here, Sasha. What are your plans and dreams for your own opportunity passion? Oh my gosh, man. This has been a hard one because I had two massive just like year-long personal projects, I had back-to-back projects where I photographed every single day, 365 days, and really saw them through. And then concurrently with that, I started photographing Maddie because she was with me, and then she became essentially like a long-term passion project. And also like a commercial project, too, right? Kind of both. But the project I'm pitching right now is... I think it might get picked up, I'm trying to... 'Cause I think with the thing with the brand is like, with being a photographer, a commercial photographer, it's like how do you find that passion project, but then also get paid for it, right? That's the dream. So this idea that I'm pitching right now to multiple brands is I wanna shoot a documentary film, you know? Three to five-minute piece where it's about me and Maddie traveling around, trying to find a new puppy and bringing the dog into our life. 'Cause Maddie, you know, she's getting older, she's 12, and I think it'd just be a compelling story and a good time and a good moment to do that. So, that, to me, is right on the fair even edge of like, I wanna go do it because I would love to have a puppy, I wanna do it for Maddie, I would wanna do it commercially 'cause it's a way to fund your life, and I wanna shoot the documentary. So, to me, that's that beautiful, perfect swirl coming together. Yeah. Sasha, who asked the question, says in the comments, "That's so freaking sweet, love the idea. I would love that." (Theron laughs) Thank you. Let's see here. How do you fund your own personal projects or look for grants? I've never done grants, you know? The way I initially got started years ago, and I used Kickstarter. And Kickstarter has changed since when I used it. It used to really be a platform for funding creative ideas, for books, for films. And it maybe still could be, but a lot of it now, I think, drifts a little bit more towards products. Like pre-ordering something, industrial design, some kind of like Xbox controller, or juice maker. But in the early days, 12 years ago on Kickstarter was really about funding creative personal projects. So that was what initially gave me the funding. But also, I was in a different season of life. Like my student loans were in forbearance, you know, (laughs) I was like 21, and very different set of parameters for existing in life. I was willing to sleep in a cot in the back of a pickup truck and literally eat the cliche ramen for every meal because I was so driven and hungry to make the work. You know, and now I'm approaching and my engagement to life is different. So now how do I find funding? Most of my funding today now comes from shooting jobs for Blundstone, shooting jobs for Ferguson, with my house build, in earmarking, to pay my bills, pay my mortgage, pay my cell phone bill, life expenses, but then that frees me up to keep making work for Instagram. So that's been the arrangement, and it could change. The arrangement in the past has been kind of like Instagram's kind of, you could see it like a TV channel or a YouTube channel, where it's like you post consistently great content over years, build an audience, and then hopefully brands see you and hire you and want you to create something for them. Now I just got paid to be a photographer, so now let me use my free time to keep kind of funding the energy to my Instagram channel. Woo! (Joel chuckles) We're over an hour and a half here. Let's see here. I think that's all the Q&As, if anyone else wants to chime in here at the end, but I think we... Oh, nope, (chuckles) I had to scroll down, Joel. Okay, these would be the last two, unless someone wants to chime in. So I'll take one more after this. How do you deem if a photo background is distracting? Find a non-distracting one, or just move to Northwest Montana this summer, too? Right on. Yeah, so like... Oh. Yeah, so I mean we can... I'm still sharing my screen, right? Yeah, you're sharing. Yeah, so, I mean, not all these images are phenomenal, right? And I'm not trying to defend this as such. Man, we're just having a lot of change in light around here. But for this image, so this was a 50 millimeter, wide open, 1.8 on my camera. And I knew I wanted the context of this stuff in the background to show you're in a welding shop. And, honestly, I don't even think that this is the final crop, you know? To me, this is still a little distracting. I would probably maybe crop it a little bit more like that to try to bring your eye down here a little bit more. But, (exhales) man, how do you... It's a little bit ineffable to... It's a look versus... It definitely is a certain distance and it's truly a skill that you have to hone in. Just like how do you know you've added too much salt, right? You just have to taste it and know. It's hard to say, "Well, you should have used three grams instead of four grams." Like that, to me, that's not a... Yeah, sure, it's a measurement, but what is the difference between the tuna dish is based on taste. So sadly, I can't answer it any more bluntly than that. It's just about learning a visual language of composition. I know, not totally satisfying of an answer, and I'm okay with that. (chuckles) (Joel chuckles) Let's see here. Last one and then I'm gonna peace-out. I'm sure everyone's ready to go anyhow. Okay, one more question. Your advice on pitching idea for a project to a brand. Like what, my advice? Okay, yeah, you definitely need a good pitch deck. Or if you have a great relationship, just an email is a great way. The goal is to ultimately get someone on the phone and make an emotional connection. 'Cause everyone has ideas, everyone has pitch decks. Oh my gosh, whoa. Here, I'm turning my camera around. Y'all have gotta see this. Joel, is that exposure too bright? It's too bright, dude. Oh my gosh, hold on. You guys have to see this rainbow. Pop it down. It's worth the wait. Whoa. You see that? Yeah, we see that. Oh my gosh. That's happening right now. How amazing is that? (chuckles) Oh my gosh. Go find the gold. Dude, I need to get off this and go take some photos apparently. Yeah, get out there. (Theron laughs) I'm about to. Yeah, so it's just putting together the right pitch deck that's clear and concise that is talking to your audience. You have to know who the art director is or the ad agency person that you're talking to and really just kind of hone in on them. And it's making sure the concept fits the brand, of course. Like if it's Blundstone boots, pitching them on a coffee concept wouldn't make sense because it's not focused enough. Even if it's like, "I'm gonna travel the country and make coffee and wear Blundstones," they're gonna be like, "It kind of feels like it's about coffee." So it has to be like a really integrated, good feeling vibe. And honestly, we're all gonna hear way more nos than yeses in our career. And that's okay. And it's just about the joy of executing your vision and telling the stories that you think are important through photography. The end. (laughs) Perfect way to end it. Yeah. Theron, thank you for your time. Everyone who stayed here the whole time, most of you did, we appreciate it. And there's some kind words being said about you, Theron. One thing I wanna say is if you did really enjoy Theron's workshop, you can go into the last project or the last episode in that now, and there's a link to leave a review. And it would be much appreciated if you did take a moment to leave a review on Theron's workshop. Yeah, thanks so much, y'all. Appreciate it, Theron, thank you. Thanks, Joel. Thank you, everyone. Bye, y'all. Take care.
Ratings and Reviews
A really enjoyable course! I really enjoyed getting an inside look at Theron's philosophy and approach to his photography work. I picked up so many good points to help me better define the work that I do and the direction I want to go with it. I did have to go back and watch a few things because Maddie was so happily distracting. I found myself watching her and missed what he said. Ha! I felt like this course was true to how it was advertised - approach and tips for getting commercial work. Next, I'd love to see a little more technical course from Theron that shares his how and why for gear, light capture, and angles for the outdoor shoots like those shared in this course. I'm really inspired by the simplicity of his production.
Student Work