The Importance of Studying Photographic History
Theron Humphrey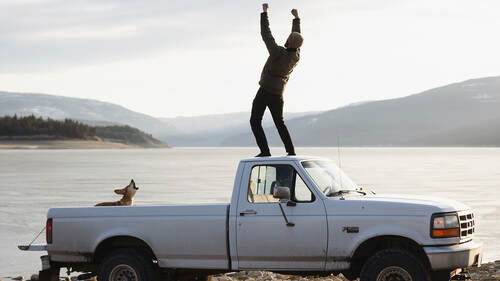 The Importance of Studying Photographic History
Theron Humphrey
Lesson Info
2. The Importance of Studying Photographic History
Lesson Info
The Importance of Studying Photographic History
(music droning) So one part about photography I'm a huge advocate of is to study the history of photography. And it's important as an image-maker to understand where we came from, how influences of past image-makers show up in our work today, and how in understanding that photography is a way of seeing. (piano music) It's our responsibility to understand that we don't create images in a vacuum, that the past has influenced us. And it's an incredible place to get inspiration from. And there's will link out to a bunch of photographers that I love as well. And one of them is William Eggleston, (photograph shutters) is considered the father of a color photography, and he has a distinct style that now feels ubiquitous, but he invented that way of seeing, and it's a great place to launch from and understand how his work has shown up in commercial work over the years and influences us today. And I also love the FSA photographers. They went out during the Dust Bowl of America and documented ...
just the lives and stories of everyday people. And ultimately, photography is a tool for expressing how you see and feel about the world. It can be confusing because it's often so connected to what we would consider a reality. And that's because you can present a photograph in a court of law as an objective piece of truth, but the photograph is an interpretation you come at with your own history, your own way of seeing and turning the world from this 3D experience, that's shared into a flat image that's two dimensional, becomes an object is not a fact, it's an interpretation of the world. And it's just good to have an understanding of where we fit in to the history of image making. Everyone needs to look at, check out from the library or even own a copy of Robert Frank's, "The Americans." I mean, he set the tone for documenting America. He was an outsider coming in and sharing with how he saw American culture in that time. That's an incredible book. Lee Friedlander's work, history, photography, deeply influential. Irving Penn's portraiture work is incredible. I love Dorothea Lange's work. She was an FSA photographer. She's an incredible image-maker. Nicholas Nixon has a wonderful series of, he's been photographing the Brown sisters, his wife and her three sisters, since the seventies all the way up to today. There's an incredible website now that you can go to you can scroll through all the images as they progress over time. And that's a wonderful example of how taking a personal body of work translates into commercial projects and communicating the same idea over a vast number of years, over different photographs. Another book that's been widely influential to me and other photographers over the years is Stephen Shore's, "Uncommon Places." And he's another image-maker that really defined a way of seeing and feeling the world and those books, you know, from the 40's, 50's, 60's, 70's like, they're really important to go look at because those are people who have helped us define how we take photographs today. And the biggest inspiration that I'm pulling in, beyond looking at the history of photography is I love to support my friends and buy their books when they release a copy. And not only are you supporting another photographer and contributing to their success, it's great to be ingesting, taking in new sounds and sites and touch and to see how other people are creating. Cause again, we can't create in a vacuum, we have to inspire and work off of each other. And it's just, that's the part where critique in a community, support in a community, inspiration, feedback, financially supporting each other, buying our books, really is that holistic approach of being a successful image-maker.
Ratings and Reviews
A really enjoyable course! I really enjoyed getting an inside look at Theron's philosophy and approach to his photography work. I picked up so many good points to help me better define the work that I do and the direction I want to go with it. I did have to go back and watch a few things because Maddie was so happily distracting. I found myself watching her and missed what he said. Ha! I felt like this course was true to how it was advertised - approach and tips for getting commercial work. Next, I'd love to see a little more technical course from Theron that shares his how and why for gear, light capture, and angles for the outdoor shoots like those shared in this course. I'm really inspired by the simplicity of his production.
Student Work