Directing the Hero Shots
Theron Humphrey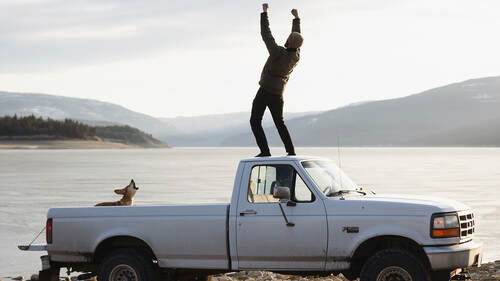 Directing the Hero Shots
Theron Humphrey
Lesson Info
16. Directing the Hero Shots
Lesson Info
Directing the Hero Shots
(suspenseful music) (gentle upbeat music begins) (gentle upbeat music continues) So I want to bring Maddie into this final scenario. So Soph is gonna go up the ladder. And, again, when you're shooting animals, last component that you bring in. We're almost losing our sun here. That's that last few minutes of light I was talking about. Cool. I love Soph, what she's doing. The light here is amazing. Okay. I'm gonna get Maddie in this frame, okay? Okay, we have Soph ready to go to bring the surfboard off. We have our sun setting. We have Maddie, the lovely Coonhound I have some very good pepperoni treats and this is gonna motivate Maddie to be a very good girl for us. That's our sweet girl. Okay. Come on. Okay. So if you're ready? C'mon, up. OK, here you go. Stay, stay. So I'm gonna put the treat where Maddie can get access to it. I'm gonna tell her to get off. Maddie, get off, off. Stay. There you go. That's a good - Oh, there you go, you got it. And then just for this one photo, I'm g...
onna do it again but I'm gonna put it on one rung higher where she won't quite be able to reach it. Stay, hold. Okay. Soph, if you can go Maddie, eat. Maddie, eat. Up. Okay. I love it. I've got the wrong lens. I need to switch lenses. So I just need to switch to the 50 real quick. So did Maddie get the treat? No, I don't think. Okay, so I'm gonna give Maddie the treat. Here you go. Hold. Yeah, if you could put it up, back up there. Cool. One more. So just a variation. We're losing our light, but it's so beautiful. (Echo enters) Oh, we got Echo. Echo Hey, hey, hey. Echo Echo, come here Okay. So action Maddie, up. Echo Echo. Echo Up Echo. Back up, Maddie. Echo, come here Yeah, you can hold her right there. Echo, Echo. Echo. Hey. C'mon. Echo, no, no, no. Come here. Come on. (indistinct) Echo Go! Go! Go! Echo c'mon. (upbeat gentle music begins) Echo! Okay. You can take it off. Okay. You can take the board off. There we go. Oh, Maddie. Now we lost Maddie. Maddie, up. Go eat. (whistles for Maddie) Eat. Up! There we go. Okay. We got it. There's too much going on. I think we got, though. (gentle upbeat music continues) So I hope you all enjoyed the workshop. Thank you so much, Soph, for being the talent Thank you! Thank you for Maddie the Coonhound who was off wandering, looking for treats. Um, It was my pleasure to try to teach you a little something of what I've been doing for the past 10 or 12 years of my life. I love photography, and I hope that you can take little pieces out of this and introduce them into your own workflow and keep growing as an image maker. I'm pumped to see all of y'all's images. If you have any questions, please let us know. If you love the workshop, know it's helpful to you, would love a review. Thank you so much. Peace. (gentle upbeat music)
Ratings and Reviews
A really enjoyable course! I really enjoyed getting an inside look at Theron's philosophy and approach to his photography work. I picked up so many good points to help me better define the work that I do and the direction I want to go with it. I did have to go back and watch a few things because Maddie was so happily distracting. I found myself watching her and missed what he said. Ha! I felt like this course was true to how it was advertised - approach and tips for getting commercial work. Next, I'd love to see a little more technical course from Theron that shares his how and why for gear, light capture, and angles for the outdoor shoots like those shared in this course. I'm really inspired by the simplicity of his production.
Student Work