Building A Relationship with Your Subject
Theron Humphrey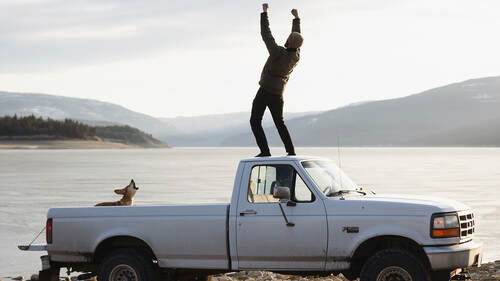 Building A Relationship with Your Subject
Theron Humphrey
Lesson Info
5. Building A Relationship with Your Subject
Lesson Info
Building A Relationship with Your Subject
(gentle music playing) You know, it's important to build a relationship with your subject and to put them at ease in the physical space, the room, the location you're shooting, 'cause, you know, the goal of photography is to capture how you feel about the subject. And, you know, there is like a slight difference. A lot of times, like we think about photography is that about capturing what we, what is present, like what we think is reality. But you know, photography has this way of transcending that, it actually is our opportunity as photographers to show how we see the world. So when you put your subject to ease, that tension is no longer visible in the space. Your subject's gonna fall into place and move into like a more natural, relaxed existence. I think the thing to remember is when you are taking photographs, like, in that space of taking photos, you're still living your life. And just meaning that you want to have the interaction, you know, be pleasant. And you want to have a r...
elationship built with them so they fall into place and are at ease. And you can not capture the tension of like maybe of awkwardness. So just giving them time and space to get to know them just will allow you to capture those images that feel very natural, and soft, and flow. And that's really just done through time. You know, like the first thing that you, you know, need to not do is pick up your camera. Like there's definitely a time of conversation and there's a time of using your camera. And just kind of knowing internally the first set of images that you're gonna capture in a series are not gonna be your best shots. I mean, they could be, you know, when you go back and edit them. But just getting comfortable through shooting. And there's definitely a quantity thing where, you know, over time the energy drops, you know, people can let their guard down, more space to be vulnerable. And that's when you get great images. (upbeat music playing) The relationship, like the time that I become most aware that the relationship between Maddie and myself like is important is when other people try to photograph her and they don't get the result that they're expecting. And that's when they realize that it's our interaction. And a lot of my concepts for the photographs is what makes the images. Like it's more than just picking up a camera and photographing a cute dog, it's the bond and the trust plus the idea, plus the photographic execution of the culmination of all that to make beautiful images. So that's why if you're photographing your own dog or whatever subject is in front of your camera, building trust is super important. And also, you know, doing something that they respond and like to. You know, like with the dog, it'd obviously be probably like using treats or toys. With humans, it would be saying kind things and not being rude. So, you know, it's pretty much like in, like the big picture about it, it's just building relationships. And that is letting go of the ego itself and just asking engaging questions. And, you know, also being sincere in your interest. Yeah, so like the way I established trust when I was like photographing essentially strangers who like hopefully became, you know, much more familiar friends by the end, you know, part about it, part of that process is approaching people with eye contact, with, you know, a camera visible that, you know, is not overwhelming, but does like look professional, you know, DSLR type camera. And also just a willingness to hear or know, you know, that's the biggest part about it. All you can do is approach, and ask, and be friendly, and kind of like walk around with like, with your palms up. Like, if your energy is approaching people like this, I mean, you know, probably don't physically walk up to people like this, that'd be a bit odd. Is like your, but your body you're carrying different energy versus like when you're doing this. Like this breathes and feels so different. And all that inner energy is internalized and projected in, you know, seeps out of us. So just when we walk up to people, and we're feeling soft and engaging, you know, they can read that non-verbally. And then again, you know, just let 'em know what you're doing. And often, a business card will even help that has your name, your phone number, your website, kind of legitimizes, and, you know, kind of like solidifies, you know, that you exist, and, you know, there's a connection there with the card. They feel like they can, you know, find you again if they ever had to. But then, again also be okay hearing no. And I had a professor in school, you know, that told me that in my career, I'm gonna hear way more no's than yeses. And, you know, I think that's the part about all this is the big story is just persistence and seeing the idea through. So to wrap up this episode, I want to leave you with an assignment. And the big picture and goal of this assignment is one to make you squirm a little bit. And that is what leads to growth. And the place that I want to point you is to go out in your town, your city, and take seven portraits of seven people that you don't know already. So that's gonna like require you to approach them, to introduce yourself, to meet them, to get comfortable in the space that you find them, and to try to make the most compelling image that you can in the scenario that you encounter them. Yeah, and, you know, we're still living in a pandemic COVID world. And, you know, but this is an assignment that can work great for portraiture because, you know, being six feet apart shouldn't be any problem if you're, you know, shooting with a 35 or 50 millimeter lens. And, you know, even capturing somebody with a mask on in their own space outdoors is a way to document what's happening in our world right now. And especially then when we look back in the years to come, like, this is just a slice of our time.
Ratings and Reviews
A really enjoyable course! I really enjoyed getting an inside look at Theron's philosophy and approach to his photography work. I picked up so many good points to help me better define the work that I do and the direction I want to go with it. I did have to go back and watch a few things because Maddie was so happily distracting. I found myself watching her and missed what he said. Ha! I felt like this course was true to how it was advertised - approach and tips for getting commercial work. Next, I'd love to see a little more technical course from Theron that shares his how and why for gear, light capture, and angles for the outdoor shoots like those shared in this course. I'm really inspired by the simplicity of his production.
Student Work