Light, Composition, and Image Making
Theron Humphrey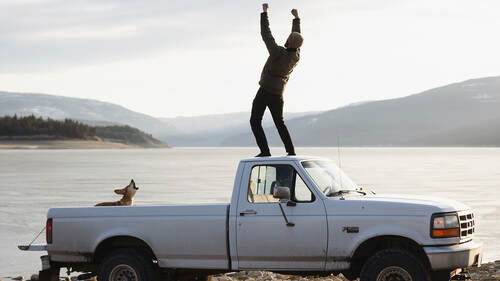 Light, Composition, and Image Making
Theron Humphrey
Lesson Info
3. Light, Composition, and Image Making
Lesson Info
Light, Composition, and Image Making
(soft music) So my philosophy on light and photography I feel like is very similar to every photographer's. And I would say that light is everything, but you can make great images in almost any type of lighting. And the go to hero lighting is that golden hour, the long sunset and that is an incredible time of day to shoot to enhance a photograph, to really bring out that warmth and just good feelings on the inside. But in overcast day where the sun is a giant soft box because of all the cloud cover is still a really wonderful and nice time to shoot. And that's when the light isn't gonna carry the images. That's when your concepts and your connection to the subject and the subject matter and what's happening with the talent and the photograph has to be stronger. That's when light isn't gonna be that like turning up to take it to the next level, just hero shot. Shooting on an overcast day can have its own advantages. And one of the biggest one is like you get a huge window of time to ...
create, whereas with the golden hour hero lens flare coming through the lens, that's a much more narrow time of day to photograph in. Yeah, so like the way that I think about photography is your concept and your idea for the images are the most important part of the photograph. Like that is your ownership of it. That's your vision, that's your heart that's your connection, that's the story you have to tell. And then executing that idea is done through all the technical aspects and attributes of photography. And those are things that you should know and should talk about, but those aren't the pieces that you should get hung up on your image making, the lens, the camera, the FOP, the aperture, the ISO, the technical details. And the best metaphor for that is a window. And this is how I think about photography. If we think about a window in your house. We can talk about the window itself. Who made the window? Is it double pane? Is it single pane? Is it painted? Does the window open? Those are all the technical attributes of photography or we can look through the window out into the world and talk about what we see. And to me, that's the deeper longer lasting part about photography. That's gonna keep you going as an image maker is the reason why you're shooting not the reasons, how, not the reason how you're shooting. I've met MFA in photo. And the reason I pursued that was partly generational. So I'm an older millennial and was really pressed into us to go to college, to get a degree to go get a good job. And the amazing thing about workshops like this now is like I think that's becoming not the only pathway and maybe even a little bit less relevant pathway. And I went all the way to the MFA because ultimately I wanted to teach at the collegiate level. And that's why, like I went so far in my degree with it. And, you know, there are some pieces of that experience that I think are valuable today. And the biggest ones are really instilled us in school to create bodies of work. So executing the same idea conceptually over a large amount of images 'cause that means like you're a self-aware photographer. You know what you're trying to communicate you know how to capture it and you can tell those stories, repeat it in different visual ways, but a connected, cohesive idea. Another amazing thing I took away from school that you should focus on in your own career is editing and not editing in a vacuum. So it would be overwhelming to go to a friend with 10,000 images, but go do your shoot hone it down to a manageable amount whatever that means, you know, 50 images and with a friend edit that down and make your story more concise. Be it commercial project for a brand or for a personal project that you're working on and also be available as a friend to help other people in your photo community do that as well. It's one of the most incredible parts about being in school was posting your images on the wall and having other people in the room talk about what they loved, what wasn't working where you can go with your ideas. And I think that's actually a part that we're offering here on this workshop for early adopters is like are we doing this? Are we doing that.
Ratings and Reviews
A really enjoyable course! I really enjoyed getting an inside look at Theron's philosophy and approach to his photography work. I picked up so many good points to help me better define the work that I do and the direction I want to go with it. I did have to go back and watch a few things because Maddie was so happily distracting. I found myself watching her and missed what he said. Ha! I felt like this course was true to how it was advertised - approach and tips for getting commercial work. Next, I'd love to see a little more technical course from Theron that shares his how and why for gear, light capture, and angles for the outdoor shoots like those shared in this course. I'm really inspired by the simplicity of his production.
Student Work