Early Career Mistakes and How to Avoid Them
Theron Humphrey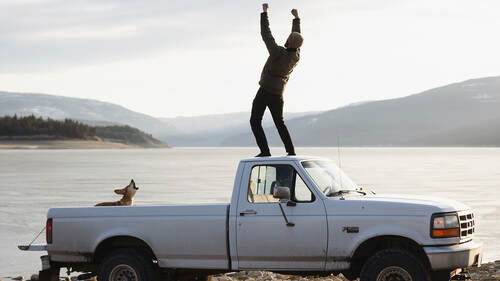 Early Career Mistakes and How to Avoid Them
Theron Humphrey
Lesson Info
10. Early Career Mistakes and How to Avoid Them
Lesson Info
Early Career Mistakes and How to Avoid Them
Some of the early mistakes that I made when I was taking on commercial projects was taking them to personally. So the difference was that I was getting hired by brands often to shoot images for them but then put them on my personal feed, on my Instagram. It's a weird thing to get hired for brands. Cause they like your work and then they want to try to control and dictate what you're doing but they're hiring you because they like what you do. I know what's best, it's on my feed. Let me do my thing. And they're like "no, more product". Well that's really not gonna, translate well. So it was this tension. If you were just hired by a brand and they liked your images and they were gonna go put them on billboards or their website, that's no big deal. But your personal Instagram page is kind of like this representation of you. It's not really sacred. It's just, it's much more personal. It's like your vision. The early mistakes that we made were not being, the early mistakes that I made was ju...
st not being more amicable with brands on my own feed. I think there's a time to set boundaries and really stand up for yourself and like protect your personal feed. And there's also a space to acknowledge that you're being hired and you're grateful for the funding to shoot something for a brand. This is about posting images on your own channels. And I think for me, like I was coming from a place where the work was so personal it was like my ideas and my visions. I was very protective of it. And I think that when lots of people are grabbing at you and trying to get a little piece of you it can make you a little bit defensive. And I think that now that I'm older, I think I could have navigated that and handled it a little bit better and just been more amicable. I think there's a way, (narrator speaking to pet) Oh, I got the dog. (narrator speaking to dog) This is me being honest. I think 'what's the big lesson'? I think early on when we were getting hired for commercial projects, based on the personal work we were making I would've advocated a little bit stronger in those moments to try to break into the space for creating, for brands that had nothing to do with our personal channels. And initially, the stuff that we were getting hired for was to shoot for brands and then to post it on our personal Instagram, which still happens to this day. And anytime that work comes through can be very grateful, but I wish 10 years earlier in these conversations with the ad agencies and the brands like we're like, 'Hey, let's also concurrently shoot this social campaign you have, but let's tie it into a photo shoot where we're creating assets for you'. And that slowly happened over time to start advocating for that and getting the extra budget. But I just kind of wish that we were doing it sooner and pushing stronger for it. It's a part of what I do now when I get hired for jobs. And that's, I think the, the best part of being a commercial photographer is getting to shoot brands. And then they go out and use those assets that you've created billboards and outta home and, digital web, of course. The big lessons I learned taking on commercial work was just the joy in collaborating with other people. And I think photography at its best and most lasting and what's gonna keep a career going, is not just the individual photographer out there alone taking photographs, getting to work with a team and also getting to stretch yourself creatively. Because whenever you get a brief, a creative brief from a brand that is an assignment it's a charge to take their needs and to go out and to fulfill it. And that's like the most fun, creative challenge. It's a scavenger hunt. It's an opportunity to work your brain and to make some new images and then getting paid for it is just the best thing ever. Cause that's gonna give you free time to go out and reinvest in your own personal projects. And that's kind of the cycle of it. It's make work you love. Try to get exposure for it, so brands and ad agencies can see it, and then you shoot commercial projects and you get funding. And then you like inject that funding back into your life. You pay rent, you buy a new camera you have new personal project ideas you go out and shoot those. So it is the cycle of creating, getting funding, and creating more. And this all has to just be based off pure love of photography. That's the way that it's sustainable. You just have to love making photos. My personal world and commercial world have blurred together and they definitely are not hardly defined all the time. Most of my work commercially these days there is a division in that I'm shooting for brands and often I'll post two to three photographs on my personal channels for the ad campaign, the social campaign. And then I'm also creating a library of photographs for the brand that has nothing to do with me necessarily me as a person or Maddie. And that's more like the self-produced side. So that line is much more defined in that I'm need to give the client 30 photographs for their usage. And obviously, and most often that'll include full digital rights where they can publish it unlimited for two years digitally. And that's the big line of my work now in that blurs together in that I'm shooting images for my own channel. My own story and then concurrently I'm gonna create a library of photographs for them. And I think the way to get work doing that for me was obviously my own social personal channel, but then on my website, which is like where people will go to get my contact information my phone number, my email. I'm posting images that I want to get hired for lifestyle photographs or nature or vehicle images. I'm posting all the images that can fill in the gaps that I can show the brand that I can create more than just cute image with Maddie. And that's a great tool to upsell brands as well. If you get approached to shoot a project through, like we have X budget we would love you to help promote our brand on your social media. I'm like, well, let's like tack on a self-produced photo shoot for an extra X amount. And then you guys can use those images for your own digital needs. And that's like a really great upgrade that I often try to like pitch brands when I'm talking to them. I'm so often hired to create images for brands for my social channel because they like what I've done and they want to help tell the story of their product interject into my personal channel. And my challenge as a photographer has been like I'm capable of shooting so much more and shooting anything. Hire me to shoot those projects. So that's definitely been the niche and getting pigeonholed into that. And a lot of actors probably feel the same way that that's happened to them. But ultimately it's remembering to be grateful that you are having the opportunity to create images and everything is on schedule. And then it's also positioning yourself to create what you do want to work. So when a brand will come to me and be like, 'Hey we want you to shoot two photographs of our product for on your Instagram page'. I can say, thank you. I would love to do that. That will provide me funding to keep making more images and living as a photographer. But then I'm also like, 'Hey', let's tack on a self-produced lifestyle shoot for 20 or 30 grand, I can go out there and make you a library of images that you can use, have full digital use and rights to and use them however you need and you want and I can do it for a lesser amount of money that it would take you to hire a full crew to do it. They're gonna have a lighter feel. They're gonna be more airy and free and open. The client does have to let go a little bit of control because they won't be there on set art directing every single detail but they get a really big library of photographs to use as they want for a much smaller amount of money.
Ratings and Reviews
A really enjoyable course! I really enjoyed getting an inside look at Theron's philosophy and approach to his photography work. I picked up so many good points to help me better define the work that I do and the direction I want to go with it. I did have to go back and watch a few things because Maddie was so happily distracting. I found myself watching her and missed what he said. Ha! I felt like this course was true to how it was advertised - approach and tips for getting commercial work. Next, I'd love to see a little more technical course from Theron that shares his how and why for gear, light capture, and angles for the outdoor shoots like those shared in this course. I'm really inspired by the simplicity of his production.
Student Work