Creating Our First Webpage
Daniel Walter Scott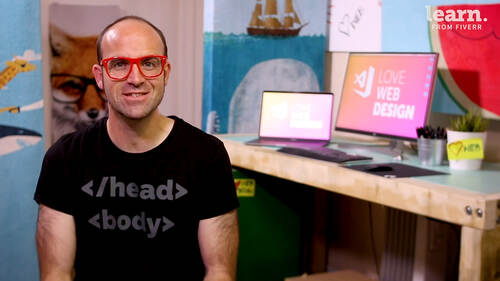 Creating Our First Webpage
Daniel Walter Scott
Lesson Info
3. Creating Our First Webpage
Lesson Info
Creating Our First Webpage
Hi everyone this video. We're going to make our very first web page. It's not going to be really exciting, it's going to say Hello World and in a browser it's going to show you Hello World. The course gets a lot more exciting but we need to get the basics done and that includes how to set up a folder for our website, how to create our first html page and how to test it in a browser. Let's do it. Alright, so we have installed visual studio code and we have an open in front of us now yours will look slightly different than mine. You might have, we've got this welcome tab open along the top. You might have another tab open saying new release documents or something similar and also yours might look slightly different because I'm using a Mac throughout this course and you might be using a pc. Don't worry, they work the same. Just some of the shortcuts are slightly different but we'll cover those during the course Alright. It can be a little intimidating. This welcome screen and all the othe...
r kind of tabs on the top so just to make everything crystal clear and easy. Close down any tabs along the top by hitting this little cross here, click it once on all of them until you end up with this nice clean clear application. The other difference you might have as well is on the side here is a bunch of tabs. Okay, that's going to be helpful Okay, But for the moment, if you click the top one, once, twice it disappears. It's all nice and clean. Let's go and create our first file. Alright. To create our very first web page. It needs to go into a folder. You can't just be lying around in your documents folder on your desktop. It has to go inside a folder and everything for that website needs to go in that same folder. So to create that folder, let's go to file and let's go to open. Which is weird. Okay, go to file. Open. Okay. And it says where what fold folded? You want to open? We haven't created it yet. Hold on. Okay. So what we do is on a Mac, there's a new folder button on a pc. It's slightly different. You're looking for that. It's a little new folder icon. I think it's a little yellow one with the little exclamation mark in the corner and decide where you're gonna put it for this course. I'm going to put it on my desktop. Like I clean my desktop is totally clean this up for this course. But anyway, desktop new folder, what are we gonna call it? We're going to call it Project zero click create. And that is my folder. I'm inside Project Zero. I'm going to click open. Sometimes you have to kind of like select it and then click open. You know it's right when you're on the top and it says welcome to project zero along the top on the side here. It should have this option. Okay. Project zero. There's nothing inside of it yet. But there's welcome screens come back. Go away. So we've got the folder and all it is on my desktop is I have a folder with nothing in it. So we're just making a folder that way. It doesn't really matter how you create that folder as long as it exists and you've pointed the s code to it. Now, we need to create our page. We're going to create our very first html page. It's gonna file. It's got a new file. We're going to save it. File save. We're going to put it well it should automatically know where to go. Okay? It's going into project zero. This one's going to be called Hello world dot html. Don't give it any spaces. One word and it has to be dot html. Let's click save. And just in here and our editor lets tope. Hello. Let's go to file save. I'm going to stop showing you the long way. Okay, so my Mac it's command s on a pc. It's control s I'm just going to say save from now on now. We need to work out how to preview this thing because we've made it. You've made a website. Tiny one. Ok, but how do we check it? We need to use that google chrome. So go in open google chrome. Alright, so open google chrome and we're going to go to file. I'm going to go to open file. and then we're going to find our project zero. It's on my desktop here. It is their project zero inside of there. Hello World. Before you click open. Remember this moment if you've made a website before? It's not as exciting but if this is your very first get ready for this moment is a moment of glory ready. That's it. That's your Hello World website. But look around remember this moment, this is the first thing you ever made. I remember when I made my first website. Okay, it was a little bit more exciting than Hello World. Yours will be too. And I'll show you the website that I made my very first one a little while later. I think maybe if I show it to you here you might turn the course off Anyway. It was bad but it was 20 years ago. So so let's recap the process back into v. S. code. Okay? And in here we're gonna put exclamation mark. Ok, then hit file, save. I promise not to show you a long way did gonna go back to google chrome and it hasn't updated. So whenever you make a save or make a change, India's code. Hit this little refresh button or reload button if you can't see it up there it'll be somewhere. Whereas reload, I don't even know the long way for reload. There it is there. Okay, so view reload and there he is there exclamation mark. So that's the process. Do the coding. NVs Code check your website in chrome to make sure it's working okay. It's not broken and you do a little dance because you made a website if yours broke during this process. Okay. It's a bad start. It's okay. What probably happens is you forget to add the dot html if that happens okay, you've just got something called Hello world not dot html. This will happen to you. You're like of course I did. I followed you dan later on in this course. If you're new, that will happen to you. So all you do is over here in either one of them. Okay. This can be a little confusing. This Explorer. This tells you all the pages you have open over here. This tells you every possible file in your folder. Now, the trouble with that is that you've only got one in each. So they just repeat each other anyway. You can double click it over here, nope. You can right click it and go to the one that says rename and to say actually if it's missing dot html or you spelled it wrong, you just type it in. Hit return, then go and test that file in chrome. You should be fine. All right. That's not really web design. It's the start. Let's get on to the next video where we actually start doing some proper html and some proper CSSS
Ratings and Reviews
Great tutorial - your clear instructions and concise explanations make learning HTML5 & CSS3 a breeze!
Student Work