How to make 100% header & uneven widths in Bootstrap 4
Daniel Walter Scott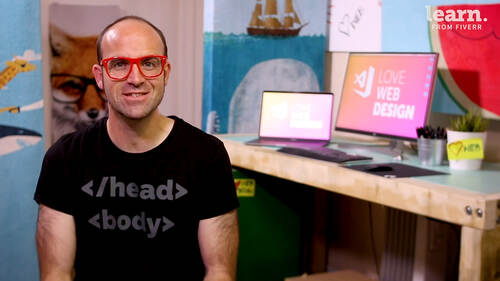 How to make 100% header & uneven widths in Bootstrap 4
Daniel Walter Scott
Lesson Info
104. How to make 100% header & uneven widths in Bootstrap 4
Lesson Info
How to make 100% header & uneven widths in Bootstrap 4
Hello there. We're going to build this other random group of boxes wise that we can learn various parts of bootstraps layout. Okay. The first part in this video's topic is going to be you can see that this gray border goes all the way to the edge of the browser. But then these internal blocks okay are nested and they're all in the center. This is the end result. It goes all the way to the outside and when I get smaller, okay. Kind of the nice little boxes react to the media queries but they're all trapped inside this kind of like internal container. The shortcut for this one. If you are like coming back to this video is basically the external rapper needs container fluid and then a container on the inside. Let's talk about it a little bit more in the video. Let's get started. Alright, first up, close down anything you've got open and we're gonna create our we're working on layout a before let's make a second version is another kind of like throwaway file just to learn stuff and keep it...
nice and tidy so that you can find it later on. So it's going to be called layout would be and we're going to add all the texts. Were going to just steal it from layout, select all copy it. Go to lay it out. Close it down, let it be, paste it in and let's delete the stuff we don't need. So let's get rid of. First of all we are going to are starting in the head. Perfect. I'm probably going to use a lot of the same stuff, the main things, let's get rid of everything in the body for the moment. Okay. To know you've got everything click on the top one and you can see there he is down there. It kind of gets partially highlighted. Alright, so we've got everything going in the body, we're going to create a couple of styles. This one is going to have more than one style. So we're gonna have my books one and two and we'll use everything from before. The same minimum height. Imagines the padding, We'll just pick different colors to match our whereas our wireframe loud be so exercise files, project for even. Okay, and there's one called layout B Cool. So that's what we're doing. So we're gonna need a couple of colors, We're going to need this kind of red, we need a green and a gray. Alright, so this first one, I've used tomato. Alright, we'll do a 2nd 1 copy paste. Okay, this is going to be my box too and this one is going to be lime green, no spring green, like spring green. There are two boxes and I just need this just because I'm going to put a background color on that. Where is he there? See this background color here on the gray. Okay, I'm gonna add a background color of greater, this whole kind of like big full width hitting. Okay and I'm going to call this instead of calling it like hitting. I'm just going to call it B G one. Okay. Dot BG one. And for my B G one, If I can type it BG one. Okay. And that is just going to be my background because I might use some other places. I'm reluctant to call it like hit a gray background because it might be used something other than the header and it might not be great. So my BG one in case I need a background of two. Okay. And this is going to have a background cole of, we're gonna use, I'm gonna use the slate gray. Is there a dark slate gray? Dark slate gray. There is dark slate gray. Cool. We're going to use those to do our styling. Alright. So first up, we've done a container right now, containers six in the middle. Let's have a look at the bootstrap kind of documentations to click on the documentation tab and click on lout. Okay. And it will give you a brief introduction. That's what I'm here for. We've used dot container and it centers it in the website. This container fluid is what gets it going all the way to the edges. So let's have a little look actually, let's quickly look at the structure. So we're going to have initially this fluid container and inside of it. We're gonna put the container, we did something similar earlier on. Okay, nesting inside of things. Okay. But we're gonna instead of using our margin auto on both sides to kind of get things to center. We're going to use our container and are fluid container. So let's create a div in here called container hyphen fluid. Okay, awesome. Let's apply it more than one class. Okay. So just afterwards says container fluid. We're going to open our at our my my B. G. One. Okay. And let's just put in some text just so that we can see it and just make sure it's actually working. Let's have a little look go live awesome. So we've got a fluid container goes all the way over there is some text in there just holding it open for the moment. I'm not going to add a hike to it. I'm going to let the hitter inside of it do that. Alright, so inside of this one we're going to put another div tag. Okay. But this one is going to be called container awesome. And hopefully we can put in some text in here some text. What it might do for actually I won't have a little look, make sure it is centered improving the browser. The text is a little hard to see right? You can kind of see it there. So it is trimmed up to the outside. So there's an external fluid container going to the edge and inside of that is one that kind of operates on those media queries that Bootstrap has lovely. Next up inside of this container, we're gonna get rid of some text and we're going to put in our row. Okay. And inside of that row we're going to have let's have a look at our mock up. We've got two columns. So we put those in first. Okay, so I'm going to have a coal times it by two. And this one was gonna put some text. Actually, we're not going to put some text straight into this one. We're going to put another style inside of it because remember we want to I want to make them this color and I'll make them read. I don't want to add it to this outside wrapper collar. Okay, because it ends up messing things up. So we're going to put it as another nested thing. Okay, so we're going to put in a div which has our my box. I will use my box one in this case. We need two of them. Beautiful. You need a container in our case. We needed to because we wanted to do two very different things. We wanted to say stretch to the edges, but also a container that is nested inside. Okay, so that's what we've got. We've got this container, regular old one that has a width inside of the stretchy one, which is the fluid. And inside of that. I wanted my two boxes. These two columns here. Okay, can't exist without a row. So these two columns have to be inside this one row because remember the row gives it all its power. Then I want to do some fancy styling as in mess with the margins and the padding. If I didn't need to, I could just throw my logo inside of this call here. Okay. But because I want to do something with the margins and padding and the heights, it's best not to mess with the coal too much. So I'm going to do it inside of this one. That's where it gets kind of I guess there's there's a lot going on there, but I hope you understand it. Let's have a look in the browser. How's it doing great. And because of boot tracks magic, we should be able to right click inspect if you haven't got it on between the device preview icon, toggle on, I'm going to go to responsive and it should jump up and down in terms of size ing's mindset. Get it. 100%. Okay. And you can see that our media queries. Breaking Nice work. Bootstrap. All right. Let's get on to the next video
Ratings and Reviews
Great tutorial - your clear instructions and concise explanations make learning HTML5 & CSS3 a breeze!
Student Work