Simple Website Text Navigation
Daniel Walter Scott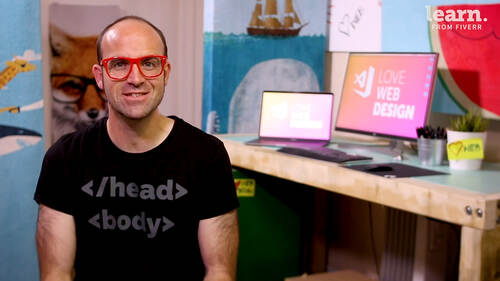 Simple Website Text Navigation
Daniel Walter Scott
Lesson Info
25. Simple Website Text Navigation
Lesson Info
Simple Website Text Navigation
Hi there, this video, we're going to make this simple text navigation. Okay. So we're actually gonna build that's the mock up. We're actually gonna build, we're gonna get this far in this video anyway, so it's just kind of lumped at the top here. The alignments. Not perfect yet, but it's in there, it's all linking and we're gonna learn some sweet new shortcuts along the way. Alright, so let's get going. Alright, first up, let's put on our links. So in here inside of our nav, I'm going to put a return in and I want to put in, how many options do we have? We have 123456. Cool. So I want 68 tags. This one's gonna be a pretty simple menu. We're going to build probably four in this entire course. Okay, simple text one. We'll make buttons in the next project and then we'll do drop down and cool, J query burger menus for mobile, we'll get fancier and fancier as we go along. But nice, simple one to start with. So what I want to do is add my six links. So in visual studio code. Okay, I want to ...
type in a tag return. Okay? We're going to put in hash so it doesn't go anywhere and the first one is home now we can do that six times and that's totally fine. You can copy and paste it and change the text. I'm gonna let you in on a little shortcut. Okay. I'll try and introduce little shortcuts as we move through. They're just fun and they're good and they're useful and I use them so I know they're good. So and what we can do in venus code is we can do sail on a tag lowercase but I want three of them, we can use the times six of them. So times in this is the asterix key. Okay, so it's underneath. Often combined with the number eight. Hold down, shift and click eight. So a districts six means I want these, I want six of them. Hit return, Look at that, go on. You're a web designer and you're hardcore you're coding. I don't know, coding past. Go on. So what I wanna do is I want to put a hash in all of these, you're like ah imagine if there's a shortcut to do all of that. Okay, there is, that's a bit of a slow process. So a lot of the time you end up working on these kind of like multiple groups doing multiple things all the same. So what we can do is we'll do one more. Okay, one more shortcut and you can just obviously type them in but if you on a Mac okay, it's under this one here, that's the shortcut you're looking for. Okay, so it's under view. No, it's under selection that's this one here, add cursor below on a Mac. It's option command so Oh yeah, option command and the down arrow. So the curse is, you know the up, down left, right on a pc. It's control down arrow. Okay, so here we're on flashing so make sure your cursor is flashing there on my Mac. I'm gonna hold command, halt, command option and head down down down down down. Okay. And I'm gonna type hash if you're on a Pc control, melt down down down type hash. Okay, I want to get rid of that now because I don't want home and all of them. Okay. So I'm just gonna click once anywhere else. So I'm taking the first one and in your text. Okay, remember in the exercise files there's a file called project one. Okay. Text I'm just going to copy and paste it all in copy paste. You can do the same if you can type you can just type it all in. You don't have to put anything in. I'll speed this up. All right, thank you editor. It's Jason by the way. I call him editor all the time. But his name is Jason. He's awesome. Thanks Jason. So to save all and we'll preview it in the browser and does this update it is there it is there. Cool. So I've got all my text in there. It's not quite right because remember it's because it's an a tag. Okay, and we start the A tag down here. These guys, hey, we're the same. Let's do the same thing. Okay, so we're gonna have to do some specific styling for this to get it to look like my mock up here, but we can do that. The first thing we'll do though is we want to center it So what we're gonna do is we've done this before. Okay, we want to go through and center using text center. We'll do it to the nav. We'll say all the text inside of me is going to be text align center. See my car Colin save, save all proven to browser, look at us planning to mess with underlines to mess with. But that is going to be it for this video. At least we put the nerves in. We learned some shortcuts. Alright, I've kind of double back. I finished the video, I was like, oh I should mention this so and we started doing shortcuts now. I felt like it was the time to start doing some basic ones. And if you're like how am I going to remember these things or maybe you started writing them down already and I've created a folder in your exercise files. Okay, so exercise files, shortcut sheets. Open that up and we've got ignore that one for the moment. We'll look at it later on. But these two will be handy. Soviets code will look at first. Okay, so there's a Mac or Pc depending on what you're using and I'm going to open up my Mac one and let's say it's a nice one page and you can print it off, take it next to the computer highlight the ones that you find you you're not going to remember them all. But the one we just used can see multi cursor selection. That's the one I use the insert cursor below. Okay, so you might just highlight that one now, print it off, highlight it and say that was a useful one day and I'm going to try and remember that one you might have read through maybe further on in the course. You might read through and go, oh I didn't realize that was the shortcut. Okay. Can be really handy. Well this one here save all you can ever remember highlight that one. Alright, so that's venus code. The other one in there, it's called Emmet. So Emmet we didn't really talk about. So it's got a separate name. Okay these shortcuts, they're called Emmett shortcuts. And but for you it's these ones it's when we say all the Emmett ones are things like alright, a tag type A and hit return. M. It is kind of doing that. Okay but it doesn't really matter what it's called. But Emmett is what it's called. Ok. And the same thing before we did a times six member that is an M. It or you can see it there. Emmet abbreviation. There you go. You probably have seen it. So they call it Emmett and I've made a little shortcut. Well I haven't made it. I've collected this for you. So the problem with this one, it's like 24 pages. It's got every single thing you might do and I find this useful printing off the first two pages. Okay? Because the rest of them, yeah, it's quite hard and they've highlighted the really important ones. Okay. To the ones that you're likely to use. Okay. But yeah, maybe just print the first two off. I find it really interesting to look at these kind of structures that you can do. We'll get into these further on, but probably a good time to print these off now so that you can start scribbling your you're sweet new shortcuts on it. All right, now, is the end of the video See you in the next one.
Ratings and Reviews
Great tutorial - your clear instructions and concise explanations make learning HTML5 & CSS3 a breeze!
Student Work