How to add responsive images to website using 100% width in HTML & CSS
Daniel Walter Scott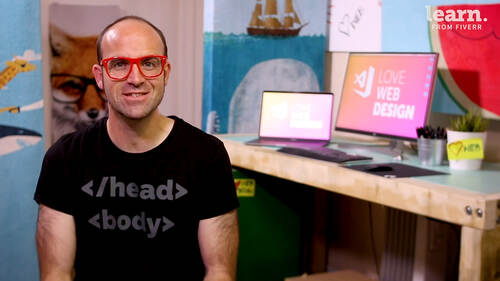 How to add responsive images to website using 100% width in HTML & CSS
Daniel Walter Scott
Lesson Info
85. How to add responsive images to website using 100% width in HTML & CSS
Lesson Info
How to add responsive images to website using 100% width in HTML & CSS
Hey there. This video is about responsive images. This particular one is working with the 100% width. We've kind of done it in the course and I thought ah we don't need to cover it again. But I feel like we should just to really get it in a good place. So you can find it later on in this course. And also just to confirm what we know, because we're kind of attacking it from a slightly different method here. Okay, so And now I've got these images you can see they change the different sizes on different browsers because of what I'm doing with my columns and you can kind of really see now how 100% kind of works. Okay. As long as the column changes the image will just adjust to fit it. So we need to put in a nice big image scale it To fit the column and it's a real quick and easy way to make responsive images. Let's jump into Venus code and work it out. All right, to get started. Let's delete the box one and it's a church one tag. So the whole thing, because I don't want that heading anymor...
e. I'm going to put in an image now. We don't have the images over in our exercise files. So let's go to exercise files. Find your project three file. Let's use the images large because we're gonna put them in large and just scale them down. Okay, so we're gonna grab all of these. Okay, copy them and let's go to our desktop. Let's go to project three and put in the images folder. Okay. And inside of the images folder, we're going to paste all of our images so let's go and load little east. The first one. Okay, so I M G. Okay. And the SRC is the source and this one is going to be an images folder and I'm gonna call I'm gonna use images one. Okay. Image one dot PNG You should always add your old text. I'm not because I'm just not. You should. Okay, let's save it. Let's have a little look at it in the browser. So turn you off, Turn your back on again. Cool. So a giant image. Okay. It's way too big. It's even twice the size as it needs to be so to cut it down. We are going to use a bit of CSS Okay, so the bottom, Not at the bottom. And so we've got our global view. Okay. And before desktop view starts, I'm gonna put a bit of that in there so that I can add it here. So what I want to do is that I want to make all images half the size. Okay. I know that I want to make the ones inside of the coal half the size. Okay. Not the calm. Okay. The coal. Alright, So images only if they're inside this div called Cole I would like you to be with okay, a width of 100% semi colon. Now that'll mostly work. Okay? You need to put it in a height as well. Okay, So you need a height and I don't want the height. I just want the height to be automatic. Okay, 100%. Is going to try and stretch it. Ok. Whereas I'm just gonna leave it as auto and that's not working. Why aren't you working reset? All right. It's kind of working Okay. It's a nice big image. It was kind of made to life as one pixel density but because I've scaled it down, it's now a pixel density of two or it's double the resolution or high D. P. I. Whatever you want to call it. The trouble is you can kind of see the pink poking out the bottom there and when I resize it, can you see? It's not quite doing what I want. It's kind of like shrinking in there and the box is not getting smaller. Okay, Because I set a physical height to this box. So let's get rid of the pink background and the height. Okay, off that column. We did that earlier. Background, color, minimum height. Good bye. Alright. Save it. Let's have a look now. It's kind of working. The boxes have collapsed. Okay. And there's no color in them. Awesome. So that is the easy way to implement responsive images. It is bigger than it needs to be and it's squished down. So on different devices, it's going to load the right physical size. But there is more scale for it to become a higher DP I image or PP I image, what do they call it? Dots per pixel. The pixel ratio can be higher. All those words are really meaning the same thing. We're just trying to get the right image quality for the different device screen. Now. You can skip ahead because I'm just going to add all the images in here. Okay, up to you, you can hang about if you want it's going to be pretty boring. Get that shortcut wrong all the time. Okay. It's command felt. Sorry, command option on a Mac control on a pc. Okay. And we're going to delete all of that. Including the H one and I'm going to grab this image cheat. Do the same thing. My shortcut pasted in And I'm just going to switch out the images. Image 1-1. Perfect. No, come on dan. Okay. It's one that is gonna be too This next one is going to be three. It's going to be for is it painful to watch? It's painful doing it. All right. Alright. And let's go image which is slash or put in him and all of them. I think that's a bit wider so we can do it nice and easy. And let's get rid of all of the numbers and start typing them in one at a time. So what are you up to? 12345 6789. I forgot about this guy down here. He's just the only Oh yeah, so I'm just gonna grab all of that copy. All right, we can use our selection or their tags. Maybe it's under view. And this one here expand selection. It's a bunch of shortcuts, command, shift control on my on my MAC pasting that fella And this one is going to be 10. All right. All my images in it would have been heaps easier to do it before I started adding these. But hey, it's not the flow of the course. Let's check and make sure they're all in there and the cool thing about them is look at them, respond, have to switch it out to a mobile device. Okay, inspect. Um I'm gonna turn the device toggle back on and that's what it looks like on a what about phone? It's not many of them, but at least 100%. I'm going to go to responsive and go, hey go on. Here we are. Alright, so that's 100% scaling. We'll look in the next one. We'll look at the other method. The other main method is using the source set. I'll see you in a sec
Ratings and Reviews
Great tutorial - your clear instructions and concise explanations make learning HTML5 & CSS3 a breeze!
Student Work