Menu Functions: Playback Menu
John Greengo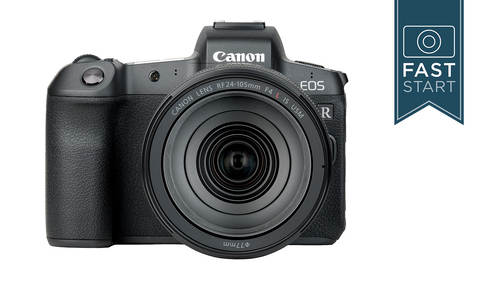 Menu Functions: Playback Menu
John Greengo
Lesson Info
15. Menu Functions: Playback Menu
After shooting and before editing in an image processor, the playback menu on the EOS R offers many useful features, especially if you're on the go and don't have a computer at hand. John reviews RAW image processing options, the benefits of rating images for organization purposes, image transfer and image sharing options.
Lesson Info
Menu Functions: Playback Menu
all right, moving on to a new menu. This is dealing with playback. And so in this one, we can protect images in what protecting images does is it prevents them from being deleted in camera. Now you can still form at the memory card. You could still lose the memory card, so it doesn't totally predict him, but it protects him as much as they can in the camera from being casually deleted. If you want to do a slide show, you want to make sure that all your images are rotated properly, so if you need to rotate vertical images, you could do so here. If you want to erase images, there's a garbage can on the back of the camera that's easier and quicker to use if you're going to do a couple of images. But if you want to erase a whole bunch of images, it's gonna be easier to come in here because you simply select the images you want and the you press delete once you've selected all of them. So there's less button pressing when you do it from the menu system. If you're gonna hook the camera up to...
a printer, you can select different options. This for is the size of the print in which print you get printed on. So if you want to avoid the computer and print directly from the camera, you can do so. Here. There is a photo book that you can put together. It's basically an album that you can assemble, but you do need the canon's software in order to make this work. So you'll need to dive into some of the Eos Digital Solution disk and their utility software system for this feature to work. If you want to transfer images to a computer, you can do so here. I think it's little bit easier using a separate card reader, but it can be done directly from the camera if you want to. In here, you can go in and select what type of transfer it is and select the images as well. You can choose which ones you want to transfer, either just the J pegs or the RAWS. You can transfer with captions if you want. If you have created a caption system in the camera, you can transfer that and you will need cannon software to make that work raw. image processing. This allows you to take a raw image and process it in camera. And this could be handy if you're traveling. You don't have your computer with you and somebody wants a J peg copy of the raw image that you have. And I thought I'd show you a little bit about what that looks like. So let's go ahead and do a little demo here, Turn the camera on. And what I want to do first is just make sure the camera is set in raw and take a raw image. And so I'm just gonna focus in here and get a raw image to start with. So that's our photo that we're gonna work with. And then I'm gonna go ahead and hit the menu and we're gonna go over to the playback menu. And where is our raw image processing right down here on the bottom of page one. Hit this. I'm gonna go in and select image. It's pretty easy to find, cause it's the last image I just took. And so in here, we'll see some of the parameters that we have, and then we're gonna hit the set button so that we can go in here and now we see the menu. OK, button. So I'm gonna hit the menu, try that again, hit the menu, and I want to customize the raw processing. All right, so we have our raw image, and now we're gonna process, takes a little bit of time. Now, we can go in here and change a limited number of options. So I'm gonna press the set one, because right now we're on brightness adjustment, and I'm gonna make this Ah, full stop brighter. And you can see it pop in there. We could change white balance picture styles. In fact, I'm gonna go in here, and I'm gonna make this a black and white image monochrome right here. So it's a black and white image. We could have adjusting lighting, optimizer, noise reduction, image size, color, space lens, aberration. And I'm gonna go ahead and save this image. Now save it as a new file. So we're not ruining the original raw image in any way and processing completed. Continue image processing. No, I'm done. I did the one photo that I want. Let's go look at the processed image. And so this is the process image that we just did here. Here is the original color image, where a stop brighter and were black and white. And so there's a limited number of changes that you could make. You could make a smaller file size, so that would be easier to email or post on certain sites. Because of 30 megapixels is a pretty large file to deal with in a lot of cases. And so it's kind of a good short term thing case. You need something where you don't have your computer to make a different type of file in adjuster images a little bit. It's Photoshopped extremely light in a camera. Our second page in the playback menu gives you gives us the option for cropping an image. Now, once again, this is something that you are going to make a copy of an image, and it's gonna be a J peg image. You're not gonna ruin a particular image. In this case. You can resize your images as we saw in the raw processor. You can make them smaller in size, which might make him easier for transferring or emailing in some way. If you want to rate your images, you can do so in camera, and that will pass on in the metadata to other programs that you are using. It could be a good way to get a jump start on some of your editing. If you want to put the camera in a slide show mode, this will enable you to set up how long it is there, what images you're showing and how often they're showing. You're gonna probably connect the camera versus via HTM. I cable to a TV set for doing this, and it makes slide shows very easy to work. If you want to search for images, you can do so by star rating by when they were shot. What folder there in whether they're locked, whether their photo or video, whether it's a start, image or not. And so one of the things that I've done with my canon cameras. I went out and I shot a whole bunch of photos, and then I had a little bit of time to kill. So I went through and I raided some of the images as two star images, just a little bit better than everything else. And then I had the camera search for two star images so I could show somebody all the better images that I had got in that particular shoot. And so it can be handy if you're using your camera lot and you're not using a computer for searching and looking through your data image. Jump with dial. And so normally, turning the back dial will take you image to image. But by turning the top front dial on the camera, you can jump by 10 images, which is pretty good, so you can quickly get through your images if you're scrolling to find a particular shot. But if you want to change it in different ways to different ratings or different dates, as I mentioned, you can use that as a different way of jumping from one image to the next. It looks for a different parameter rather than than the next file number. All right, third and last page in the menu playback information. There are lots of different things that you can choose to have on the screen, depending on which information is important to you, and so you can go into these check boxes and leave them checked or unchecked, depending on if you want to see them in the playback screens. The highlight alert is a good option to have turned on for viewing your images checking exposure to see if you have overexposed your image. If you have an over exposed image, what's gonna happen is those pixels are going to blink it. You we come and call these blink ease, and it's just an easy way to tell that the exposure probably needs to be adjusted. Depends on what you're shooting and what your exposure is. But it's just a good warning that something has gone awry in the exposure. The A F Point display will show you which location you're focusing. Point was at when you shot the photo. It's not really important, but it could be handy for learning how the camera might be automatically selecting focusing point. The playback grid allows you to see your images with a grid for composing reasons. It's obviously not on the photo, but it just therefore layout and design reasons. Movie play count. You can either have the time code or the record time when you are playing back movies showing most people are just gonna have the record time there for simplicity. when you're playing back images, do you want to see the last image you were looking at or the last image that was taken on the camera? So a very subtle change here and our last item in the playback menu is the magnification, and this is kind of an important one. In my mind, I would set this to actual size. That way, when you press the magnify button on the back of the camera, it'll jump in and show you pixel for pixel basis. How sharp your images. And so this is a great way of checking to see if you have a sharp image in the field. And so it's just a little bit quicker in getting into the right information. If you have need something else set, they have a lot of different options there. But that one seems to be a really good one for a lot of photographers.
Class Materials
Canon R Recommended Settings
Ratings and Reviews
John Greengo is a very good teacher. I think it's the best investment you can make to get to know your camera well - especially something new like the EOS R. I love his feedback on what new features are worth trying and others that are simply not there yet. Awesome course!
This is the best course I have ever seen on how to use a camera, it guides you through the functions, settings, hidden configurations in a crystal clear way using very well designed visuals aids. I'm glad I was able to find this class, it's really a great quality course, thanks a lot John Greengo and CreativeLive Team!
John Greengo is wonderful at making His classes easy to follow and understand. We have purchased the Canon R and found that the only books with directions are in German and Japanese with the US version out in August. We are very grateful that John has produced this class. Love the CanonR but with Johns' class; the camera is easier to understand. Thanks! Hope to see more on the CanonR!
Student Work