Camera Controls: Left Side, Right Side, Bottom, and Front
John Greengo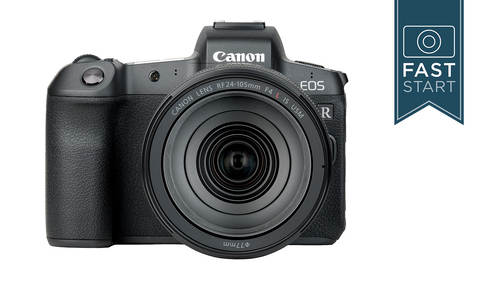 Camera Controls: Left Side, Right Side, Bottom, and Front
John Greengo
Lesson Info
10. Camera Controls: Left Side, Right Side, Bottom, and Front
Take a tour along the sides of the EOS R body, as John points out connections such as hdmi out, battery grip contacts, the new RF lens mount and the memory card slot. Learn which memory card speed class to look for when shooting video.
Lesson Info
Camera Controls: Left Side, Right Side, Bottom, and Front
working our way over to the left side of the camera is often where you're going to see some controls, depending on the lens that you have the 24 to which is a good general purpose lens, has an autofocus manual focus switch, as well as an image stabilizer system built into the lands. Not all lenses will have the stabilizer. Most lenses will have the auto focus control on it. We have a bunch of connections and ports over on the side behind those rubber doors. As we look into the 1st 1 It is the remote terminal. It's a standard 2.5 millimeter jack on that uses that cannon remote talked about earlier, which is good for long time exposures or any time you don't want to bump the camera. This does not use the fancy or three pen control that is used on some of the higher in cameras in the SLR world like a five D mark four. If you want to connect that up, they do make a special connector. I don't recall exactly up top my head. I don't see that's about $21. If you want to get the actual remote.
That's about $30 and so it might be just easier to get the standard remote in that way, you don't have to add cables back and forth to it, but either option is available for whatever you would like to use. Next up is a little pin connector, and this is for hooking up a cable protector. If you're working in the studio and you haven't HTM I cable that's plugged into the camera that pulls out because the cables kind of heavy or something like that, you can plug in this cable protector and it keeps those plugs locked in. Next up is our digital terminal. This is our USB connection. It's a USB 3.1 connection. It's the newest connection that all the cameras have. Unfortunately, this does not take a standard chord for in camera charging. If you want to charge the battery in camera, you need to buy this cannon P D. E. One, which at 100 and $ is a very, very special cable, apparently, but that is the only way to charge the cameras. Batteries inside the camera does come with batteries, or at least a battery and an external charger. It's capable of charging in camera, but you need to have the newest L P E six in batteries and not the older just E six batteries and this special charger. If you want to get the GP two, there is a GPS transparent transmitter here receiver that you can plug in that will add GPS data to where you were taking your photographs that would be plugged in to this port. Next up is R H D M I out. This will be used either for monitor reasons or recording reasons or viewing reasons on. So if you are recording video, there are people who like to use an external monitor. Sometimes they use that for recording. If you are going to use it for recording, you can get the 42 to 10 bit, see log output and get a little bit higher quality video on an external recorder. If you want to do a slide show, you could hook up to an A to an HD my TV and do a slide show straight from the memory card on your camera. Next up we have microphone jacks, takes the standard 3.5 millimeter Jack Cannon makes their own D M E one Mike Jack, but this is gonna be available for hooking up to all others types of road sign, Heizer and other brands of microphones. And there's a lot of ones out there to choose as well standard headphone jacks on that over on the right side of the camera, Not much going on over here other than our memory card door. And our SD memory card camera is you hs two compatible, so it uses the latest generation of the fastest SD cards out there. So first thing to look at on cards, of course, is thesis eyes of the car that will tell you if it's an SD or HC. Many of them are XY versions. Now. The bus speed of the card probably want to get a you hs two. If you are getting this camera cause it's very easy to be shooting with lots of data, and that will help speed the process of recording it. You may also want to look at the speed class of the card, especially if you are shooting video. The recommended cards that they have is if you are gonna be shooting four k and all I, which is a compression setting. You're gonna want to use a you HS two card and a video speed class of V 60 or higher. And so that's because four K video is recording a lot of data, and it's doing it on a regular basis, and it needs to be downloaded to that card and stored on their very, very quickly and those of the fastest cards to handle it. If you're doing basic photography single shot here in a single shot there, the speed of the card is almost completely inconsequential. Eso It depends on how you plan on using the camera as to how high in the card you need to get. If you are downloading, you can download straight from the camera. It's a little bit clumsy and awkward and slow, And so for most people, I recommend getting a card reader. They're not too much money, and they make it very fast and easy, forgetting the images onto your computer. If you're computer has a built in slot, that is, of course, a great way to looking to the bottom of the camera. We have our standard tripod socket and our serial number record that for insurance reasons, we have a battery grip contacts down here, so there is a vertical grip that you can get the B G e e 22. It's about $400 it's really nice if you are shooting a lot of verticals. If you do a lot of sports photography, portrait photography, it could make the camera more comfortable. Hold if you're holding it for a long period of time. And one of the advantages is that you can stick to batteries in there to prolong the battery life and lessen the number of times that you might need to change the battery in a particular day. Next up is the battery compartment takes a standard L P E six in battery, which is the same battery from a lot of the other current cameras, like the five D Mark four and the EO 60 mark two. There is an economy mode that you can put these in that will get you a little bit more battery life, but it slows of some of the things down on the camera like the viewfinder, so realize that that's an option on there comes with the standard charger. If you want additional ways of powering the camera, you can plug in these additional components for having continuous power to the camera, perhaps for a very long time, time exposure or working in a studio situation or charging from a car. They have these various ways of charging or keeping the camera powered. Looking to the front of the camera, we have stereo microphones on either side. We have a little lamp here, which is an A F assist lamp, and this sounds pretty cool. It's gonna shine out. Ah, little bit of a light to help you focus under low light conditions. And it does work with subjects that are pretty close that are not obstructed by the size of the lens or the hood that might be on the camera. It can be a little bit annoying to subjects or other photographers, and so it's something I often recommend turning off, and you can do that by diving into the A F controls in the menu system. So one of the features that this camera has that no other Miral is Camera has is a shudder unit that closes when the mere come or when the lens comes off the camera, and this will help prevent dust from getting in on the sensor. I don't know why all the other manufacturers aren't doing this. I don't know why people aren't giving Canada enough credit for actually doing this, but it reminds me some of the old medium format Mamiya cameras that would have a shutter that was blocking light from getting to the film. But in this case, it's protecting the sensor. So we do have a 13 megapixel sensor on here. It's a very good high resolution sensor that can handle a lot of different types of photography. We have our new lens mount. It's about the same diameter as the E F Mount. But the flans distance the distance from the Mount to the sensor is much, much shorter. It's a 20 millimeter flans distance. It was 44 back on the old SL ours, and that allows them to be, let's say, much more creative when it comes to the design of lenses and gives him money, more options in the type of lenses that they could make. So lens release over the right hand side. There's your locking pin that you'll hear click in when you mount your lens properly. The Mount Index is a little bit different. On previous canon cameras, we had a red circle. Now we have kind of a red oval to help you indicate what type of lens is being mounted on there. We have MAWR CPU contacts down at the bottom so that the camera can communicate faster and with MAWR information with lenses. And so there's additional information that this camera can do that the SL ours cannot do.
Class Materials
Canon R Recommended Settings
Ratings and Reviews
John Greengo is a very good teacher. I think it's the best investment you can make to get to know your camera well - especially something new like the EOS R. I love his feedback on what new features are worth trying and others that are simply not there yet. Awesome course!
This is the best course I have ever seen on how to use a camera, it guides you through the functions, settings, hidden configurations in a crystal clear way using very well designed visuals aids. I'm glad I was able to find this class, it's really a great quality course, thanks a lot John Greengo and CreativeLive Team!
John Greengo is wonderful at making His classes easy to follow and understand. We have purchased the Canon R and found that the only books with directions are in German and Japanese with the US version out in August. We are very grateful that John has produced this class. Love the CanonR but with Johns' class; the camera is easier to understand. Thanks! Hope to see more on the CanonR!
Student Work