Camera Controls: Basic Controls
John Greengo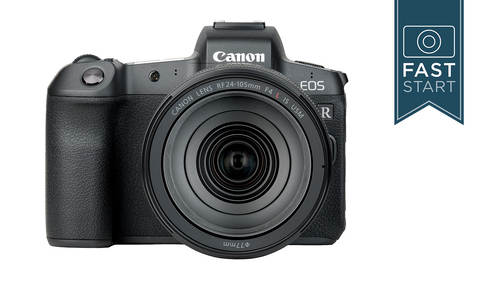 Camera Controls: Basic Controls
John Greengo
Lesson Info
3. Camera Controls: Basic Controls
Take a quick tour of the camera's basic controls as John orients you to where they're located and what they do. See how image sensor cleaning works, how to operate the quick control dial, multi-function bar, lens control ring and touchscreen. John demos how to program back button focus and why you may want to program this option.
Lesson Info
Camera Controls: Basic Controls
all right. Time to dive into the good stuff on this class. Let's get into the camera controls. We're gonna be taking a tour of the camera and talking about all the buttons, dials, ports, features and other things on the outside of the camera. First off, a few basic things about camera turned the camera on the camera automatically goes through a image sensor cleaning system. It has a little self cleaning sensor unit. It shakes dust off the sensor so that you don't have any dust blocking the sensor on the camera. Press down on the shutter release any time you want to take a photo or focus or wake the camera up. Very important. Obviously, the main die Alana Canon camera has always been your index finger right on the top of the camera. And so if you want to change an important feature, that's a good way of probably doing it. Something like shutter speeds gonna be changed. There we have a quick command dial in the back, and this is kind of new for canon users. We haven't had this on their S...
L ours in the past. There was a dial on the back door of the camera, and it's kind of migrated its way up top so that we can have a little bit smaller size camera cause the style takes up far less space than the other. Dial new on these cameras, and it depends a little bit on which lens you have as to exactly where this is. But it's a control ring on the lens. Lenses have always had a focusing ring, and some lenses have a zoom ring. But now we have a new control ring that can be set to control. Many different aspects of the Cameron will talk about that customizing as we get more into the camera. Also new on this camera something that has befuddled a lot of people so far, is the multi function bar. This is a brand new control, no other camera and the history of the world has ever had this type of device on it before, as's faras, a slider bar like this. This is actually on the five D Mark three and five D mark for in a different form. They had a circular one that you could control the audio levels on, and this one eyes much more versatile because you can program a lot of different things. It's actually a slider button where you can slide things back and forth. It's also a left and right button. It doesn't have any tactile. It doesn't have any clicks to it. So it's just solid. So it has a different feel, and you get used to it in a way different than most. But so it does take a little acclimatization to get used to this particular control. We have our quick control on the back of the camera, which is very good for navigating up, down, left and right as we're navigating through the menu system with the set button in the middle for entering confirming information. We also have a touch screen that could be used in many different ways for selecting focusing points or scrolling to the menu system or playing back and zooming in on images. And so that's something that could be turned on and off as you'll see later in the class. All right, mentioned the shutter release before press down halfway that's gonna wake the camera up. If it's a sleep, it's gonna activate the metering system. It's gonna activate the focusing system And then when? Of course, when you press down all the way, you're going to take a photo. And so some people don't like the camera when it auto. Focus is by pressing down on the shutter release button. So there is the option for back button focus. And you could do that by turning off the shutter A f if you want. Now, this little box that you see on screen here is a short cut. I mean, I'm going to be giving you a number of shortcuts throughout this class because I know you may want to stop playback of the class and go in and make a customization on your camera right then and there. And this is the shortcut information on how to do it. So let's go ahead and put our camera in back button focus right now. And so let's do a little demo. I'm gonna turn my camera on, turning around so you guys can see what we're doing. All right. So with a camera in our normal mode and I have the camera set up reset back to factory standards on everything right now. So this is how you get the camera right out of the box. So when you press down on the shutter release, it's gonna focus. Our little green box in the middle is going to turn green. We're gonna get a little BB that indicates that were in focus. But if we don't want to focus back there, we would prefer to do focusing with the back. But there is a dedicated A F on button back here. We want to turn off the auto focus up here, so we're gonna follow my shortcut. We're going to go into custom function number four. So I'm gonna go into the menu and I can scroll over using the top dial to custom function number four. In this they are custom functions page four. Customizing the buttons is our destination right here and our first item And you can see it actually shows you which button we're talking about as we go through the whole list here. And there are ah lot of items that could be customized. Luckily for ours, it's the first item on the list that we want. And so we want to go in here and press the set button, and you can see that the meat. Oring in a f start are with the shutter. Button it with 1/2 press. And if I want to turn off the auto focus, I'm just gonna go to here to them eatery. Now, I can also come over here and that'll lock the exposure and we'll talk more about that a little later on. But if I simply go here at what I'm doing is I'm removing the auto focus from the shutter release. And so now I'm gonna see if I can, uh, unfocused our lands here So we can actually do so that when I press the shutter release, it'll take a picture. But it won't focus for back button focus. I then press the button in the back of the camera focus and then I compress the shutter release and it won't refocus at that time. And so I know a lot of canon users like using back button focus. So that's how you set it up. It's very, very easy, and it allows you to hold the camera, change the grip of the camera after you focus and could be a little bit more convenient than having everything tied in with the shutter release right on the top of the camera.
Class Materials
Canon R Recommended Settings
Ratings and Reviews
John Greengo is a very good teacher. I think it's the best investment you can make to get to know your camera well - especially something new like the EOS R. I love his feedback on what new features are worth trying and others that are simply not there yet. Awesome course!
This is the best course I have ever seen on how to use a camera, it guides you through the functions, settings, hidden configurations in a crystal clear way using very well designed visuals aids. I'm glad I was able to find this class, it's really a great quality course, thanks a lot John Greengo and CreativeLive Team!
John Greengo is wonderful at making His classes easy to follow and understand. We have purchased the Canon R and found that the only books with directions are in German and Japanese with the US version out in August. We are very grateful that John has produced this class. Love the CanonR but with Johns' class; the camera is easier to understand. Thanks! Hope to see more on the CanonR!
Student Work